Unit Study Supplement: Georgia Facts, U.S. 4th State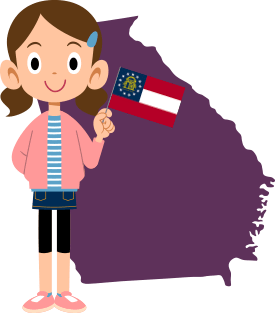 Georgia, the southeastern state with the largest land mass and population, is sometimes called "The Empire State of the South." It became part of the United States on January 2, 1788 — the 4th state to join. Let's celebrate Georgia's anniversary on January 2nd by learning more about this state's history. Those pieces of Georgia's state trivia, though, are only a glimpse at all the fun facts you'll learn about in this post from Time4Learning's full series of United States unit study supplements.
Below, you will find information on Georgia's colonial period, as well as fun facts about its history as a state. You will also get insights into the state's geographical makeup. Don't miss our lists of educational places to visit in the state, including some where you can get in free or at a discounted rate. Finally, you'll definitely want to follow the links to learning games and printables that can enhance your state study. You can also download our list of PreK-12 interactive activities that align with your study of interesting facts about Georgia. Let the learning begin!
Georgia Fast Facts
Became a Colony

1752

Became a State

January 2, 1788

Order it Joined the Union

4th state

State Capital

Atlanta

State Abbreviation

GA

Border States
State Flag
State Song
State Nicknames

Peach State
Empire State of the South

Notable Georgians

Julia Roberts, actress
Ray Charles, singer
Jimmy Carter, 39th president of the U.S.
Flannery O'Connor, author
Sonny Carter, NASA Astronaut
Bill Terry, baseball great
Ryan Seacrest, radio and tv personality
Historical Facts About Georgia
For much of Georgia's pre-colonial period, the Creek Nation were the main inhabitants of the area. Even after the land was colonized, Creek Indians outnumbered European colonists until at least 1760. Georgia colony history begins late, in terms of colonial settlement. In fact, it was the last of the established English colonies in North America. Here are some other Georgia colony facts your homeschoolers will want to learn about.
The original purpose envisioned for the establishment of a colony in Georgia was for a place to keep English subjects who had been imprisoned for debtedness.
The colony was also designed to be a buffer between the southern British colonies and Spanish-controlled Florida.
The original European inhabitants settled in the area of what is now Savannah, GA.
After Britain's victory in the French and Indian war, the boundaries of the Province of Georgia were expanded, making it the largest of the original 13 colonies.
King George II of England specified in the charter of Georgia that the colony should be named after him.
Washington, Georgia, established in 1780, was the first city in North America to be named after George Washington.
At the time of the American Revolution, there were already over 18,000 slaves owned in GA.
Following its ratification of the constitution and new beginnings as a state, Georgia experienced significant prosperity, in large part because of the invention of the cotton gin. Here are several more facts about Georgia that your homeschoolers will be interested to learn.
Georgia was the first state to create a state-supported university in 1785, named Franklin College (after Benjamin Franklin.)
It was also the site of the first full college for women in the country, established in 1836.
The only two Georgians to receive the Nobel Peace Prize are Jimmy Carter and Martin Luther King, Jr.
In 1861, Georgia seceded from the Union and became part of the Confederate States of America.
In 1886, pharmacist John Pemberton created a non-alcoholic version of the French wine coca, calling it Coca-Cola, and it was first sold in Atlanta.
The Girl Scouts of the U.S.A. was founded in Savannah, GA in 1912.
Atlanta-born minister, Martin Luther King, Jr., based his Southern Christian Leadership Conference in the state.
Geographical Facts About Georgia
While there are plenty of fun facts about Georgia that highlight the history of the state, you'll want to make sure to cover important facts about Georgia geography, too. Exploring a map of the state will help a lot. Then download our printable Georgia map and mark it up with your child! Here are just some of the things you may want to explore and mark on your map.
Atlanta International Airport in central GA is the world's busiest passenger airport.
Georgia is the largest state east of the Mississippi River.
Although known as the "Peach State," Georgia is also the largest producer of peanuts and pecans in the United States.
Throughout its history, the state of Georgia has had five different capital cities, including Savannah, Augusta, Louisville, Milledgeville, and Atlanta. Can you locate and mark each of those on your map?
After Texas, Georgia has the next highest number of counties of any state, at 159.
South Georgia's Okefenokee Swamp in southeast Georgia is the largest swamp area in North America.
Stone Mountain, just east of Atlanta in central Georgia, is really not a mountain at all, but rather the largest single block of granite in the world.
Georgia State Map
Download our FREE Georgia state map printable. Use it as a coloring page or use it to plot the state's geographical features.
Educational Places of Interest in Georgia
Homeschooling families know that there is no better way to get children engaged with their studies than with a field trip! Georgia has a wealth of places where children can study history, geography, and many other subjects for themselves. Here are some ideas for day trips where you can get hands-on with your learning and enhance your Georgia state unit study.
For additional field trip options in Georgia, visit our dedicated Georgia Field Trips with Kids page.

Georgia Freebies and Deals for Homeschoolers
Georgia Learning Games for Children
Want to extend your Georgia unit study even farther? The following learning resources will introduce you to even more fun facts about Georgia and will also give your homeschoolers the opportunity to test their knowledge of what they've learned so far.