Unit Study Supplement: Vermont, U.S. 14th State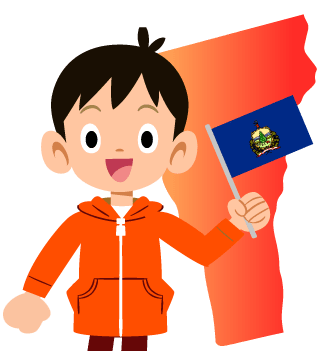 Vermont got its name from two French words, "vert" meaning "green" and "mont" meaning "mountain."  Its nickname of the Green Mountain State is in honor of the Green Mountain Boys, who protected Vermont from New York and later served in the American Revolutionary, Civil, and Spanish American Wars.
Keep reading to learn more interesting facts about Vermont, including historical facts about Vermont, a Vermont history timeline, geography facts and more. Time4Learning members can download our list of PreK-12 interactive activities that align with your study of Vermont.  Here are a few Vermont facts for kids:
Vermont Fast Facts
Became a Colony:

1777

Became a State:

March 4, 1791

Order it Joined the Union:

14th state

State Capital:

Montpelier

State Abbreviation:

VT

Border States:

State Flag:

State Song:

State Flower:

Red Clover

State Nickname:

Notable Vermonters:

Chester Arthur, 21st US President
Calvin Coolidge, 30th US President
John Deere, inventor/ entrepreneur
John Dewey, educator/ philosopher
Stephen Douglas, politician
Historical Facts About Vermont
Vermont was one of the original 13 colonies of the United States, so Vermont's history is important to the whole country.  Native people lived in Vermont as far back as 13,000 years ago. When Samuel de Champlain arrived from France in 1609, he discovered a number of Native American tribes, including the Abenaki (who still live there today), Massachusett, Mohican, Pennacook, and Pocomtuc.
Colonial Vermont had an unsteady beginning.  France had made the original claim on part of Vermont's land and a permanent settlement on an island known as Isle La Motte in northern Lake Champlain.  However, Great Britain established their first permanent settlement in 1724. Beginning in 1754, Great Britain and France fought for nine years, with Britain finally winning.  King George III included Vermont as part of New York, but Vermont declared itself as an independent colony in 1777.
Conflict continued as New York continued to oppose Vermont's independence and the Continental Congress refused to acknowledge Vermont as independent.  Vermont continued to function as independent from the union even after the end of the Revolution, having its own constitution, president, currency, and even postal service.  It continued negotiations and actions until New York finally gave up all claims to Vermont lands in 1790. Vermont then became the 14th state in 1791.
Now that you have the gist, read the Vermont history timeline below to learn detailed historical facts about Vermont.
1535
French explorer Jacques Cartier is the first European to see the Vermont area
1609
French explorer Samuel de Champlain arrived in Vermont
1724
British established their first permanent settlement at Fort Drummer
1754
French and Indian War began between Britain and France over lands including Vermont
1763
French and Indian War ended, with Britain gaining control of Vermont and including it as part of New York
1775
American Revolutionary War began with the Green Mountain Boys' assault on Fort Ticonderoga as one of the first offensive actions by American forces
1777
Vermont declared itself an independent colony, with the capital shifting across the Green Mountains each time the General Assembly met (known as "mountain rule")
1790
New York gave up its claims to Vermont
1805
Montpelier became the capital
1861
American Civil War began, with Vermont fighting on the side of the Union
Bring history and geography to life with Time4Learning's interactive online social studies curriculum for grades 2-12.
Vermont Geography Facts
Now you have some Vermont history facts down, let's turn our attention to the state's geography. Much of the state, almost 80 percent, is forested.  The sugar maple (state tree) is the source of Vermont's famous maple syrup, but there are other common trees such as cedar, spruce, pine, and yellow birch.
Also decorating Vermont are many wildflowers including sweet white violets, pink fairies, wild bleeding hearts, and bulbous buttercups. Vermont's wildlife consists of moose, black bears, white-tailed deer, red foxes, martens, and fishers, along with its peregrine falcons, ospreys, barred owls, ruffed grouse, eastern bluebirds, and American robins.
Closer to the ground you will find red-bellied snakes, common five-lined skinks, snapping turtles, mudpuppies, and American bullfrogs. Examine this map of Vermont to find out the basic geography of the state. Then read through the following Vermont geography facts. Print out the map of Vermont provided below and add these items to the map.
Vermont is bordered by Canada in the north, Massachusetts in the south, New York in the west, and New Hampshire in the east.
The capital, Montpelier, lies in the center of the northern half of the state.
Lake Champlain forms the northern half of the border with New York.
The Connecticut River forms the border with New Hampshire.
The Green Mountain Range formed over 400 million years ago and is found in the center of the state.
The Taconic Mountains are found in southwestern Vermont.
Vermont's highest point is Mount Mansfield, at 4,393 feet above sea level, in the Green Mountain Range.
The lowest point is Lake Champlain at 95 feet above sea level.
Vermont State Map
Download our FREE Vermont state map printable. Use it as a coloring page or use it to plot the state's geographical features.
Activities for Children in Vermont
What is the next step to learning fun facts about Vermont?  If you can, visit the state to see some of its unique places. Homeschoolers in Vermont might have it easier for travel, but both locals and out-of-state homeschoolers need to plan. Here are a few ideas to help you learn some Vermont state facts:
Looking for more things to do with your kids in Vermont? Check out this post full of field trip ideas in Vermont!
Vermont Freebies and Deals for Homeschoolers
Vermont Learning Games for Children
How many interesting things about Vermont do you know?  Test your knowledge of Vermont facts for students with these free games and activities: