Unit Study Supplement: New Hampshire, U.S. 9th State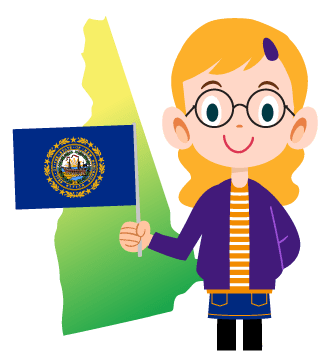 How did New Hampshire get its name?  Why is the state important to the history of the US? The founder of New Hampshire, Captain John Mason, named the colony after his homeland in Hampshire County, England.  He invested in developing the colony but never even set foot in New Hampshire!
The state's history of granite mining earned it its nickname of "The Granite State," but it is even more well known for its sand and gravel, and garnet and beryl.  Historically known for shoemaking, woodworking, and textiles, New Hampshire is now more known for its electrical and high-tech industries as well as its continued production of submarines.
Learn more interesting facts about New Hampshire, including historical facts about New Hampshire, a New Hampshire history timeline, geography facts and more in our unit study supplement of New Hampshire. Time4Learning members can download our list of PreK-12 interactive activities that align with a study of New Hampshire.  Here are a few New Hampshire facts for kids:
New Hampshire Fast Facts
Became a Colony:

1623

Became a State:

June 21,1788

Order it Joined the Union:

9th state

State Capital:

Concord

State Abbreviation:

NH

Border States:

State Flag:

State Song:

State Flower:

Purple Lilac

State Nickname:

Notable New Hampshirites:

Adam Sandler, actor
Alan B. Shepard, Jr., astronaut
Christa McAuliffe, astronaut
Dan Brown, author
Franklin Pierce, 14th President of the US
Horace Greeley, journalist
Mandy Moore, singer/actress
Maurice and Richard McDonald, co-founders of McDonald's
Historical Facts About New Hampshire
New Hampshire's history dates back more than 12,000 years ago!  French and British explorers arrived in the 1500s. They discovered the Abenaki and Pennacook people living there.  These Native American tribes stayed out of the wars between the French and English during the late 1600s and early 1700s.
However, many were lost to war and disease; those remaining eventually sided with the French and were forced out of the area when the British succeeded in battle.  Although few Native Americans remained in the state by the early 1700s, remnants of its Native American heritage are evident in the names of its towns, rivers, and lakes.
During the American Revolution in 1776, New Hampshire was the first colony to declare its independence from Great Britain and create its own constitution, becoming our 9th state in 1788.  Following the establishment of the union, agriculture flourished, and an extensive railway was built.  New Hampshire became involved in the production of Civil War materials such as uniforms, shoes, and rifles, while also contributing many men for fighting.
Following the Civil War, textile mills and tanneries grew as agriculture began to decline.  Items previously produced in New Hampshire (like wool, grains, and meat) were imported, thus changing the focus of agriculture to fruits, vegetables, and dairy.  Tourism increased as well as logging and the production of pulp and paper. This movement toward tourism, logging, manufacturing, and railroad interests and away from agriculture continued into the 20th century.
Despite the fact that New Hampshire has the largest state legislature in the US (with a membership of around 400 members), something that makes New Hampshire unique is the authority of its town governments.  The state of New Hampshire does not receive income from any general sales taxes or individual income taxes. This has put more responsibility in the hands of the towns. As a result, town governments have more control over services and more authority in New Hampshire than in any other state!
Check out the New Hampshire history timeline below to learn important historical facts about New Hampshire through the events that occurred in this state.
1623
New Hampshire area was founded, with the first permanent English settlement at Strawberry Banke in Portsmouth
1629
"New Hampshire," named after its founder's (Captain John Mason's) homeland, was included in a land grant, with Dover, Exeter, Hampton, and Portsmouth as the main settlements
1641-1679
New Hampshire region was governed by colonial Massachusetts
1679
New Hampshire became a separate British province
1689
Portsmouth became the capital of New Hampshire
1769
Dartmouth College was founded in Hanover
1774
Armed resistance to British rule occurred in New Castle
1776
New Hampshire organized its own government, with its capital eventually established at Exeter
1778
New Hampshire became the 9th state in the US, under President of the Continental Congress, John Jay (George Washington didn't become the first official US President until 1789!)
1784
New Hampshire adopted its state constitution, the second oldest in the US
1800
Portsmouth Naval Shipyard was established, first US naval shipyard (now known for its submarine production and maintenance)
1808
Concord became the unofficial capital of New Hampshire
1816
Concord became the official capital of New Hampshire
1907
MacDowell Colony, a retreat for musicians and writers was founded
Bring history and geography to life with Time4Learning's interactive online social studies curriculum for grades 2-12.
New Hampshire Geography Facts
Now that you have learned some new New Hampshire history facts, let's explore the state's geography. New Hampshire has a variety of flora and fauna.  Over eighty percent of the state is covered with forest. Trees include the white birch (state tree), blue spruce, black walnut, sugar maple, and Eastern white pine, and there are plenty of wildflowers including the buttercup, pink lady's slipper (state wildflower), evening primrose, and purple aster.
If you look for wildlife, you are likely to find white-tailed deer (state animal), raccoons, eastern red bats, nighthawks, great horned owls, hairy woodpeckers, painted and snapping turtles, black racer snakes, and bullfrogs, toads, and salamanders.  In the White Mountains, you will find black bear and moose as well. Environmental preservation and conservation efforts have been important within the last century in New Hampshire.
Here is a map of New Hampshire for you to get started. After looking over the map, read through the following New Hampshire geography facts. Print out the map of New Hampshire provided below and add these items to the map.
New Hampshire is bordered by Canada in the north, Massachusetts in the south, Vermont in the west, and Maine and the Atlantic Ocean in the east.
The capital, Concord, lies in south-central New Hampshire, on the Merrimack River.
The Connecticut River forms the western border with Vermont.
The Merrimack River can be found in the south-central part of the state and goes into Massachusetts.
The Pemigwasset River flows in central New Hampshire.
Squam Lake is in the central part of the state, east of the Pemigwasset River.
Lake Winnipesaukee is located in the eastern-central part of New Hampshire, southeast of Squam Lake.
New Hampshire's highest point is Mt. Washington, at 6,288 feet above sea level, in northeastern New Hampshire.  Did you know that Mt. Washington's highest surface wind speed of 231 mph can be compared to the winds of an F4 tornado or a category 5 hurricane?
New Hampshire's lowest point is the Atlantic Ocean at sea level.
New Hampshire State Map
Download our FREE New Hampshire state map printable. Use it as a coloring page or use it to plot the state's geographical features.
Activities for Children in New Hampshire
Now that you have learned some things about New Hampshire, consider visiting "The Granite State."  Learn fun facts about New Hampshire in a more hands-on way. Homeschoolers in New Hampshire can take day trips while homeschoolers from other states may need to book a couple days stay.  Here are a few ideas to help you learn some New Hampshire state facts:
Looking for more things to do with your kids in New Hampshire? Check out this post full of field trip ideas in New Hampshire!
New Hampshire Freebies and Deals for Homeschoolers
Would you like to learn about New Hampshire facts and information without breaking the bank?  Below are just a few ideas:
New Hampshire Learning Games for Children
Now that you know some interesting things about New Hampshire, it's time to test your knowledge of New Hampshire facts for students with these free games and activities: