Unit Study Supplement: North Dakota, U.S. 39th State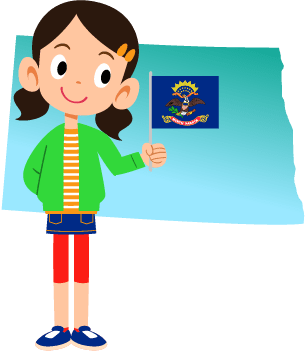 Did you know that there are more than twice as many cattle as people in North Dakota? It is the 19th largest state but also one of the least populated (under 800,000). So what is North Dakota known for? It is the US leader in production of honey (number one in the nation), durum and spring wheat, dry edible beans and peas, flaxseed and canola oil. It also grows the most sunflowers, ranks third among the states in sugar production, and has 25 billion tons of lignite ("brown coal") below its surface, which could supply the region with coal for the next 800 years!
In this article you'll learn interesting facts about North Dakota, including a North Dakota history timeline, geography facts and more. Time4Learning members can download our list of PreK-12 interactive activities that align with your study of North Dakota. Start out with these quick North Dakota facts for students:
North Dakota Fast Facts
Became a State:
November 2, 1889
Order it Joined the Union:
39th state
State Capital:
Bismarck
State Abbreviation:
ND
Border States:

Montana
South Dakota
Minnesota

State Flag:
State Song:
North Dakota Hymn
State Flower:
Prairie Rose
State Nickname:
Heaven, Norse Dakota, Peace Garden State, Flickertail State, Roughrider State, The 701
Notable North Dakotans:

Josh Duhamel, actor
Kellen Lutz, actor
Lawrence Welk, musician
Leslie Bibb, actress
Louis L'Amour, author
Roger Maris, baseball player
Wiz Khalifa, rapper
North Dakota Historical Facts
First explored by French Canadian, Pierre Gaultier de La Vérendrye and his crew, North Dakota was originally inhabited by Native Americans, including the Sioux people. During the 1700s, Europeans (including the French, Scottish, and English) arrived on steamboats on the Missouri River and set up fur-trading posts and settlements, and Canadians and other Americans came to the area for the fur trade. By 1800, a group known as Métis, people of mixed Native American and European descent, was established.
Germans who had migrated to Russia, as well as Norwegians, also settled in North Dakota. As a result of the geography and work of the early settlers, North Dakota eventually became a land mainly consisting of farms and ranches with more than half of its population living in cities. In more remote areas, like in the Badlands region, children still attend one-room schoolhouses from Kindergarten through eighth grade.
North Dakota became the 39th state in 1889 on the same day as South Dakota. President Benjamin Harrison shuffled the two statehood documents and signed them in random order, but North Dakota has been listed as being first because it is before South Dakota alphabetically. The original state capitol building in Bismarck burned down in 1930 and was replaced by what is now the tallest building in North Dakota (242 feet high) and the third tallest capitol in the US.
Read the North Dakota history timeline below to learn important North Dakota history facts through the events that occurred in this state.
1738
Pierre Gaultier de La Vérendrye explored villages near what is now Bismarck
1801
First permanent trading post in North Dakota was established at Pembina
1803
US acquired part of North Dakota from France through the Louisiana Purchase
1804
Meriwether Lewis and William Clark arrived in North Dakota and spent more time in the state than in any other state
1817
US acquired the remainder of North Dakota (the area drained by the Red and Souris rivers) through the Rushs-Bagot Agreement
1837
Smallpox reduced the Mandan Native American population from 1,800 to 125 in just a few months
1861
Dakota Territory was established
1862
Homestead Act allowed pioneers to acquire land in North Dakota
1871
Railroads reached the Red River, the eastern border of North Dakota, from Minnesota
1876
Lieutenant Colonel George A. Custer and the 7th Cavalry set out from Fort Abraham Lincoln (near Mandan, ND) for what became the Battle of Little Bighorn (in Montana)
1878
Beginning of the "Dakota Boom," where large wheat farms were created across the state (until about 1886)
1887
North Dakota's David Henderson Houston invented a camera and named it "Kodak" by scrambling the first four letters of "Dakota" and adding a "K." The rights were later sold to George Eastman.
1889
North Dakota became the 39th state in the US
1915
Farmers' Nonpartisan League was formed, establishing a state-owned flour mill, grain elevator, and bank
1927
North Dakota Farmers Union was founded to control the selling of grain and purchase of farm supplies
1929
First mosque in the US was built by Lebanese immigrants in Ross
1933
Satchel Paige, a Black pitcher, played for the Bismarck town team, setting North Dakota apart (along with Minnesota) as a state with racially integrated baseball teams long before the major leagues were integrated
1954
Garrison Dam was completed on the Missouri River. It became important for hydroelectric power and irrigation but also flooded Native American farmland.
2010
A collection of 406 road-side plants found in North Dakota showed that 80% showed evidence of genetic modification
2012
North Dakota was the fastest growing state due to an oil boom in the Bakken fields of western North Dakota
Bring history and geography to life with Time4Learning's interactive online social studies curriculum for grades 2-12.
North Dakota Geography Facts
North Dakota is home to the Enchanted Highways, a 32-mile stretch of the world's largest scrap metal sculptures, and it holds records for the most snow angels made in one place (8,962 people), the world's largest hamburger (3,591 pounds), the world's largest buffalo monument (26 feet and 60 tons), the largest pancake feed (34,818 pancakes), and the world's largest Holstein cow sculpture (38 feet high, 50 feet long, and visible for five miles).
Grand Forks holds an annual Potato Bowl where it set a record amount of 5,220 pounds of french fries served in 2015. North Dakota has unusual city names like Buttzville, Cannon Ball, and Zap and engages in the unique sport of lawn mower racing. North Dakota is also known for its tornadoes and is one of the coldest states with harsh winters (as low as -60° F) and hot summers (as high as 120°F).
North Dakota consists of 90% of farms and ranches, which makes it a great place for agritourism (visitors participating in everyday farm/ranch activities). It also has more wildlife refuges than any other state. Little Missouri National Grasslands, the largest grassland in the US, has an area of more than 1 million acres. The plains of North Dakota used to be inhabited by huge herds of bison, and due to the efforts of President Roosevelt, there are still about 90,000 bison living in North Dakota. Forests make up less than 1% of the state, the smallest amount of forest in a state in the US. North Dakota's geography serves as habitats for antelope, elk, bear, and deer, in addition to its bison.
Check out this map of North Dakota to start getting familiar with the state. Then read through the following North Dakota geography facts. Print out the map of North Dakota provided below and add these items to the map.
North Dakota is bordered on the north by the provinces of Saskatchewan (western) and Manitoba (eastern), the state of Montana on the west, South Dakota on the south, and Minnesota on the east.
Following the Sioux word, "Dakota," which means "friend" or "ally," the International Peace Garden, a symbol of peace and friendship, lies on the border of North Dakota and Manitoba, Canada.
The Missouri River flows diagonally, roughly between the northwest corner and the middle of the state on the southern border.
The capital of North Dakota, Bismarck, lies ­­­in the center of the state, just south of the middle, on the Missouri River.
Lake Sakakawea, a reservoir resulting from the construction of Garrison Dam, is found midway through the state on the Missouri River. It has a longer shoreline than the Pacific coast of California.
Lake Oahe extends from the Missouri River into South Dakota.
Devils Lake and the smaller Lac Aux Morts are located in the northeastern quarter of the state.
North Dakota's highest point, White Butte, is 3,506 feet above sea level, and is found in the Badlands, along the Little Missouri River, in the southwest corner of the state.
North Dakota's lowest point is on the Red River, at 750 feet above sea level, which lies on the eastern border with Minnesota.
North Dakota State Map
Download our FREE North Dakota state map printable. Use it as a coloring page or use it to plot the state's geographical features.
Activities for Children in North Dakota
How else can you discover fun facts about North Dakota? Although North Dakota is the least visited state in the country, you can see below why it might be worth your time. Homeschoolers in North Dakota can experience engaging day trips while visitors may be able to plan extended visits to some of the state's most interesting places. Here are some possibilities to supplement the learning of North Dakota facts for kids:
Looking for more things to do with your kids in North Dakota? Check out this post full of field trip ideas in North Dakota!
North Dakota Freebies and Deals for Homeschoolers
You can learn more North Dakota facts and information without spending a lot of money. Below are just a few ideas:
North Dakota Learning Games for Children
Test your North Dakota facts knowledge with these free games and activities: