Ideas on How to Set Up Your Homeschool Learning Space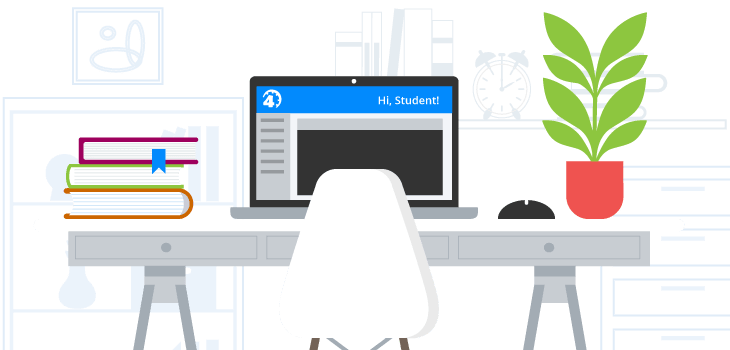 Trying to stay organized in today's hectic world may sound impossible, but trust me, when you homeschool multiple children, having a place for everything is a MUST. I remember when I first began my homeschooling journey. Pinterest was my best friend; I had all these great homeschool classroom setup ideas pinned to my board that I wanted to try out. They didn't turn out exactly as I planned, and now, with a few homeschooling years under my belt, I've gotten better at organizing my kids' learning spaces.
Below are some of the ideas for setting up a homeschool classroom that have worked for us, as well as some that I've seen work well for other homeschooling families we know.  I hope that you can integrate some of these tips into your own homeschool classroom!
Ideas for Homeschool Classroom Organization
There are as many ways to organize for homeschooling as there are homeschooling families. Choosing how to set up your homeschool classroom depends on the number of children you are homeschooling, your homeschooling style, and your tolerance for seeing homeschool-related items in the different rooms of your house!  Some people (like us) have given up the battle of keeping homeschooling contained to just a room or two. Others are much more adamant that they have homeschool-free zones.
Using the Whole House (and Yard) as Your Homeschool Classroom
We homeschool in southern California where we are surrounded by the beach. During the day, weather permitting, we either read outside on the balcony or take a stroll down to the beach. We've come to find out that being outside works well for my kiddos. They can relax, get some fresh air, and enjoy their books in a new environment.
As crazy as it sounds, we use our pool as a homeschool learning area too. Our kindergartener is hyperactive, and one of the ways we keep him learning is in the pool! We throw in alphabet letters, words, colored shapes, numbers, and anything we can think of (depending on what we're studying that week). We ask our little one to dive and find said letter, word, number, color, shape etc. Not only is he becoming a better swimmer, but he is also enjoying learning.
While we use an online curriculum in our homeschool, we supplement our science curriculum with science shows and documentaries on YouTube and The Discovery Channel. Our family room has become our designated science learning area. Over the years, we've accumulated a few science decorations to make it fit the part. We have a periodic table doormat near the door and an atom pillowcase laying on our couch!
Each of my kids has a desk in their room where they complete individual assignments, while group activities are done at the family table. This homeschool setup works for us, since we have kids of different age groups who sometimes prefer to work alone.
Our children's education is our #1 priority, so our entire home is setup as a homeschool classroom. I do, however, have a little office area where I keep all the completed projects, records of quizzes, tests, events we participate in, and everything I think is valuable for recordkeeping. College is definitely on the roadmap for my kids and I want to make sure we have a solid homeschool portfolio to present when the time comes.
While there are tons of homeschool setup ideas out there, this is what I've learned works best for my kids. It does require a little extra work than designating a single space to homeschooling, but it is entirely worth it. Several of my friends have also found creative ways to turn various parts of their house into learning environments. Here's how they do it.
A friend of mine saves all science instruction for the summer and does almost all of it out in the backyard. Her outdoor area becomes a virtual science lab where the kids can get as messy (and excited about) their science learning as they want. Plus, it lends itself to plenty of interactivity with nature.
I love how one friend has turned the empty area under their stairwell into a reading area with a cozy beanbag, soft lighting, and built-in bookshelves. Her kids have been known to get into scuffles over who gets to spend time in the "book nook."
I'm inspired by the idea that one of my friends had to dedicate an entire coat closet to homeschool storage. She decided that hooks down the hallway for the family coats were a fair trade for having a devoted area for all the books, resources, and curricula that had started to take over her home.
Homeschool classroom setups are probably as varied as the homeschoolers themselves. And this is why homeschooling offers a learning experience unlike any other.
Creating a Main Homeschooling Area
One of the most popular homeschool setup ideas out there is designating a specific room for homeschooling. It allows you to have everything easily accessible in one place. And, your classroom can be anything you want it to be—a traditional classroom with student desks, blackboards, whiteboards or a more personalized learning space with a communal workstation. If this idea appeals to you, consider the following tips:
Encourage your students to personalize their desks with repositionable stickers.
Add a blackboard the easy way—stick it on with innovative chalkboard wall stickers or adhesive paper. Both can be easily repositioned or removed as necessary.
Give your students living things to tend to such as plants and/or fish for hands-on biology.
Create a cozy nook with bean bag chairs and a fun, colorful area rug. This is an awesome space to read books and complete assignments, to do work on a tablet or laptop, to study, or to brainstorm.
Make your walls work for you—hang up helpful educational charts of math facts and parts of speech, laminated U.S. and world maps, an interactive clock, magnetic white boards with letters for spelling, numbers for calculating, and words for forming sentences and short poems.
Ask for your children's input. What inspires them to learn? How do they learn best?
Keep Your Homeschool Space Organized
Whether you have a single classroom or utilize multiple areas throughout your house, organization and clutter control are key. Keep these simple tips in mind for a more organized and successful homeschool space.
Invest in bookshelves and equip them with baskets and/or bins to keep supplies contained.
Use storage bins on wheels.
Color code your student's folders and binders, pencil boxes, art supplies, calculators, etc.
Hang up over-the-door plastic shoe hangers. The pockets are perfect for storing flashcards, stickers, pencils, pens, and highlighters, calculators, sticky notes, scissors, rulers, and more.
Be prepared to conquer clutter on a daily or weekly basis.
Whether you are a new homeschooling parent or a veteran, setting up/refreshing your homeschool classroom is always fun. It gives you and your students an opportunity to express your creativity! Like me, you'll probably discover that scanning homeschool classroom ideas on Pinterest only goes so far. Creating a homeschool classroom is a highly individualized process that will evolve and change often, much like homeschooling itself. But isn't that what's so wonderful about this unique educational option??