Homeschool Classroom Ideas: Set Up Your Learning Space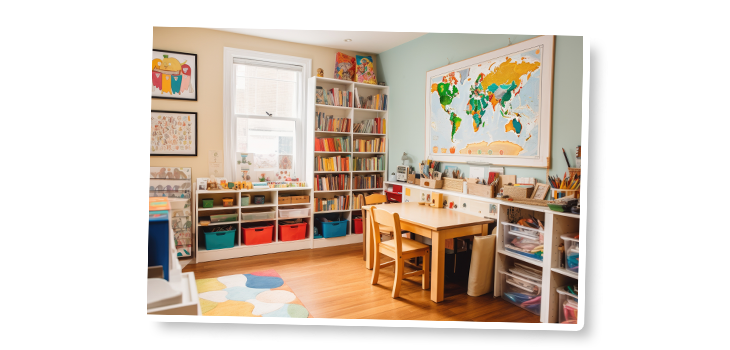 It's time to start your new homeschool year! How exciting! But where will you do school work? Do you have a room sitting completely empty in your home that you can turn into a classroom complete with desks, a whiteboard, bulletin board, large world map, and motivational posters? No? That's okay. Remember, homeschool is not traditional school at home. However, having a dedicated space in your home for learning is important for helping your students focus and for helping you maintain your sanity.
Where Do I Start? Homeschool Classroom Ideas
So what do you do? The most important thing you can have for your homeschool classroom is a table. Whether you have a room you can designate a portion of as a classroom or the only space you have is your kitchen table, as long as you have a table and chairs, you can make it work. Other supplies you'll need will be dependent upon the age/grades of your children. While younger students will need plenty of space for art supplies, math manipulatives, alphabet flashcards, etc., older kids will need space for books and a computer.
Don't stress about needing to buy a lot of furniture or spend a lot of money on your homeschool classroom setup. There are plenty of space- and budget-friendly options to help you set up your classroom area. No matter where in your home you choose to set up your learning space, the most vital element will be keeping that location organized.
How to Keep Your Classroom Organized
If you're homeschooling, it's important to have a "command center" – a designated bookshelf for all your homeschool materials. Knowing where everything is so you can easily put your hands on what you need is essential for maintaining organization. Even if you're using the kitchen/dining room and may not have space for a bookshelf right next to the table, having this command center, even if it's in another room, will go so far in helping you stay organized.
Depending on the age of your kids and your curriculum choice, you may need some stackable drawers, bins, or shelves for workbooks (simple plastic ones will work), and containers for pencils, crayons, and markers (you can check your local dollar store for these).
Here are a few additional organizational tips:
Use available wall space to add some shelves for easy access
Have a designated color of notebooks and folders for each student to use exclusively to help your kids (and you!) identify their materials more easily
Use an online curriculum like Time4Learning to keep extra supplies to a minimum
Use a rolling cart for daily materials – This is especially helpful if your command center isn't in close proximity to your learning space. Each evening, you can get out the workbooks, chapter books, art supplies, etc. that you'll need for the next day and add them to the rolling cart. You can easily roll that next to the table to use for that school day, then roll it back when finished.
Place a giant world map on the kitchen table, and cover it with clear plastic. This gives easy access to the map when needed, dry-erase markers can be used if necessary, and if company comes over, just throw a tablecloth over the whole thing and no one is the wiser!
Create an Outdoor Learning Space
An important detail to note is that learning is not confined to your designated classroom space. Yay for homeschool! While the table area may be best for bookwork, art, and work on the computer, the whole house and outdoors can be used for learning! Seasoned homeschooling expert, Cathy James said, "Anything you can teach in an indoor classroom can be taught outdoors, often in ways that are more enjoyable for children."
The outdoors is a wonderful place to learn science (plant and animal kingdoms, water cycle, weather, exercise of the body, the differences in seasons, etc.), spend some time reading, take field trips, and more. You don't have to have an assigned outdoor learning space to enjoy all that outside has to offer. However, making a little spot for sitting, reading, studying, and exploring, amongst other things, is a great way to keep learning fresh and exciting in your homeschool.
No matter where or what shape your homeschool classroom may take, making it work for your family is all that matters. You'll likely be surprised at how creative you'll become as you carve out your homeschool learning spaces and enjoy this journey with your children!
Originally Published: August 22, 2019