Unit Study Supplement: Michigan Facts, U.S. 26th State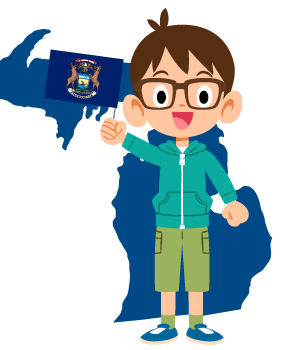 Did you know that the state of Michigan has over 64,000 inland lakes and ponds? Or did you know that the first European settlement in what is now Michigan was formed to create a base for Catholic mission work? In this state study, you'll learn many interesting facts about Michigan's history and geography, and you'll even learn about some fun things for children to do in the state. Don't forget to check out Time4Learning's full series of United States unit study supplements to learn the complete history of the formation of the United States of America as we know it today.
On January 26, Michigan celebrates its admission to the union — the beginning of its statehood. This homeschool unit study supplement is the perfect way to commemorate this date in an educational way with your homeschoolers. You can also download our list of PreK-12 interactive activities that align with your study of interesting facts about Michigan.
Michigan Fast Facts
Became a State

January 26, 1837

Order it Joined the Union

26th State

State Capital

Lansing

State Abbreviation

MI

Border States

Illinois
Indiana
Ohio
Minnesota (water border)

State Flag
State Song

"My Michigan"

State Nicknames

The Wolverine State
The Great Lake(s) State

Notable Michiganians

Diana Ross, singer
Serena Williams, athlete
Tom Selleck, actor
Charles Lindbergh, inventor
Henry Ford, inventor
Francis Ford Coppola, director/producer
Stevie Wonder, singer
Historical Facts About Michigan
In pre-colonial times, several different native tribes populated the area that would be known as the state of Michigan. The Huron, Chippewa, Kickapoo, and Ojibwe tribes were just some of the native nations that lived throughout the area of Michigan and southern Ontario. Although experts aren't in complete agreement, many believe that the name Michigan comes from a Native American word meaning "big water."
The first European explorers known to visit the area were from France. In 1668, French missionaries established sites there that could serve as bases for their Catholic mission activities. From the early 1700's, the French ruled the area, and colonial Michigan was actually part of the royal province called "New France" (which included the Great Lakes area and also parts of present-day Canada).
Following the French and Indian War, the territory transferred to Great Britain and at the end of the Revolutionary War the area of Michigan came completely under American rule. Although Ohio and Indiana each wanted to absorb parts of Michigan into their own states, Congress and the Michigan electorate were eventually able to come to an agreement over territory and Michigan became its own free state in 1837.
Although not born in Michigan, the 38th president of the U.S., Gerald Ford, grew up in the state and his presidential library is located in Grand Rapids.
1668
The first permanent European settlement was established in Sault Sainte Marie.
1701
French explorer Antoine de la Mothe Cadillac founded what would become the city of Detroit.
1805
Detroit becomes the capital of the Michigan Territory.
1813
American forces recovered Detroit during the War of 1812.
1817
The University of Michigan was founded.
1837
Michigan becomes the 26th state.
1847
Lansing becomes the state capital.
1854
The Republican Party had its first statewide convention in the city of Jackson.
1906
The Kellogg Company was founded in Battle Creek, also known as Cereal City.
1903
The Ford Motor Company was founded.
1908
General Motors was founded in Detroit. The Ford Motor Company manufactures the Model-T automobile.
1959
The American record company Motown Records is established in Detroit.
2002
Jennifer M. Granholm becomes the first female governor.
Geographical Facts About Michigan
Historical facts about Michigan are best studied in the context of its land and unique geographical features. Exploring a map of the state will help a lot. Then download our printable Michigan map (below) and mark it up with your child. Here's a small survey of some of the things your homeschoolers will find fascinating about Michigan's geography.
Michigan shares an international border with Ontario, Canada.
90% of the upper peninsula of Michigan is covered in trees.
The city of Detroit, on Michigan's southeastern border, is often called "Motor City" because it was the center of automobile mass production in the beginning of the 20th century.
The bus that civil rights activist Rosa Parks rode on is on display at the Henry Ford Museum in Dearborn, MI.
The only floating zip code in the U.S. is on a mail ship called the J. W. Westcott II, which operates out of Detroit and delivers mail to other ships.
Over 40% of Michigan is covered with water — more than any other state!
Michigan is also the only state to have two peninsulas, the Upper Peninsula and the Lower Peninsula.
Michigan State Map
Download our FREE Michigan state map printable. Use it as a coloring page or use it to plot the state's geographical features.
Activities for Children in Michigan
If you homeschool in the state of Michigan, you may or may not be aware of all the great day trips that will offer your families opportunities for both recreation and learning. If you are visiting the state, this list will be especially helpful as well. Enhance your Michigan facts unit study with these field trip ideas.
For additional field trip options in Michigan, visit A2Z Homeschooling's Michigan Field Trips with Kids page.
Michigan Freebies and Deals for Homeschoolers
Michigan Learning Games for Children
Boost your
child's online learning
experience by checking out these available resources to assess your child's knowledge about Michigan and learn even more about the Great Lakes State.