Celebrating Great Women in History in March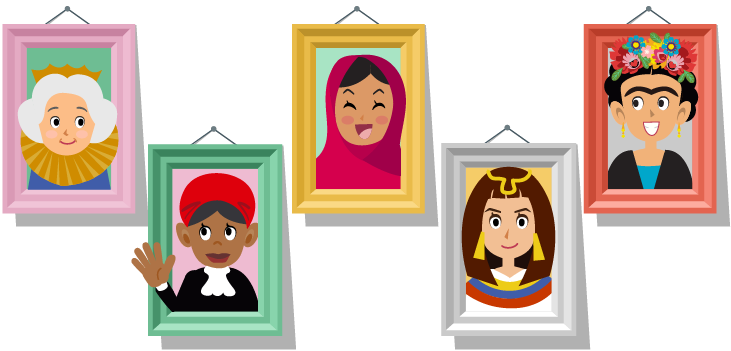 Every March, the bravery, determination, and accomplishments of important women in history are celebrated and reflected on during Women's History Month. These women come from all walks of life, races, ages, and religions. Most have overcome major obstacles, both physical and mental, to achieve their goals. Each day, they inspire both women and men, young and old to go into the world and make their mark just like they did.
Women's History Month Origin
Women's History Month got its start as Women's History Week in Santa Rosa, California as a local celebration in 1978. The organizers chose the week of March 8 so that it would coincide with International Women's Day, which was first celebrated in 1975.
In February 1980, President Jimmy Carter proclaimed the week of March 2-8 as National Women's History Week. After being petitioned by the National Women's History Project, Congress passed Public Law 100-9 in 1987 designating the entire month of March as Women's History Month.
Since 1995, every President has issued an annual proclamation, and each year, the National Women's History Alliance selects a theme for the upcoming Women's History Month. Past themes have included Visionary Women: Champions of Peace & Nonviolence, Working to Form a More Perfect Union: Honoring Women in Public Service & Government, and Nevertheless She Persisted: Honoring Women Who Fight All Forms of Discrimination Against Women.
Women's History Lessons
Download related Women's History Month lesson plans across Time4Learning grade levels to enhance your study this month.
Women's History Timeline
Below is a timeline of inspirational women in history who have paved the way for others with their courage, selflessness and significant contributions.
69 BC
Ancient Egyptian queen Cleopatra was born. It is believed that she spoke at least six languages. To keep power, she aligned herself with two of the most powerful men of her time, Julius Caesar and Marc Antony.
1429
Eighteen-year-old French heroine Joan of Arc successfully leads the French army in a battle against the English, who had seized the city of Orleans.
1451
Isabella I of Castile was born. Along with her husband, Ferdinand II of Aragon, she drove the Moors out of Spain, helped unite the country under one rule, and funded Christopher Columbus' voyage to the New World.
1547
Catherine de' Medici became Queen of France after she married King Henry II. She was appointed regent of the country after he died in 1559, raised three future kings, and is considered by some to be the most powerful woman in 16th-century Europe.
1558
Queen Elizabeth I began her reign that lasted until her death in 1603. During that time, she established the Protestant Church of England, ended a war with France, and defeated Spain in a great sea battle.
1804
Sacagawea, a Shoshone interpreter, joined Lewis and Clark on their mission to explore the American West and became the only woman to join the expedition.
1849
Harriet Tubman escaped slavery. Between 1850-1860, she made over a dozen trips from the South to the North by way of the Underground Railroad to free more than 300 slaves.
1872
Victoria Woodhull became the first woman to run for the U.S. presidency. She was nominated by the Equal Rights Party.
1881
Clara Barton founded the American Red Cross and led the humanitarian organization for the next 23 years. Prior to that, she nursed injured soldiers in the battlefield during the Civil War.
1907
Mexican artist Frida Kahlo is born. One of the most celebrated Mexican painters of all time, she is best known for painting expressive, emotional art in strong colors that often included themes from Mexican history.
1922
American Bessie Coleman becomes the world's first black woman to earn a pilot's license. Since she was turned away from flying schools in the U.S., she learned French, moved to France, and earned her license there in just seven months.
1932
Aviator Amelia Earhart becomes the first woman to fly solo across the Atlantic Ocean. Then in 1935 she flew solo across the Pacific, making her the first woman, and first person, to fly solo across both the Atlantic and Pacific Oceans.
1935
Danish explorer Caroline Mikkelson becomes the first woman to set foot on the continent of Antarctica.
1955
Bus passenger Rosa Parks refuses to give up her seat to a white man. Her arrest sparked the Montgomery bus boycott which ultimately led to the end of segregation on public buses in the city.
1965
Chemist Stephanie Kwolek created a new fiber that would later be developed into Kevlar, a lightweight yet durable synthetic found in bulletproof vests, sports equipment, and military helmets, just to name a few. She was inducted into the National Inventors Hall of Fame in 1994.
1973
Tennis player Billie Jean King famously beat male player Bobby Riggs in the Battle of the Sexes match. Riggs previously said women's tennis was inferior to the men's game.
1975
Junko Tabei becomes the first woman to summit Mt. Everest. She also founded Japan's first Ladies Climbing Club in 1969. In her lifetime, she reached the summit of more than 150 mountains in 76 countries.
1976
Journalist Barbara Walters became the first woman to co-anchor an evening news broadcast on ABC. Her annual salary of $1 million also made her the highest-paid journalist at the time.
1980
Vigdís Finnbogadóttir becomes the fourth president of Iceland and the first woman elected president of a country.
1984
Geraldine Ferraro becomes the first woman of a major political party to run for Vice President of the U.S.
2004
Soccer player Mia Hamm retires from the U.S. Women's National Team as the world's all time leading scorer with 158 goals, the most by any player, male or female.
2014
Malala Yousafzai is awarded the Nobel Peace Prize at the age of 17 for her "struggle against the suppression of children and young people and for the right of all children to education." Two years earlier, the activist was shot by a masked gunman after she began advocating for girls' rights to go to school and learn.
2015
Ballet dancer Misty Copeland makes history by becoming the first African American woman to become the principal dancer for the American Ballet Theatre in the company's 75-year history.
2020
Katie Sowers becomes the first woman to coach at the Super Bowl as the offensive assistant coach for the San Francisco 49ers.
2021
Kamala Harris is inaugurated as the first female vice president of the United States. She is also the first Black and Indian person to hold that office.
Frequently Asked Questions About Women's History Month
Learn more about the importance of women and National Women's History Month with these frequently asked questions.
When did Women's History Month start?
Women's History Month started in 1987 after Congress passed Public Law 100-9 designating the month of March as Women's History Month.
Why is Women's History Month important?
Women's History Month is important because, as President Jimmy Carter put it during his proclamation in 1987, "Too often the women were unsung and sometimes their contributions went unnoticed. But the achievements, leadership, courage, strength and love of the women who built America was as vital as that of the men whose names we know so well."
Who started Women's History Month?
Women's History Month was started by the National Women's History Project, now known as the National Women's History Alliance. The non-profit organization petitioned Congress in 1987 which led to Public Law 100-9 designating the month of March as Women's History Month.
What is Women's History Month all about?
Women's History Month is all about celebrating the contributions women have made to society, recognizing their bravery, leadership, and strength, and reflecting on their impact on history.
Women's History Month Activities by Grade Level
Students will gain the most from a study of women's history by participating in a variety of cross-curricular exercises. Below, you'll find educational ideas for preschool through high school that honor important women in history.
Women's History Month Activities for Preschool
Preschoolers will cheer for their favorite new heroines when introduced to them in picture book form. Books such as Betsy Ross, Rosa's Bus, Summer Birds and the Effa Manley Story are great places to start.
Teach your preschooler a song about one of the great women in history. Ideas could include Keep Your Face to the Sunshine (about Helen Keller) or What Can One Little Person Do? (about Rosa Parks)
Women's History Month Activities for Elementary
Turn the study of women's history into gameplay with these interactive Women in History games.
Did you hear about the limited edition release of Lego™ Women Scientist figures? Even if you can't score a set of those, it might be fun for your student to choose a female scientist to research and then recreate her accomplishments in block form.
Women's History Month Activities for Middle School
Let middle schoolers stretch their multimedia muscles by creating their own set of printable women's history facts cards that include images of notable women along with a short paragraph of what they are known for.
Do you have a building, monument, statue, or museum in your local area that is named after or dedicated to a woman? Have your middle schooler research the contributions of that local figure and then be sure to take a field trip to visit the memorial.
Women's History Month Activities for High School
Can your high schooler think of any current careers that are still primarily occupied by men in today's world? Have them research and discover at least one woman in each of those fields and see if they can uncover what it's like for them working in a male-dominated profession.
The Equal Pay Act was signed in 1963, when women earned just 59 cents to every dollar that men earned. Have your high schooler find out what the comparison is to male and female pay today and then calculate the percentage that figure has increased or decreased since 1963.