Celebrating Great Women in History in March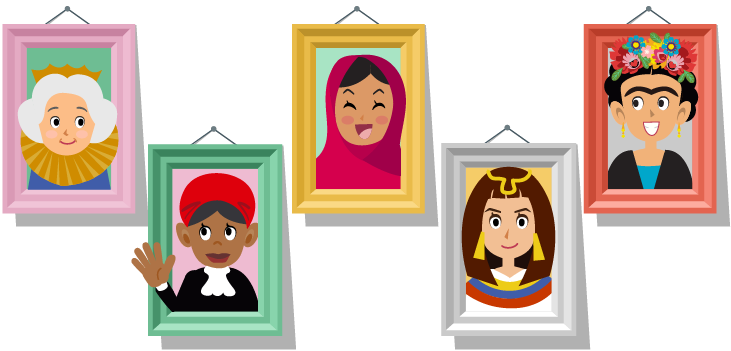 In the United States, Canada, the U.K., and Australia, the month of March is dedicated to remembering the contributions of women throughout history. For children, this is an ideal time to put a purposeful focus on the study of all the ways women have intertwined with the happenings in our world — both big and small. If you'd like to highlight the importance of women in history this March, this post will be a great starting point.
We'll be sharing information on how Women's History commemorations got started in the U.S., a sampling of inspirational women in history, and finish off with ideas for activities that you can integrate into your women's appreciation month study from preschool through high school. Are you ready to see what amazing things have been accomplished by womankind? Then, let's begin!
The Origins of Women's History Month
You might be wondering how the whole idea of a women's history month got started. Well, it probably got its origins earlier than you might guess. In 1909, the first "National Woman's Day" was held across the U.S. on February 28. The next year, over 100 women from seventeen countries around the world attended an international conference for women in Copenhagen. Four countries adopted an International Women's Day in 1911, which over a million women attended. Throughout the rest of that decade, poor working conditions for women led to many rallies and protests in the U.S, and even contributed to the push for women's suffrage, accomplished in 1920.
The central movement toward women's rights history shifted mostly to socialist countries for the next fifty years until, in 1975, the United Nations began celebrating International Women's Day on March 8. In the later 1970s, some schools adopted Women's History Weeks, and a 15-day conference about women's history was held at Sarah Lawrence College in 1979. The next year, President Jimmy Carter proclaimed the week of March 8 as National Women's History Week and a joint congressional resolution followed in 1981. Finally, in 1987, after being petitioned by the National Women's History Project, congress passed a statute designating the entire month of March as national Women's History Month!
Women's History Lessons
Download related Women's History Month lesson plans across Time4Learning grade levels to enhance your study this month.
Famous Women in History
It's almost impossible to choose which of the great women in history to focus on in a post like this one, but we've picked some names that children of all ages will probably recognize and for which you can easily find supplemental books and resources if you wanted to turn each one into an individual unit study.
Cleopatra – When it comes to strong women in history, ancient Egyptian queen Cleopatra is top of the list. It is believed that she spoke at least six languages. To keep power, she aligned herself with two of the most powerful men of her time, Julius Caesar and Marc Antony.
Queen Elizabeth I – Elizabeth, daughter of King Henry VIII, ruled England from 1558 until her death in 1603. During that time, she established the Protestant Church of England, ended a war with France, and defeated Spain in a great sea battle. Her reign was a time of expansive English exploration which led to the eventual British Empire of the 17th and 18th centuries. It's very possible that we speak English in the United States as a direct result of her expeditions!
Harriet Tubman – The most famous leader of the Underground Railroad (a network of people dedicated to helping escaped slaves to freedom) was Harriet Tubman. During the American Civil war, she served as a nurse, a scout, and even a spy for the Union army.
Frida Kahlo – One of the most celebrated Mexican artists of all time is Frida Kahlo. She is best known for painting expressive, emotional art in strong colors that often included themes from Mexican history.
Malala Yousafzai – Although she is from the country of Pakistan, where teaching girls is banned in many areas, Malala Yousafzai has been an outspoken champion of girls' education. She received many death threats in her youth and in 2012 was shot in the head by a member of an Islamic militant group. She survived the attack, however, and went on to receive the Nobel Peace Prize at the young age of seventeen.
More Interesting Women's History Month Facts
The first woman to run for president of the United States was Victoria Woodhull in 1872.
Madam C.J. Walker was the first female self-made millionaire in America. She created a hair care line in 1905 then increased her wealth through real estate investments.
American first lady Eleanor Roosevelt sometimes held womens-only press conferences during a time when women were often excluded from press coverage.
During WWII, hundreds of women participated in the Women Airforce Service Pilots (WASP) program which moved military aircraft around the country.
The first country in the world to allow women the right to vote was New Zealand in 1893.
In 1903, a woman named Mary Anderson received the patent for an item designed to keep snow and rain off of car windows. Today, every car has her invention included in it: windshield wipers!
Women's History Month Activities by Grade Level
Students will gain the most from a study of women's history by participating in a variety of cross-curricular exercises. Below, you'll find educational ideas for preschool through high school that honor important women in history.
Women's History Month Activities for Preschool
Preschoolers will cheer for their favorite new heroines when introduced to them in picture book form. Books such as Betsy Ross, Rosa's Bus, Summer Birds and the Effa Manley Story are great places to start.
Teach your preschooler a song about one of the great women in history. Ideas could include Keep Your Face to the Sunshine (about Helen Keller) or "What Can One Little Person Do?"" (about Rosa Parks)
Women's History Month Activities for Elementary
Turn the study of women's history into gameplay with these interactive Women in History games.
Did you hear about the limited edition release of Lego™ Women Scientist figures? Even if you can't score a set of those, it might be fun for your student to choose a female scientist to research and then recreate her accomplishments in block form.
Women's History Month Activities for Middle School
Let middle schoolers stretch their multimedia muscles by creating their own set of printable women's history facts cards that include images of notable women along with a short paragraph of what they are known for.
Do you have a building, monument, statue, or museum in your local area that is named after or dedicated to a woman? Have your middle schooler research the contributions of that local figure and then be sure to take a field trip to visit the memorial.
Women's History Month Activities for High School
Can your high schooler think of any current careers that are still primarily occupied by men in today's world? Have them research and discover at least one woman in each of those fields and see if they can uncover what it's like for them working in a male-dominated profession.
The Equal Pay Act was signed in 1963, when women earned just 59 cents to every dollar that men earned. Have your high schooler find out what the comparison is to male and female pay today and then calculate the percentage that figure has increased or decreased since 1963.