5 Ways to Simplify Your Life Before the New Homeschool Year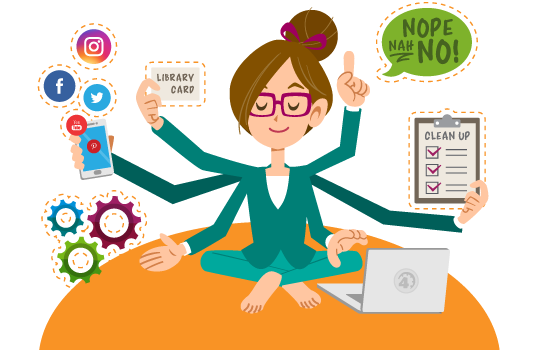 Don't look now, but the new homeschool year is edging closer!  Even if we try hiding behind pool noodles, tall sunflowers, or even a picnic umbrella, it's going to find us, eventually. So, we might as well wrap our heads around the idea and prepare.
The best way I know to keep "back-to-homeschool overwhelm" from taking over is to focus less on homeschool planning and more on simplifying areas of life that might be getting out of control.
What if you could spend the last few weeks before school starts by disentangling yourself from any mayhem that could derail your best laid homeschool plans this year? If so, here are five ideas for not just organizing your homeschool, but your life, so that you can keep your priorities and emphasis where you want it.
1) Recognize the Value of "No"
Does it ever feel as though you have an invisible target on your back — one that only people who need something can see? There is nothing that can over-stress a homeschool year more than taking on too many commitments. Carve out some time to create a list of your top five values: the things that are non-negotiable to you.  Then, anytime a request (or even an opportunity) arises that you have a choice about, weigh it against your list. If it's not a match, you'll know that "no" is the absolute appropriate response.
2) Embrace Your Library Card
When I tell people that my library card is the single most important tool in my homeschool kit, I get some strange looks. Yet it's the unqualified truth. Not everyone knows the exhaustive set of resources a library provides: research tools, interlibrary loans, career preparation materials, and digital subscriptions. It's worth taking an hour and delving into your library's website to find those hidden riches.
By utilizing the full scope of what your library has to offer, you will find that there is far less to purchase for homeschool than you may have realized. By thinking of the library as your "homeschool tool closet," you can simplify your supply list as well as your budget!
3) Choose Your Social Media Priorities
Without a doubt, social media can enhance the homeschool experience. Following homeschool hashtags, getting Pin-spired, and participating in homeschool-oriented social communities can keep homeschool parents connected and motivated. Yet, how many times does a "quick check of Instagram" turn into two lost hours that might have been spent on organizing your homeschool?
You may not have to take a social media "fast" (although it can help, sometimes), but you probably need to determine which social networks are more of a benefit than a distraction.  When you've identified those, go ahead and purge those networks that aren't contributing to your life in a valuable way.
4) Create Your Groove (Instead of Trying to Find It)
A common assumption is that once the homeschool year has begun, everyone will establish a natural rhythm. Sometimes that happens, but more often than not, chaos tends to be the beat that everyone follows.
This year, try a different approach. At least a couple weeks before your new homeschool kicks off, establish your own routine — one that makes you feel as though you are actually at the helm of your own life. Try to make this new groove a daily habit until it feels organic and empowering. Then, when the new school year begins, see if you can integrate your homeschool schedule into your established routine, instead of the other way around.
5) Reduce the Clutter Related to Homeschooling
We all know that the surest way to throw our best intentions out the window is a disorganized homeschool. But how do you tame the hodgepodge of resources, supplies, books, and tools that you need to create a well-rounded educational environment for your student(s)? One way is with Time4Learning. Your membership includes everything you and your child need. There are no books, workbooks, or CDs required.  Here are several other ways to decrease the homeschool clutter include:
Containing all your homeschool-related materials within a single area of the house, instead of stashing them in different rooms or closets.
Keep digital, rather than physical, samples of your child's work. Take pictures of projects they've completed and keep pdfs of lessons and assessments in a homeschool portfolio.
Go clear! See-through containers, files, and cabinets help you find what you need with so much less effort.
Be vigilant against the "freebie-bug." Just because something is free doesn't mean you need it taking up space in your home or homeschool. Only take advantage of offers that you know will be valuable to your students.
If you could discover an easier way to homeschool, wouldn't you grab it? When you can see the upcoming school year getting closer in your rearview mirror, it's time to make the concerted effort to simplify where you can. The weeks you spend now, streamlining your priorities, can mean months of more focused, smooth, and successful homeschooling to come.