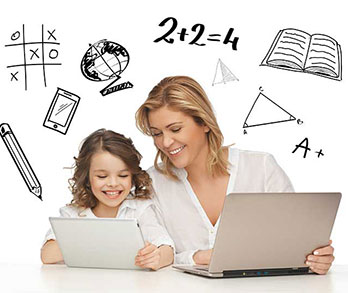 TRY OUR LESSON DEMOS
Perhaps you're considering homeschooling or maybe you've already made the decision to take on this exciting journey. Either way, you may be asking yourself, "How do I homeschool?" The answer to this question varies by family.
There are many different homeschool curricula to use such as textbooks, lapbooking, and virtual schools as well as different approaches such as unschooling, Christian homeschooling and roadschooling just to name a few. Some things to consider when making the decision to homeschool:
Where you live
How your child learns best
The kind of schedule that will work for your family
Where to Start
Time4Learning is actually a great place to start
because of our great support team as well as the extensive parent tools and student activities offered. With the Time4Learning 14 day money back guarantee there is nothing stopping a parent from seeing what the curriculum is like and how much Time4Learning offers to their children.
One of the first things you should
do once you've made the decision to homeschool your children is to find out what your local laws are since
homeschooling laws
vary by state. While some states have a very lax approach when it comes to homeschooling, others have many requirements that must be met.
A great place to start
to find out what the legal requirements for homeschooling are in your state is the state's Department of Education website. It is important to note that homeschool requirements can change frequently, so be sure to check these thoroughly each year.
Homeschool groups and homeschool co-ops can be useful
resources as you start your homeschool journey. In addition to being a wealth of information and encouragement for learning how to homeschool, many of these groups also offer classes for homeschoolers, homeschool field trips and other forms of socialization for homeschoolers.
Time4Learning is vibrant, engaging, educational, and funny. It sure beats our previous homeschool curriculum which was textbook/workbook based.
Time4Learning is so effective that very little intervention is required. This works great if you're homeschooling multiple children.
Homeschooling: What's Your Style?
Many parents think that once they've made the decision
to homeschool they should go out and buy a ton of programs and curriculum. Prior to doing this and possibly wasting a ton of money on something that may not work, get to know your child on an academic level. How do they learn best? Is he or she a
visual learner
? Do they have
special needs
?
Spend a few days or even weeks using various methods
, for example, trial an online curriculum or check out a few textbooks from the library. Carefully observe your child and see which technique they respond to best. It may take some time to find what works. Likewise, what may work one year, may not work the next year or as your child gets older.
Decide on a Schedule
Once you've settled on a curriculum
based on your child's learning style, you'll be able to plan what your day will look like. Remember, you're homeschooling now, so you're not tied down to a certain schedule or number of hours each day. Find what works for you and your family.
It's helpful to decide which subjects you will work on each day
. Remember to take into account snack time, lunch and time outdoors for physical education. When you are setting your schedule, also be sure to consider educational field trips, extra curricular activities and other outings, perhaps with a homeschool group.
Decide What's Right for You
Homeschooling offers families an abundance of opportunities
, many of which you will not typically find in a traditional school setting. While homeschooling may take some trial and error, you'll soon discover what works for you and your child. Take the time up front to get to know your child from an academic vantage point and let that insight guide you in determining the best curriculum, style and schedule. Keep up-to-date with the homeschool laws in your state and maintain a portfolio of work to document your efforts and successes. Homeschooling is an exciting journey, and whether you decide to homeschool for a few years or through high school graduation, the time spent with your child will be one that you'll always cherish.