Why Military Families Choose Homeschooling
STORIES, NEWS & INFORMATION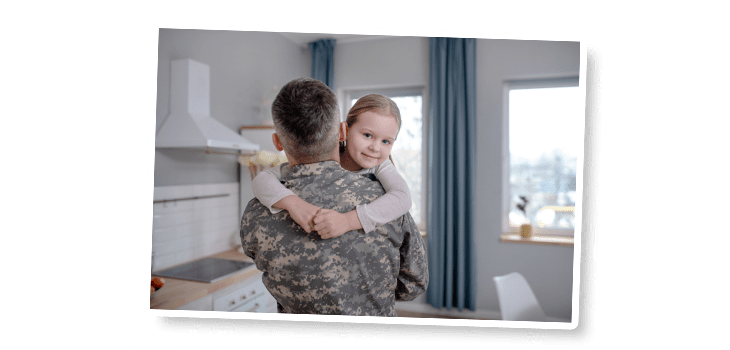 From the earliest days as a homeschool curriculum provider, Time4Learning has had a special relationship with military families. Due to their frequent need to move from base to base, military families make natural homeschoolers. Those who use our program have not only spread the word about Time4Learning, but worked with us to shape resources and tools geared to those in active service who homeschool.
Through the years, we've been able to get a lot of feedback from them about why they homeschool. If you've been on the fence about homeschooling while in the military, it may encourage you to hear from other parents about why this unique educational option works for them.
8 Military Parents Share the Benefits of Homeschooling
You don't have to be changing stations to recognize that life in the military requires a lot of flexibility. Every family's situation is unique, but some children experience much less stress when their educational environment stays constant, even when other parts of their lives are in flux. Homeschooling with Time4Learning not only leads to consistency, but it also enables you to customize learning to your child's specific strengths and weaknesses.
We asked some military homeschooling parents who use Time4Learning to share how homeschooling has specifically benefited them. These were some of the responses:
"It makes PCS'es so much easier. We can school right through, or not, and don't have to worry about that state's vaccine policy vs the state we were just in. We don't have to decide where to live based on the school district." ~Susan
---
"Making your own schedule is great, but the best thing for me is that since I spend all my time with my kids at home, when I do go off to work for a few hours, they actually tell me they MISS me! Even my teenager!" ~Nina
---
"The freedom of schedule is HUGE for me. Also, I love being able to cater to my son's interests and current level of subject mastery. The point of school is to learn the material but when you're trying to stay in the target range for a whole classroom it's easy to get bored or be left behind." ~Amanda
---
"We are still homeschooling a 5th grader, however, our two older kids now 24 and 23 were homeschooled the whole time. Our 24 year old recently said that although there were some downsides to homeschooling, one of the things that he knows was the result of homeschooling was the closeness of our family. He and his sister are best friends even though they now live thousands of miles apart. He said that if they hadn't been homeschooled, they would have been in different grades, had different circles of friends and would not have cultivated a friendship. For me, hearing that just filled my heart with such joy. All the years of sacrifice and struggles were worth it." ~Barbara
---
"We (really enjoy sleeping until 8:30 or 9 and getting a "late" start. All three of us are night owls and are more creative in the evening so we do a lot of reading and practice critical thinking skills (and play role playing board games) after dinner. Kids read until they fall asleep, and seem to be more thoroughly rested. This has eliminated the surge of anxiety and stress of being IN the school, fed, dressed, and alert so early. We also spend more structure and unstructured time outside. MOST of our lessons are outside when it's above 70F. All three of us are "outside" people. Freedom of movement, volume and plenty of fresh air and sun seem to help my son the most." ~Jax
---
"My second grader is borderline autistic, and is an extremely good reader and loves science, but is bad in math, comprehension and handwriting. I give the same amount of time for each subject, but I start with his favorite, which is reading, then do something he doesn't like to well, then do another favorite (science) then math then art and so on. To keep him interested, I try to incorporate his weakest areas in with his strengths." ~Aiken
---
"Being able to move at my kids' individual pace has been such a gift! I don't have to worry about them becoming bored with material they already know…or moving ahead before they are ready. This year one of my struggling learners had a major break-through in math and has since breezed ahead of her older brother (which, in turn, has motivated him!)" ~Kara
---
"We love homeschooling! Our military family has been able to educate our kids around the world – immersing in cultural experiences which would have been limited… even in DOD schools OCONUS. Scheduling flexibility has allowed us more time together while still having plenty of opportunities for socialization. We are incredibly grateful to have this option available!" ~Sandy
Additional Resources for Military Homeschooling Families
There are many resources available for military homeschooling families!