Help Your Student Transition to Homeschool
STORIES, NEWS & INFORMATION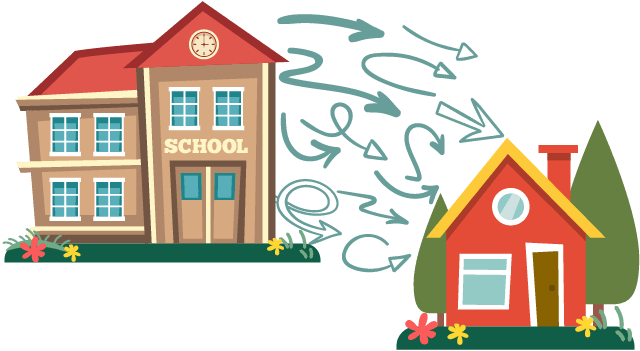 So you've made the decision to homeschool — as a homeschooling parent, you've created a list and checked off all items to ensure a smooth transition from public school to homeschool… But what about your student?
In order to help your children transition into homeschooling, here are some ideas broken out by grade level to help make the transition a little easier on them!
Help Children Adapt Through Deschooling
Your children may be grieving the loss of friends, favorite teachers, or the school environment itself. They may even question your ability to teach. This is a BIG change in your family dynamics, so be patient. Allow ample time for you and your students to adjust. You can help your children adapt through a period of deschooling—giving your children time to retreat from the cadence of the classroom and settle in to the homeschooling environment.
Once this process is complete, your priority is to spark interest. Give your students zillions of reasons to fall in love with this newfangled thing called homeschooling. Resist the temptation to bring the classroom atmosphere into your home and instead encourage interest-led learning and incorporate unit studies and project-based lessons.
Recruit local artisans, entrepreneurs, and retirees and match up your scholars with real world opportunities.
Also, consider personalizing your homeschool—give it a name, work collaboratively to design a logo, write a motto, or homeschool song. Maybe your lovable pup is a worthy mascot! Check out the ideas below to build a thriving homeschool.
Tips for Transitioning Elementary Students
Nourish your younger children's enthusiasm and sense of importance by enlisting their help in designing their curriculum.
Give them the freedom to immerse themselves in topics of interest and observe how they learn. "Understanding how each child learns is what will make you successful" notes Time4Learning mom, Michele Brennan.
Connect with fellow homeschool families and schedule educational play dates.
Your children are most likely going to miss his/her friends. It's important to make sure those friendships continue. Be sure to get the parents contact information so you can set up playdates over the weekend or get ice cream after school one day!
Introduce flexibility into your homeschool. Don't feel pressured to replicate a public or private school schedule or setting. A benefit of homeschooling is teaching the way that is best for your child's education.
Tips for Transitioning Middle School Students
Middle school students are already in a state of transition as they say goodbye to childhood and move into adolescence. Homeschooling can be the comfort they need to focus on learning.
New Time4Learning mom, Monica Ellis Jemison says, "I highly recommend planning for a 4-day week to give your student time to make mistakes, learn from them, and still complete everything by the 5th day." Monica began with just a couple subjects and enlisted her 7th grade daughter's help in deciding which new subjects to add each week.
Encourage your older middle schoolers to volunteer at the animal sanctuary, the library, a nearby farm, a hospital, or blood bank. Hands-on learning while getting a taste for prospective vocations is a win-win. Keep in mind that younger kids may need to be accompanied by parents.
Ensure your kiddos will not lose touch with their friends. They will still be able to stay in contact with them. Although they are leaving the school, they will still live the same distance away as they did!
Tips for Transitioning High School Students
Homeschooling your high school student may sound a bit daunting, I know. I've been there. Thankfully, there is a beginner's guide to homeschooling high school, addressing all of the common questions and concerns.
Your high school students are probably already on one of two paths: college-bound or workforce-bound. Homeschooling enables you to create an individualized curriculum and plan of action that meets their unique needs beautifully.
College-bound students
Workforce-bound students
Help your students gain valuable work experience through mentor and apprenticeship programs.
Create personalized courses to match interests—supplement your future dog trainer's curriculum with books on animal behavior, canine health, and tricks of the trade as they teach their homeschooled dog some new tricks.
"Finding your own niche in your day-to-day homeschooling is key," says fellow Time4Learning mom, Gina Hensley Watkins. In other words, nothing is written in stone. Homeschooling gives you the freedom and flexibility to change your schedule, a single class, or an entire curriculum anytime you need to do so. Time4Learning's innovative, engaging lessons fit in anywhere and can help bridge the gap between a traditional school education and the myriad ways your children will find to learn at home, on the road, or just about anywhere.