Time4Learning's 2018 Homeschool Convention Itinerary
CONTESTS, CONVENTIONS & EVENTS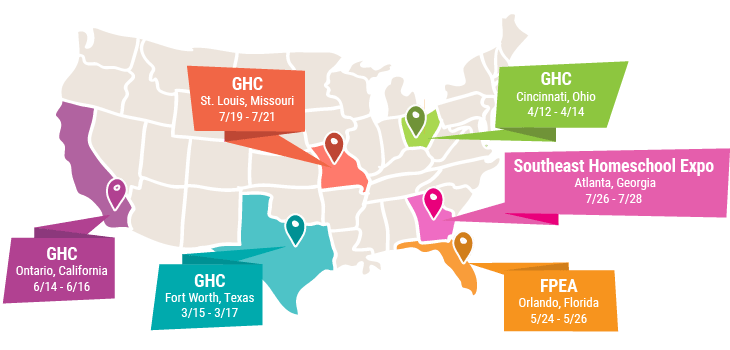 This itinerary is out-of-date. Check out Time4Learning's 2022 Homeschool Convention Itinerary.
Homeschool convention season is upon us! In many different states and regions of the U.S., families will be gathering to network together, discover new programs they may want to incorporate into their homeschool plan, and attend workshops to learn from other homeschoolers and homeschool enthusiasts. Time4Learning is excited to announce which of these events we are fortunate to attend in 2018. Browse the chart below to discover if we will be at a convention near you, and if we are, be sure to drop by our booth to say "hello" and ask any questions you may have about our curriculum.
2018 Homeschool Conventions
This year, our convention itinerary takes us from the east coast to the west coast with plenty of stops in between. I hope that you will discover that we will be at a convention near you in 2018!
Don't Forget to Do Your "Convention Homework"
If you have never been to a homeschool convention before, be prepared for some sensory overload! There are so many exhibits, workshops, meet-and-greets, and opportunities for making new friends that it can be exhilarating at best, and overwhelming at worst. There are, however, some things you can do ahead of time to prepare for the experience.
Time4Learning can help you avoid some of the pitfalls of "convention overload" with our Homeschool Convention Unit Study. Trust us…this is the kind of homework you'll actually enjoy! Use this guide to help you budget for the event and make the best use of your time while you're there. If you are bringing the kids along, we'll even offer some suggestions on how to make the outing double as an educational experience.
Can't Make It to a Convention?
If there is no homeschool convention in the list near you, or if you simply won't be able to attend, there are still plenty of ways to get your Time4Learning questions answered.
Although we would be thrilled to meet you in person at one of the 2018 conventions, we love hearing from homeschooling families at any time of the year! Contact us today!