2019 Homeschool Convention Itinerary
CONTESTS, CONVENTIONS & EVENTS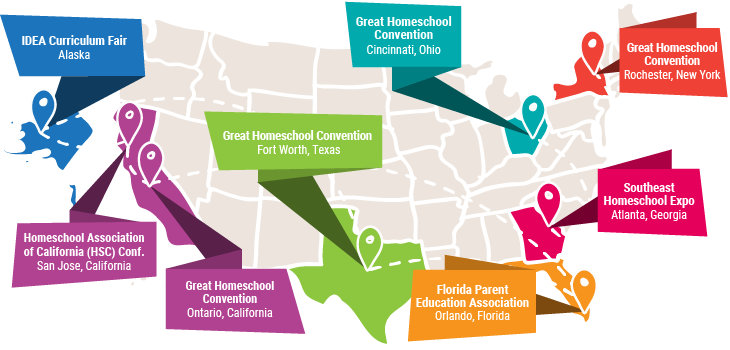 This itinerary is out-of-date. Check out Time4Learning's 2022 Homeschool Convention Itinerary.
For us, homeschool conventions are more than an opportunity to get the word out about Time4Learning.  Each year, we are fortunate enough to be able to travel all over the country to meet homeschooling families just like yours. We love hearing your stories, learning how you came to homeschool and getting to know your families.
In addition to our usual stops in places like Texas, Ohio, and California, this year our itinerary will include two new locations that we are very excited about: Alaska and New York.
Below is our schedule for this year's 2019 homeschool conventions as well as a link to each convention with more details:
Preparation is Key!
For both new and experienced homeschoolers, these shows are such incredible opportunities to learn. There is so much to see and do that it can be easy to get overwhelmed. Being prepared allows you to schedule your days accordingly so you can take advantage of all the educational workshops and informative speaking sessions, while still having plenty of time to explore the vendor hall. This homeschool convention prep list will be a huge help as you make your plans, so be sure to check it out.
Safe travels and we hope we'll get to meet you this year!
Is there a homeschool convention you would love to see the Time4Learning team attend? Let us know in the comments.
Planning on bringing your chid(ren)? Make sure to check out these activities to keep them busy while you attend the convention.
Can't make it to any of these conventions? That's ok! Whether you need to stay put due to finances, conflicts in schedule, or any other reason, there are still lots of way to reap the benefits of a homeschool convention without even leaving home. Find out what they are by reading our ideas and suggestions.