Homeschool Coding Day at Time4Learning
CONTESTS, CONVENTIONS & EVENTS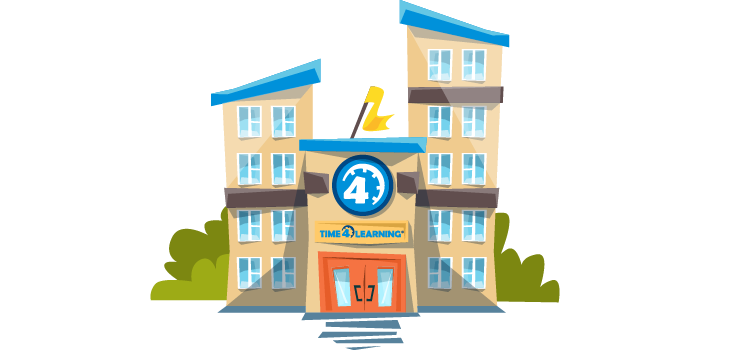 On Wednesday, May 23rd, Time4Learning had the exciting opportunity to meet local homeschoolers and share what we do as a company during our Homeschool Coding Day field trip. Students were able to take a look at how Time4Learning works behind the scenes by moving through a series of stations that included our testing center, 2D and 3D modeling, audio technology, client services, and web design.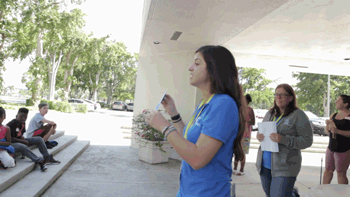 With about 25 homeschoolers, we broke them into three small groups to give them the most engaging experience possible. Each group spent 20 minutes at each station learning directly from a Time4Learning employee. Find out more about the different stations and activities below!
Station 1: QA/Testing Center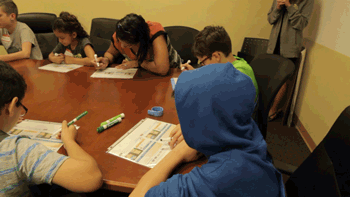 The purpose of QA – which stands for quality assurance – is to make sure that Time4Learning's curriculum is at its highest quality for our users. This process is usually one of the last we go through before releasing our products, and involves checking for any bugs, or mistakes, in the system.
Homeschoolers learned about Quality Assurance and Testing by becoming a detective and trying to find hidden errors with their presenter, Alex. First, students had to find vegetables hidden in a picture of a house. Alex explained to them that much of what QA and Testing does is similar to a "find the hidden objects" game.
Afterwards, students completed a "find the differences" puzzle with an imitation webpage. The homeschoolers quickly discovered some bugs on a sample web page, such as mismatched colors, missing words, and incorrect formatting. At the end of this station's activity, the students used teamwork to find bugs.
Station 2: 3D and 2D modeling
Time4Learning uses lots of 3D and 2D modeling when creating our games, programs, curriculum, blog posts, and more. We strive to be as interactive and engaging as possible, which is why 3D and 2D modeling is so important here.
During this station, homeschoolers were first presented with a series of popular images from movies and television. With the help of their presenter, Bertrand, the students identified which images were 2D and which were 3D. Through this, the homeschoolers learned about the importance of both kinds of images, and how we use them at Time4Learning.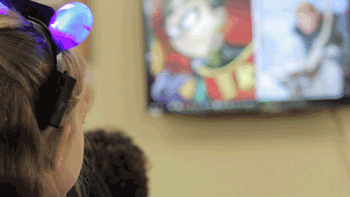 Once the children learned about the basics of 3D and 2D modeling, they were able to put that knowledge to use. Using Autodesk, a 3D design software, the homeschoolers helped Bertrand create a digital ice cream cone. They learned how texturing an image affects its appearance, and how to add layers to models. In the end, they created an imaginative purple ice cream cone with pink ice cream on top.
Station 3: Audio Engineering/Voice Talent
Audio engineering and voice talent are yet another important part of what we do here at Time4Learning. With characters like Ed Mouse, we want to make sure our users are learning important material in a fun and memorable way.
When our homeschoolers got to this station, they were greeted by Tim and Nela, who work with audio engineering and voice talent. The students were introduced to the audio component by Nela recording a sentence off of a script into the audio technology we use. In fact, the students were sitting in the very room where our audio is produced! The homeschoolers listened as Tim edited the audio to add different sound effects, and then helped pick out which version sounded the best.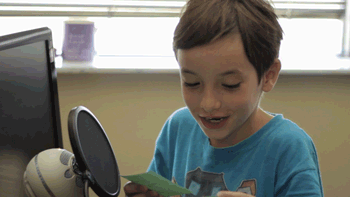 Using what Nela had shown them, the homeschoolers got to take a shot at recording audio. Nela and Tim passed out different scripts to each student, who then got to record their voices. The children heard their voices altered by Tim to sound faster, slower, deeper, and even like a chipmunk!
Station 4: Client Services
At Time4Learning, we are dedicated to making sure your experience with us is smooth and simple. This would not be possible without the help of our client services team who make sure your needs are met by answering emails and phone calls.
The Client Services station allowed our homeschoolers to take a sneak peak at what our representatives, Taina and Vanessa, do at work. The students first learned about the importance of teamwork in this position, since it requires communicating with the other stations. They also learned the importance of 'smiling' while talking on the phone.
Afterwards, it was the homeschoolers turn. Taina and Vanessa had each homeschooler read through a situation that they might experience on a phone call. Then, students had the opportunity to answer a mock customer support phone call where they were able to answer questions from "customers."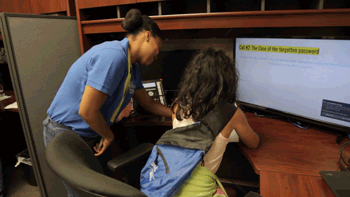 Station 5: Web Design/Development
The final station our homeschoolers took part in on their field trip was web design and development, also known as "Dev". With the help of this team, Time4Learning is able to have an engaging and easy-to-navigate webpage that anyone can use.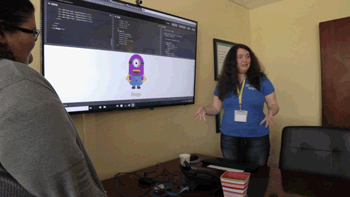 Julia and Annette, our two presenters from this team, first showed the students what designing and coding a page can do. Homeschoolers learned about the importance of accommodating different screen sizes and creating interactive web pages. They also heard about the different steps needed in order to create these pages.
For this interactive activity, the students got to code a page with the help of Julia and Annette. Using HTML, a type of coding, the homeschoolers altered a popular television character. They changed the colors of his hands, face, and clothing, all while learning how to use HTML coding to make these changes. At the end of the activity, the students learned that they can alter web pages themselves at home, using the "inspect" function on any web-browser.