Early Childhood Education Success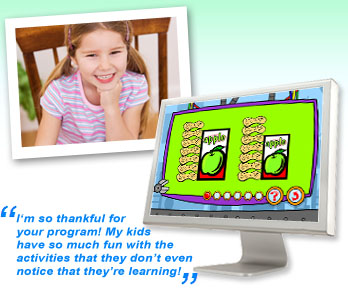 View Our Lesson Demos
Homeschooling for preschool is one part of home education that approaches faster than most of us are prepared for. Suddenly, our preschoolers are ready for more . . . more enrichment, more independence, more learning. Whether parents decide to make a long-term, homeschool commitment or are only interested in early elementary homeschooling, many families are looking for a successful preschool program to implement within the home in addition to or in replacement of public preschool or private preschool.
There are many homeschooling parents in need of preschool ideas and creative curriculum for preschoolers. As we try to find the best preschool homeschool curriculum for our children, consistency and flexibility are important, along with finding a resource that engages young learners, carrying them through their formative years. Click to see our preschool lesson plans.
Educational success depends on a solid foundation of skills, confidence, habits, and attitude.
How To Promote Success In Early Childhood Education
Success and confidence from preschool forward into pre-kindergarten , kindergarten, first grade and on are habits that get harder to change later on. The early childhood education foundation, confidence, and study habits need to be solidly set. There is a big difference between those who get through the early years with a habit of excellence and those who "drag along". There is a big difference between those who are equipped with a solid math conceptual foundation and those that "get by" just learning how to do arithmetic without truly understanding it. Time4Learning presents students with basic concepts in a variety of methods designed to support learning through different modalities. This repetition and focus on the basic concepts, both in the structured learning and playground areas, provides one of the best ways for the children to establish conceptual mastery of the fundamentals. Time4Learning helps your child succeed by:
Providing a highly motivating daily lesson
Teaching a full curriculum, not just spots of information
Establishing the pattern of first lessons, then playtime
Closing the information loop by providing reports on student progress
Deploying multiple teaching styles to address the different learning styles of different students and providing multimedia learning for the best understanding and retention
A balance of progress and reinforcement
Click here to advance your learning experience with Time4Learning.
Key Features of Time4Learning's Home Education Program
Time4Learning.com combines 1500+ multimedia lessons, printable worksheets and graded activities in a student-paced environment that brings concepts to life. Math and language arts lessons are correlated to state standards. Science, social studies and art are also provided to most grades.
Parents get access to lesson plans, printable worksheets, teaching tools (located in the Parent Dashboard), detailed reporting and parental support through our online Parent Forum.
Other key features of the program:
Students get individual logins and work on their own schedule and pace
Parents can set the grade level independently for each subject
The grade above and below are available in most grades for review and additional study
Detailed lesson plans available for parents who wish to review lesson contents
Access to an online playground that rewards and motivates
An automated system grades lessons and keeps reports for homeschool portfolio usage (shown below)
Sign up and get started on the same day!
Time4Learning is entirely web based, so there is no software to download, no CDs and nothing additional to purchase. Students will be able to access the program 24/7 from any computer with an internet connection.
Time4Learning offers a 14-day money-back guarantee and the ability to stop, start, or pause anytime. Browse lesson plans, try the interactive lesson demos, read curriculum reviews, or view the curriculum overview to see what's available.