Looking for an Online Secular Curriculum?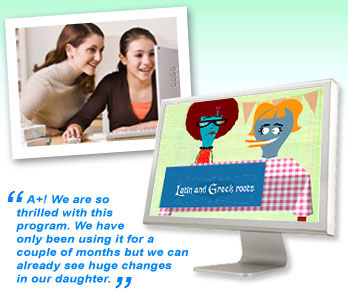 View Our Lesson Demos
Looking for an Online Secular Curriculum?
Secular Homeschoolers Need a Non-Religious Curriculum
The homeschool world is full of books, materials, and curriculum choices. But for secular homeschoolers, those options are often much more limited. Secular homeschoolers often struggle to find quality homeschool curriculum that is designed without a specific religious worldview.
Time4Learning offers a quality secular curriculum without the religious undertones that homeschoolers won't need to settle for. It combines 1000+ multimedia lessons, printable worksheets and graded activities to teach math and language arts lessons correlated to state standards. Science, social studies and art are also provided as a bonus for most grades.
View the grade by grade curriculum overview to see what's available.
A Better Alternative to Secular Learning
Time4Learning understands that parents often want to separate religion from academics.
Each of the secular activities in the Time4Learning curriculum is standards-based, and correlates with the average public school curriculum. That means that each one of our lessons (even the science and social studies!) is free of religious undertones or biases. Exercises are presented via animated, interactive, multimedia lessons that feel more like video games than learning exercises. Kids genuinely enjoy the funny sound effects and the quirky cartoon characters delivering the lessons. Plus, the student-paced nature of the program gives them a feeling of independence and sense of ownership over their progress, which is a great motivator.
With Time4Learning, one low price includes standards-based lessons, flexible grade selections for each subject, teaching resources and an automated system that grades lessons, tracks progress and keeps reports for portfolio use. (shown below)
A Secular Homeschool Curriculum with Substance
Time4Learning offers a secular curriculum created for the individual student. It can be used as a primary secular curriculum, as part of an eclectic secular homeschooling approach, for distance learning by military families or as an afterschool alternative to tutoring.
Key curriculum features:
1000+ interactive, multimedia lessons for prek-12th grade
The curriculum covers the subjects of math, language arts, science, social studies, and foreign language
Students get individual logins and work on their own schedule and pace
You have 24/7 access from any computer with an internet connection
There is nothing to download, no CDs, and no additional purchases
Detailed lesson plans available for parents who wish to preview lessons
A time-stamping feature on the activities (for attendance)
An automated system grades lessons and keeps reports for portfolios (shown above)
Secular lessons are presented in a suggested sequence, designed to create a strong subject literacy foundation and build upon it. Printable worksheets and graded activities reinforce the content to maximize retention.
Does your child have different achievement levels for math and language arts? No problem! Time4Learning lets you set each individual subject at the appropriate graded level, making this program great for special needs and gifted students.
With Time4Learning, there are never contracts. Have a look at our lesson plans, interactive demos or grade by grade curriculum overview to see what's available.
I LOVE Time4Learning! It holds the attention of my kids, plus I can keep track of their learning without hovering over their shoulders.
I am really pleased with Time4Learning. It has made a world of difference in my son's academic performance in school!
The Time4Learning Program Structure
If you are a secular homeschooling family looking for a strong, standards-based secular curriculum with a student-centered focus and a high level of interactivity, then why not try out Time4Learning for 14 days, 100% satisfaction guaranteed or your money back!
Time4Learning has been refined through years of feedback from educators, parents, and students. Subjects are organized into chapters composed of interactive lessons, printable worksheets, quizzes and tests. Students are guided through the activities at their own pace by an automated system.
Learning begins as soon as students log in. Students simply choose a subject, select a chapter, pick a lesson and complete the activities. A bright green arrow tells them where they left off, and completed work is clearly labeled with a check-mark or a gold star. Visual and auditory prompts guide students through the lessons, making it easy for even young learners to follow, and an online playground (controlled by parents) rewards and motivates them to finish their lessons.
Parents get access to printable lesson plans, teaching tools, detailed reporting and parental support through our online Parent Forum.