Preschool Lesson Plans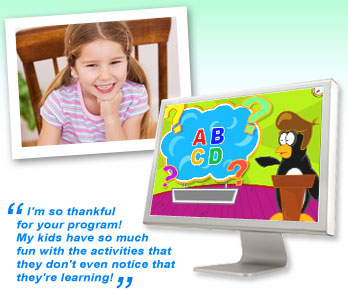 View Our Lesson Demos
The Time4Learning Preschool Curriculum is a developmentally appropriate curriculum for early learning. Time4Learning believes that the best learning methods for this age group are play-based and experiential.
The activities build skills in a variety of areas, notably: pre-reading literacy, math foundation, creative expression, music, art, and science. The lessons are interactive and engaging, with simple verbal directions, appealing graphics and some great music. The preschool scope and sequence is organized around themes such as colors, shapes, tools, or foods. These are introduced with a story or song, and are followed by activities tied to the theme.
The lesson plans for preschoolers below gives an overview of the content of the Time4Learning Preschool program.
A Learning Tool for Early Childhood Development
The preschool lessons are interactive and engaging, with simple verbal directions. The interactions (verbal instructions, interface buttons, graphics, and format) are designed for pre-readers with an early learning level of attention, fine muscle control, and vocabulary. It is designed so that, after the first session, a child could use the program on his or her own with minimal adult supervision (as required for any child on the internet).
When is my child ready to use Time4Learning's Online Preschool Program?
No previous knowledge is presupposed, and the curriculum is meant for pre-readers. The developers of the activities had the abilities of a young child in mind, including:
Playful, colorful artwork
Auditory instructions and descriptions
Buttons that are large enough for small hands to click easily
The only skills required by the child are that he or she is able:
To use a computer mouse, if using the program on a computer
To understand and to follow simple auditory directions, such as "Choose…," "Which one… " and "Match…"
Two Levels of Themes and Activities
The Time4Learning Preschool is a two-year program comprised of two learning levels, based on developmentally appropriate skills. The lessons are interactive, engaging, and include colorful graphics as well as simple verbal directions.
How the Preschool Themes and Activities Are Structured
The Time4Learning preschool activities are organized around several themes, each introduced by a song and show or a story. The music and animations are professionally produced in a range of styles. An interactive activity may follow, as an exercise for the child's learning development. The child then has options of a few different types of activities to enhance his or her learning, including: puzzles, memory matching games, pattern games, and more. Some examples of themes include All About Nature, Food, Sports, Space, All About Me, Parts of the Body, and more.
Time4Learning Preschool Lesson Summary
PreK Level One: 17 themes / Total Activities: 115
PreK Level Two: 18 themes / Total Activities: 121
Alphabet Level: 26 themes / Total Activities: 130
Note – Time4Learning updated their preschool curriculum to the latest technology that makes it available in more formats, including tablets, which are more appropriate for young learners.
Level One Preschool Themes
School Time!
My ABCs
My Five Senses
My Colors
My Shapes
Count With Me
Weather
On The Farm
At The Zoo
Rhyme Time
My Feelings
Tools
Space
Going Places
Sports
Food
Fruit
Plants
Level Two Preschool Themes
All About Me
At The Library
In My Neighborhood
Insects
All About Seasons
More ABCs
Parts of the Body
Healthy Habits
Numbers
Out To Sea
Let's Play Outside
All About Space
Pets
Days of The Week
Time Of Day
Making Music
Measurement
All About Nature
Healthy Habits
Sign up for Time4Learning and gain access to a variety of educational materials, which will engage and challenge your child to succeed. Make Time4Learning a part of your children's homeschool resources.