Time4Learning & Puffin Academy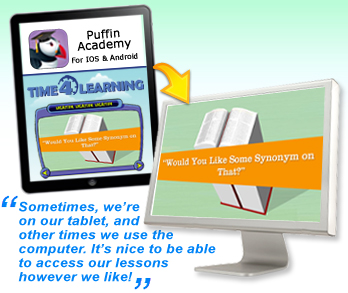 View Our Lesson Demos
As the popularity of tablets and mobile devices has increased, so have the number of families asking how they can use Time4Learning on them.
In response to your requests, Time4Learning is now available on mobile devices using Puffin Academy, a free educational mobile app for kids, designed specifically (and exclusively) for programs like ours. The Puffin Academy app allows members to access and use Time4Learning at any time, from anywhere, using most internet-connected smart phones and tablets.
This page provides the following information:
What is the Puffin Academy Mobile App?
Puffin Academy is a free educational app for Apple (iOS) and Google Android mobile devices. It functions like a typical web browser, except that it's made for mobile devices, it's entirely ad free, and students are only able to access pre-screened, whitelisted, and approved educational sites such as Time4Learning using it.
Puffin Academy brings increased mobility to Time4Learning by allowing users to enjoy our entire suite of tools and features in a fast and secure environment using any Apple or Android device— even iPads and iPhones, which are typically incompatible with flash. Currently, Puffin Academy is only available in the United States, Canada and the United Kingdom.
How to Use Time4Learning on the Puffin Academy App
The Puffin Academy app makes Time4Learning easier to access, by making it compatible with most portable tablets and smart phones. So no matter where you are or what you're doing, you can include Time4Learning!
Here are a few examples of how others use Time4Learning on a tablet:
In homes with fewer computers than children, families now have an additional way to access their lessons. At any given time, there can be students using Time4Learning on the desktop, on the laptop, AND on the tablet—all at the same time!
Taking a field trip? Tablets and smart phones are easier to transport than laptops, so bring Time4Learning along! Whether you use our curriculum to prepare for your outing, as a supplement while you're out, or for reinforcement afterwards, Time4Learning is a great tool for making the all-important connection between the concepts they're studying and real life.
Here's how to access Time4Learning using Puffin Academy on your tablet and smart phone:

Frequently Asked Questions About Puffin Academy and Time4Learning
Here are some questions we've received about Time4Learning and the Puffin Academy app. If there's anything we haven't answered, please don't hesitate to contact Time4Learning support for help.
How much does the Puffin Academy app cost to download?
The Puffin Academy app is completely free to download and use.
Is Puffin Academy available worldwide?
At this time, Puffin Academy is only available in the United States, Canada and the United Kingdom, although they have plans to make it available outside of those areas in the future.
Is the Puffin Academy app safe to use with Time4Learning?
Yes. Puffin Academy is entirely ad free and only allows students to access whitelisted educational websites like Time4Learning, which have been carefully screened for safety, security, content integrity, and ethical business practices.
Will Time4Learning look different in the Puffin Academy app?
For the most part, no. Puffin Academy makes flash display and function properly in devices that are non-flash compatible. So educational websites like Time4Learning, which use flash to present their materials, can now be fully functional when used within the app. However, not every mobile device is the same size, so lessons might occasionally need to be adjusted, depending on your display settings.
What's the difference between the Puffin Academy app and the Puffin Web Browser?
'Puffin Academy' is a free app designed for K12 kids and teens. It is only able to access approved educational web sites and content.
'Puffin Web Browser' is a paid app designed for the general public. It can access the Internet and display flash content without filtering.
What is the Puffin Academy Class Portal?
Class Portal is the Puffin Academy's homepage and index of its educational resources. When accessing Time4Learning on the Puffin Academy app, users must select the Time4Learning logo for access to the program.
Can I access Time4Learning on Puffin Academy without an Internet connection?
No. Time4Learning's content and lessons require an internet connection for access.
My web page doesn't display correctly. What can I do?
There are many different reasons that Time4Learning might display imperfectly on a mobile device. Here are a few tips you can try before contacting us:
Is your page content being cut off on the right side of the page? Websites come in all shapes and sizes, and most mobile devices don't automatically resize web page content the way computer monitors and laptops do. So if this is happening to you, try zooming out or rotating your device to compensate.
Are you getting a white screen when trying to open a lesson? If so, there are a few things you can try:

Sometimes, refreshing the page will get rid of the white screen. (It also works with frozen screens).
If that doesn't work, close any apps that you don't need to free up data usage. Sometimes too many things running at once can affect speed and performance.
If the white screen is still displayed, close the app and restart your device.
Why did I get the error message "Web Page Blocked" when I clicked a resource that was part of a Time4Learning lesson?
Puffin Academy only displays content from websites that are on their approved list. So although Time4Learning's curriculum is approved, our lessons sometimes point to resources and supplements that are not yet included in Puffin Academy's network of sites. (This doesn't mean that sites blocked by Puffin aren't child safe. It means they haven't applied to Puffin for inclusion in their network, yet.)
The "drag" function isn't working properly in some of my preschool lessons.
This is a known glitch, and we are working to fix it. For now, enlarge the lesson so it takes over the entire mobile screen by tapping the arrow in the upper right corner of the activity. When maximized, the lessons should function properly.
Does my student access Time4Languages on the Puffin App?
Time4Languages is an optional foreign language learning program from Time4Learning that is not available via the Puffin Academy app. To access Time4Languages on your mobile device:
Log in to your Time4Learning account from the internet browser on your mobile device.
Click on the Time4Languages button.
Click on the "Launch Rosetta Stone Language Lessons Version 3" link.
You will be routed to either your Apple Store or Google Play Store to download the "Learning Languages by Rosetta Stone" app.
Once the app is downloaded, please return to your internet browser to re-launch your Time4Languages page.
After this set up process has been completed, you do not need to go through these steps again. Simply open your "Learning Languages" app and let it run in the background while you access Time4Languages from your Time4Learning.com login screen in your internet browser.
Some Helpful Tools and Resources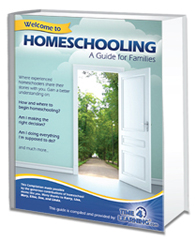 Welcome to Homeschooling Guide – Are you new to homeschooling? This guide was written by seasoned homeschoolers to answer some of the difficult questions new families often struggle with.
Curriculum Lesson Plans – An overview of what's available for each grade and subject.
Homeschool Portfolio Information – Answers common questions about homeschool portfolios and evaluations. It includes tips on organization methods, what to include and how Time4Learning can be used as part of your homeschool portfolio.
Online Parent's Forum – Reach out to homeschoolers in your area, join discussions, ask questions and trade ideas on our online community of homeschooling parents. Having the support of seasoned homeschoolers can really help make your homeschooling journey a success.
Hints & Help Section – Whether you're new to Time4Learning, a long term member, or a future member with questions about how the program works, this section answers questions about navigation, lesson planning & previewing, how the teacher guides and worksheets work, and more!
Puffin Academy App – Learn how to use Time4Learning on most mobile devices with the Puffin Academy app for iOS and Android! Get details on this kid-friendly app, including how to download and use it on the go with Time4Learning.