Educating a Child with PDD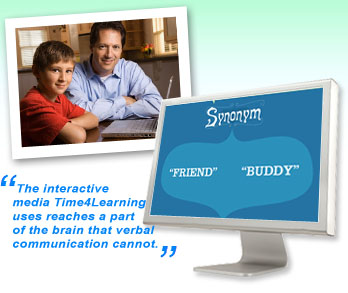 Try Our Lesson Demos
If your child has been diagnosed with Pervasive Developmental Disorder (PDD, or PDD-NOS), you may have struggled with finding the best ways to help him in a variety of areas. It can be overwhelming wading through programs, therapies, and alternative methods of treatment and education.
Even though PDD is currently found in about 1 in 125 births, it doesn't mean that your child can or should be pigeonholed. Every child has individual educational needs.
Children with Pervasive Developmental Disorder often struggle in school.They have different academic strengths and weaknesses and may require different learning methods from neurotypical children.
A computer based curriculum may be part of the educational answer for children with PDD-NOS.
Time4Learning is an interactive online curriculum used at home for afterschool skill building, homeschooling, or summer study. It is one-on-one, with uncomplicated sounds and clear graphics. Your child can progress at her own rate using a multisensory blend of audio and visuals that works with a variety of learning styles. Language arts and math programs are individually set for each child, which turns learning into a tailor-made experience. For children with PDD, this individual approach is helpful.
Many families who have children with PDD have found Time4Learning to be a great contribution to their children's education.
Pervasive Development Disorder and Learning
Pervasive Developmental Disorder is a disorder on the autism spectrum. Autism is generally defined as a disorder involving language delay, impairments in social interaction, and repetitive behavior. With PDD-NOS, children exhibit some signs of autism, but not enough to make a full diagnosis. The symptoms of PDD can range from mild to severe.
Like all people on the Autism spectrum, children with PDD-NOS show a variance in how they act and perform in school. Even though they may be diagnosed with the same disorder, no two children are alike. Commonly, it is poor interaction with peers and poor academic performance that lead to a diagnosis of PDD. A child's failure to thrive in school often leads parents to alternative educational methods.
Early intervention and treatment can help children diagnosed with Pervasive Developmental Disorder develop skills and achieve their best potential.
I LOVE Time4Learning! It holds the attention of my kids, plus I can keep track of their learning without hovering over their shoulders.
I am really pleased with Time4Learning. It has made a world of difference in my son's academic performance in school!
Time4Learning has helped thousands of children. Help yours today. Signup for Time4Learning and gain access to a variety of educational materials, which will engage and challenge your child to succeed. Make Time4Learning a part of your learning disabilities educational resources.
See the free demo and gain access to a variety of educational materials, which will engage and challenge your child to succeed. Make Time4Learning a part of your child's education.
I want to Learn More about Time4Learning's Special Needs learning and how it works.
Or to ask other parents, click through to the Time4Learning parent's forum.