Choose A Paperless Curriculum to Reduce the Clutter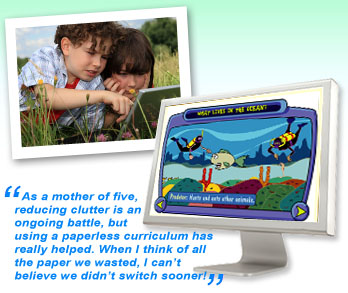 View Our Lesson Demos
Time4Learning, a leading provider of online education, announced that it has been named a certified "Green Business" by the Uniform Standard for Green Business Certification (IGBC/USGBC) as a result of its environmentally friendly business practices and paperless product delivery.
Time4Learning offers a paperless curriculum for preschool to twelfth grade, which can be used for homeschooling, as an afterschool alternative to tutoring, or as a summer skill builder. By using the web to deliver the lessons, Time4Learning is helping environmentally conscious families reduce or eliminate the need for paper teaching materials.
While "going green" is a nice feature of an online curriculum, the benefits of Time4Learning go much further than just being Earth-friendly.
"Going Green" Is More Than a Catch Phrase
The term "going green" is the catch phrase of recent years. But unlike most catch phrases that spread like wildfire and eventually slow, the idea of "going green" has picked up speed and changed the way we live. Our communities are quickly shifting from being aware to taking environmental responsibility, and we've adopted "green" habits into our everyday lives as a result.
Whether or not we realize it, we all participate. Every time we send an email in the place of a letter, we're reducing both paper waste and the fuel required to ship it. Businesses help us make greener choices by offering recycle bins, reusable shopping bags, nontoxic cleaning products, energy-saving light bulbs, fuel efficient (and hybrid) cars, online bill-pay options and paperless curriculum.
That's right paperless curriculum. Try lesson demos.
A Paperless Curriculum Reduces Clutter
If you homeschool your children, you might have already wondered how you can reduce the clutter especially if you've got a large family. Yes, the books can be sold to used curriculum sites or reused, but that only takes care of part of the problem. What about the notebooks, workbooks, worksheets, folders and that pile of papers you've hidden in that box, over there? Where do those end up besides a storage closet?
Time4Learning offers a great solution to the paper pile-up. Animated lessons are presented and completed online using a learning system that moves at the student's pace. Printable worksheets are available, but because they are not required to complete the lesson, you only print what you find useful. Automated grading and detailed reporting makes record keeping simple (and paperless) for parents.
Time4Learning is vibrant, engaging, educational, and funny. It sure beats our previous homeschool curriculum which was textbook/workbook based.
Time4Learning is so effective that very little intervention is required. This works great if you're homeschooling multiple children.
"Going Green" with Time4Learning Has Many Benefits
While going green is a nice feature of an online curriculum, the benefits of Time4Learning's online curriculum go much further than just being Earth-friendly:
It's engaging. Kids genuinely enjoy the funny sound effects and the quirky cartoon characters delivering the material, promoting a can-do attitude toward learning.
It's effective. Time4Learning's award-winning curriculum has been refined through years of feedback from educators, parents, and students. The math and language arts correlate to state standards, plus it has been a top selection of the Homeschool.com "Top 100 Educational Websites" every year since 2009.
It's flexible. Does your child have different achievement levels for math and language arts? No problem. Time4Learning lets you set each individual subject at the appropriate grade level. Plus students get access to the grade above and below, so they can review or move ahead as they like.
It's individualized. Students can complete lessons at their own pace and repeat them as needed, giving them a sense of ownership over their progress.
It's convenient. Students can access their lessons at any time from any computer with an internet connection. There is no software to download, no CDs and nothing additional to purchase.
It has many uses. Time4Learning can be used as a homeschool curriculum, as an alternative to tutoring, or as a summer skill builder.
It's good for parents, too. Time4Learning is fully automated, which can be a huge time saver for parents. The automated learning system teaches the lessons, grades them, tracks progress and keeps reports perfect for homeschool portfolio usage. Additional tools such as the lesson plans, activity finder, and the activity scheduler make it even easier to stay on top of your child's education.
It's low cost. Time4Learning offers a 14-day money-back guarantee and the ability to stop, start, or pause anytime.
An Online Curriculum for a Greener Future
If you're looking for more ways to be environmentally conscious, choosing a paperless curriculum is a good beginning.
If you're a homeschooler, you can create a virtually paperless homeschool environment if you choose to. Not only will you drastically reduce waste, but you will also be setting an important example for your children. After all, it's their generation that we're depending on to create new and innovative ways of preserving our planet. Going green with your curriculum is a great way to start.
Learn more about going green with Time4Learning's paperless curriculum. Try our online lesson demos, view our curriculum overview, read parent reviews or browse our lesson plans.