Kindergarten Readiness Program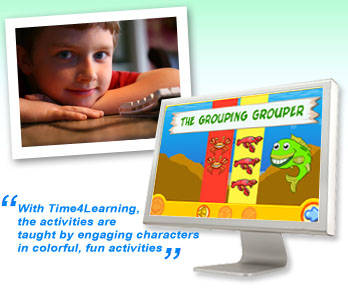 View Our Lesson Demos
Children benefit greatly from a kindergarten readiness program. These educational programs are setup to teach children what they need to know for kindergarten and beyond. The lessons learned in kindergarten will help children develop an education foundation that will help them succeed in school and later in life.
Sometimes, parents have trouble reaching their kindergartener, getting past their own preconceived ideas on how reading and math should be taught. In the past, educators thought that there was only one way to teach children. Through education research, teachers and parents are learning that there isn't a perfect kindergarten readiness program that is right for every child. There is no one way to teach reading and math.
A kindergarten readiness program should be geared to a variety of learning styles. Time4Learning offers kindergarten lessons and online games to help children get the right start in learning. Learn more about Time4Learning's kindergarten readiness program.
Kindergarten Lessons: Reading
Kindergarten readiness program for reading should help young readers to use word recognition skills and strategies to help them read and comprehend text. The kindergarten lessons should help children expand their vocabulary that was developed in preschool. These two key reading elements should be built into any kindergarten readiness program that you are considering.
Remember, the fundamentals for reading comprehension are built in kindergarten. Lessons should be focused around the characters, ideas and stories in the text. In kindergarten, the child's curiosity and ideas about the text should be encouraged. Kindergarteners should learn that there are different applications for reading, such as reading for information and reading for entertainment. Most importantly, kindergarten reading lessons should engage the child and encourage them to develop an interest in reading.
Kindergarten Lessons: Math
Kindergarten readiness program for math should help children develop a solid math foundation by exposing them to: numbers, measurement, geometric objects, statistics, and operations. Number sense helps children recognize numbers and identify their relative values. Measurement assigns value to objects and helps children understand an object's attributes. Geometric objects will show kindergarteners shapes and how they fit together. Statistics will help children to recognize patterns and how to predict outcomes. Operations will teach children how numbers work together.
Math lessons teach kindergarteners to define and solve problems, help them to develop reasoning skills that will be invaluable in later life. Just like reading, math has its own vocabulary and kindergarten lessons should be focused on getting children familiar with the language of math. Lastly, kindergarten lessons should expose children to real life applications of math so they understand how math fits into their everyday life.
Kindergarten Games Online
Learning reading and math doesn't have to fee like formal lessons. Kindergarten games online are a wonderful, interactive way to introduce children to the necessary reading and math fundamentals. Kindergarteners will learn while they play, rather than being over-exposed a structured environment.
Time4Learning's Playground has reading and math games to reinforce the lessons taught in our kindergarten readiness program. Each of the kindergarten games online is carefully selected to provide value to a child's education experience. Unlike free gaming sites, Time4Learning never advertises to your children. So kindergarteners are free to explore and learn in a safe environment.
Time4Learning's kindergarten readiness program uses a combination of kindergarten games online and interactive lessons to teach kids what they need to know to succeed at school. Tour Time4Learning's kindergarten games online by going through our interactive demo.
Math Educational Games
Time4Learning's Math Programs start preschoolers on features, sets and following directions. Once kids master those concepts, they move on to understanding numbers and quantity. In elementary math, kids will learn math operations, math facts, word problems, measurement, geometry and probability.
My children's favorite part of the day is their time on Time4Learning. This is the easiest and most consistently productive curriculum we've used!
My kids can work independently or with my involvement. Time4Learning has enriched their education and simplified my life!
Lessons – The Time4Learning Program Structure
Time4Learning has been refined through years of feedback from educators, parents, and students. Subjects are organized into chapters composed of interactive lessons, printable worksheets, quizzes and tests. Students are guided through the activities at their own pace by an automated system.
When students log in, they choose a subject, select a chapter, pick a lesson and complete the activities. A bright green arrow tells them where they left off, and completed work is clearly labeled with a check-mark or a gold star. Visual and auditory prompts guide kindergarteners through the lessons making them easy for young learners to follow, and an online playground (controlled by parents) rewards and motivates them to finish their lessons.
Parents get access to printable lesson plans, teaching tools, detailed reporting and parental support through our online Parent Forum.
Does your child have different achievement levels for math and language arts? No problem. Time4Learning lets you set each individual subject at the appropriate graded level, making this program great for special needs and gifted students.