Eclectic Homeschooling and Time4Learning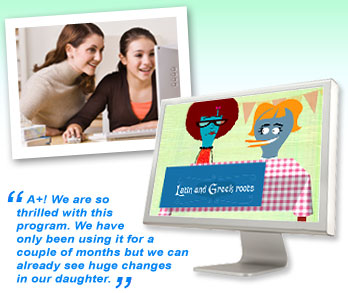 Try Our Lesson Demos
Time4Learning is a leading online curriculum provider to homeschoolers. Our members are a diverse group with widely different approaches to homeschooling. Our families include every educational philosophy under the sun…, Traditional, Unschooling, Charlotte Mason, Unit Studies, Eclectic, Classical, you name it. We have children that are gifted, those who learn differently and those that learn typically.
How does Time4Learning fit in with so many different philosophies and learners? Great question! Time4Learning provides an excellent academic foundation, but has the flexibility that allows you the parent, to jump in and personalize your child's education based on your teaching style and more importantly their learning style. This page is designed to show our eclectic families how they can get the most use out of their Time4Learning program.
What is Eclectic Homeschooling?
Eclectic homeschooling is the heart of most of our families. Eclectic homeschooling allows parents to meet the individual needs of each of their children. Many families find that what worked well one semester, may not work the next. Or in some cases, what works for one child in one subject, does not work for the same child in another subject.
Eclectic homeschooling is the result of a parents commitment to provide a highly individualized education plan for each of their children, based on their child's strengths, learning styles, and interests. Eclectic homeschoolers see value in a variety of different educational methods. While actual statistics are hard to come by, we believe most homeschooling families use an eclectic approach to their children's education.
Time4Learning's experience shows that there is no single, best homeschooling material. Rather than feeling torn between homeschool resources, parents should feel free to create diversity through a variety of materials and activities.
My children's favorite part of the day is their time on Time4Learning. This is the easiest and most consistently productive curriculum we've used!
My kids can work independently or with my involvement. Time4Learning has enriched their education and simplified my life!
Some Facts About Eclectic Homeschooling
You may see eclectic homeschooling parents thumbing through curricula and grilling other homeschooling families about their likes and dislikes about books or programs they have used. They pick and choose what works for their families, often coming up with a hodgepodge of ideas that they then tweak and fine-tune to fit the specific needs of their children.
Eclectic homeschooling is often an end result of trying a variety of other homeschooling styles. "Eclectic" does not mean "erratic" or "unorganized." Families who take an eclectic approach have specific educational goals for their children, and they make deliberate and purposeful choices about the resources they use.
Eclectic homeschooling is an efficient way to teach a number of children who have different interests, abilities, ages, and learning styles. If you have more than one child, it is possible that their varying needs may not be met with a single curriculum.
One eclectic homeschooling mother says:
"I didn't choose to plan an eclectic method for our children. It evolved over time when I was trying to accommodate my son's Asperger's Syndrome, and my daughter's dyslexia. He was a solid visual learner, and she was completely auditory. We couldn't do the same things, work on the same workbooks, because one struggled with workbooks, and the other struggled with hearing anything out loud. Eclectic learning just evolved."
Another mom shared:
"I had to tweak what we were doing. I had a vision of what I wanted our homeschooling days to be like, but my daughter hated doing the expensive boxed curriculum we had purchased. She said she might as well have stayed at school with all the workbooks she was doing."
Resources that eclectic homeschoolers use include online learning, library books, literature lists "borrowed" from other homeschooling styles, courses at local schools, mentors, and bits and pieces of various other curricula.
Using Time4Learning in Your Eclectic Program
Homeschooling parents, no matter what their "style" want their children to enjoy learning, and Time4Learning helps make it engaging. By shifting from computer-based lessons to discussion, or from paper and pencil exercises to art projects, children stay engaged and benefit from different teaching methods. Variety keeps children motivated and attentive throughout the day.
Time4Learning is a great homeschool curriculum choice for many eclectic homeschooling families. Parents can use the program as a building block to develop a complete program, by selecting the lessons that they want using the curriculum guide as a planning tool for Preschool, Grade School, and Middle School.
I LOVE Time4Learning! It holds the attention of my kids, plus I can keep track of their learning without hovering over their shoulders.
I am really pleased with Time4Learning. It has made a world of difference in my son's academic performance in school!
More Benefits of Eclectic Homeschooling with Time4Learning
The Time4Learning language arts and math programs can be used as a core curriculum or be worked into the eclectic home school method. Social studies, science, and foreign language lessons can easily be used as a springboard for non-computer related activities. The Reports function of our program keeps track of all lessons started and completed, percentage scores for quizzes and tests, the amount of time spent on each activity, and the dates the activities are completed. This makes portfolio keeping easy.
Time4Learning appeals to a wide range of learning styles. Our online learning materials are especially well-suited to children who are visual or kinesthetic learners. These children can take advantage of Time4Learning's interactive, multi-media materials, and by shifting from computer-based lessons to discussion, or from paper and pencil exercises to art projects, all children stay engaged and benefit from different teaching methods. Variety keeps children motivated and attentive throughout the day.
Children like using the computer to learn. Time4Learning is a convenient, interactive homeschool resource that provides a welcome change from textbook-based lessons, and it helps children learn computer skills that are so important today.
Time4Learning's self-paced, modularized lesson plans allow you to move forward and back through the materials whenever you want. You can skip lessons that teach concepts your child has already mastered and repeat those he or she has not. The choice is yours. With Time4Learning, you are always in control.
Time4Learning has proven effective with eclectic homeschoolers, has a low monthly price, is easy-to-use, and provides a money-back 100% satisfaction guarantee so you can make sure that it works for your children. Sign up for Time4Learning as part of your overall homeschool program. If you are one of those eclectic homeschoolers who has been looking for a fun, interactive, web-based curriculum to supplement the other homeschooling programs you have been using, try our demo lessons to see if Time4Learning would be a good fit with your homeschool.
Are you new to homeschooling? Get an Introduction to Homeschooling ebook.
The Time4Learning Program Structure
Time4Learning has been refined through years of feedback from educators, parents, and students. Subjects are organized into chapters composed of interactive lessons, printable worksheets, quizzes and tests. Students are guided through the activities at their own pace by an automated system.
When students log in, they choose a subject, select a chapter, pick a lesson and complete the activities. A bright green arrow tells them where they left off, and completed work is clearly labeled with a check-mark or a gold star. Visual and auditory prompts guide students through the lessons making them easy for young learners to follow, and an online playground (controlled by parents) rewards and motivates them to finish their lessons.
Parents get access to printable lesson plans, teaching tools, detailed reporting and parental support through our online Parent Forum.
Does your child have different achievement levels for math and language arts? No problem. Time4Learning lets you set each individual subject at the appropriate graded level, making this program great for special needs and gifted students.