Helpful Homeschooling Resources Are Within Reach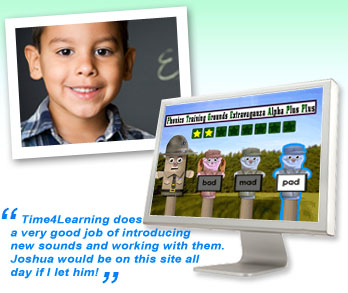 View Our Lesson Demos
Whether you are a parent new to homeschooling or have several years under your belt, you know there are plenty of homeschooling resources available and how overwhelming it can all be. But how do you choose the right homeschool materials? The answer varies depending on your situation, however one thing is certain: parents want a homeschool curriculum that will help their children succeed.
Time4Learning is a new approach to homeschooling that provides homeschooling families a convenient, online homeschool resource. Our web-based homeschooling materials take advantage of today's technology. Whether your child is in preschool, elementary or middle school, our convenient, interactive homeschool resources can help your child from PreK-twelfth grade.
Time4Learning provides automated grading and detailed reporting — a plus for parents. With so many things to be on top of as a homeschooling parent, having a system that tracks your child's progress helps make homeschooling much easier.
Help your children advance by using a homeschooling resource that teaches them with individualized learning paths that cover all the skills and concepts that will make them succeed.
Time4Learning is a proven effective homeschooling resource with a low monthly price and a money-back guarantee so you can make sure that it works for your children.
How Do I Choose the Right Homeschool Resource and Materials?
There are so many homeschooling resources on the Internet. If this is your first time homeschooling, it can be overwhelming and discouraging. However, it's important to keep sight of the big picture and that is your child's success and well being. But how do you know which homeschool program is right for your child?
Many parents find that one of the hardest parts of homeschooling is picking which homeschool resources and materials to work with. After seemingly endless research of all the homeschooling resource lists, homeschooling material discussions, and homeschooling resource reviews, many parents end up mixing and matching homeschool resources and materials in order to create the best possible match for their child.
Time4Learning takes the confusion out of choosing your homeschool materials. Our online, interactive educational materials offer each child their own learning path that is measured by their educational needs. We offer flexibility with grade levels and the option to adjust levels at any point.
For families with more than one child, choosing a homeschool resource can be even more challenging, especially if each student has a different learning style. Whether your child is a mainstream learner, gifted or even special needs, Time4Learning provides a flexible, student-paced approach. Lessons are brief and comprehensive so as to hold the child's attention, while at the same time teaching them and helping them retain the material through practice exercises, activities and printable worksheets
Join Other Homeschooling Families Online
When it comes to homeschooling, what better way to get the inside scoop on homeschooling curriculum resources and materials than to connect with other families that share the same views and goals.
The Time4Learning Parent Forum is a great place to ask questions and share your experiences with other like-minded families. This online community can provide you with the homeschooling resources you may have not found elsewhere.  You can even connect with homeschoolers in your area to learn about homeschooling resources specific to your state.
A Great Homeschooling Resource at Your Fingertips
In today's modern world, children like using the computer to play games, do research and even learn. Time4Learning's homeschool curriculum engages children through multimedia based, interactive lessons while at the same time challenging them, and allowing them to work at their own pace. A child's education is one of the most important things a parent will invest in. Time4Learning understands how important choosing homeschool materials can be for your children and how overwhelming the process can be.
Signup for Time4Learning and gain access to a variety of educational materials, which will challenge your child and help them succeed. Make Time4Learning a part of your child's homeschool resources.
I LOVE Time4Learning! It holds the attention of my kids, plus I can keep track of their learning without hovering over their shoulders.
I am really pleased with Time4Learning. It has made a world of difference in my son's academic performance in school!