Academic Panel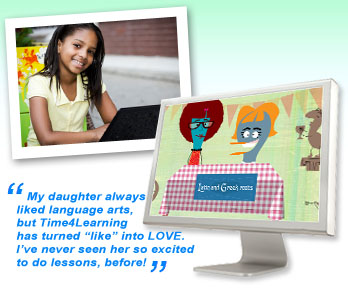 View Our Lesson Demos
A primary source of direction and expertise for Time4Learning is the Time4Learning Academic Panel. The goal of the academic panel is to provide ongoing external feedback and direction to Time4Learning to ensure that we are fulfilling our mission.
Click Here to read some of our customers comments.
You can jump to the following profiles/sections:
Rebecca Kochenderfer
Rebecca Kochenderfer is Senior Editor and Co-Founder of Homeschool.com, Inc. Homeschool.com is the number one homeschooling site on the Internet, with over two million visitors each year. (Forbes Magazine named Homeschool.com one of the top 45 sites on the Internet!) Rebecca has been homeschooling her own children for over 14 years. She lives with her husband and three children in Auburn, California. You can contact Rebecca at: [email protected]
Daniel Edelson
Daniel Edelson is an Associate Professor at Northwestern University in the Schools of Education and Computer Science. He teaches on the design and use of curriculum and software. Dr. Edelson directs a project exploring the use of technology as a catalyst for pedagogical reform in science education. He led the development of My World, a geographic information system for inquiry-based learning; WorldWatcher, a data visualization and analysis system for gridded geographic data; and the Progress Portfolio, an inquiry-support tool. He has developed numerous inquiry-based science curriculum units. In 2005, he published Investigations in Environmental Science, a textbook for a yearlong high school environmental science course. Dr. Edelson directs the Geographic Data in Education (GEODE) Initiative, a research and development group dedicated to the improvement of geosciences education, and the Meaningful Science Consortium, a project supporting the transformation of high school science instruction in the Chicago Public Schools. Dr. Edelson received his Ph.D. in Computer Science (Artificial Intelligence) from Northwestern University and his B.S. in Engineering Sciences (Electrical) from Yale University.
In December 2007 Daniel Edelson joined National Geographic as vice president for Education and Children's Programs and executive director of the Society's Education Foundation.
Daniel Edelson joined BSCS – the organization that developed the BSCS 5E Instructional Model – as Executive Director and President in January 2015.
Daniel Edelson is the brother of John Edelson, the Time4Learning founder.
Anne Collier
Anne Collier is President and editor of NetFamilyNews, Anne is a writer and journalist who has worked in the news media since 1980. With SafeKids.com's Larry Magid, she is co-director of ConnectSafely.org, a Web-based interactive forum and information site for teens, parents, educators, and everybody interested in the impact of "Web 2.0" on kids, its most avid users. She and Larry are also co-authors of MySpace Unraveled: A Parent's Guide to Teen Social Networking. Anne founded the nonprofit NetFamilyNews.org in 1999, with the idea that information is empowering for parents in this time when tech literacy has become an essential part of parenting. Anne worked on print, radio, TV, and Web versions of the Christian Science Monitor, served as an editor in consumer magazines, writes a weekly kid-tech news column for Staysafe.org, and has contributed to GetNetWise.org, Children's Technology Review, and the National Center for Missing & Exploited Children's NetSmartz.org. She serves on the Advisory Council of the London- and Washington-based Family Online Safety Institute and the Advisory Board of GetNetWise.org, a project of the Washington-based Internet Education Foundation, and she works in close association with sister organizations SafeKids.com, Netmom.com, and London-based Childnet International.
I LOVE Time4Learning! It holds the attention of my kids, plus I can keep track of their learning without hovering over their shoulders.
I am really pleased with Time4Learning. It has made a world of difference in my son's academic performance in school!
Maria T. Bailey
Maria T. Bailey is one of the mst recognized names on issues related to mothers and families and is widely consulted by major corporations and the media. Ms. Bailey is the founder of The South Florida Parenting Conference, BSM Media, and BlueSuitMom.com, the award-winning journal and web site for executive working mothers and the companies who employ them. She authored "The Women's Home-Based Business Book of Answers" and "Marketing to Moms" (2002, Prima). Maria is a regular voice on radio as the host of Mom Talk Radio. She is the mother of four young children.
Kelly Stone
Kelly Stone is co-owner of TheSwap.com, the oldest used homeschool curriculum swap site on the internet. Kelly is a member of the Mid-Columbia Christian Homeschool Co-op's governing board. She publishes the group's newsletter, coordinates field trips, and teaches classes in journalism, literature, and Spanish. Since December, 2006, Kelly has moderated Time4Learning's Parent Forum Kelly has educated her six children at home for almost a dozen years, three boys and three girls, who range in age from three to 24. They have a range of talents and issues: the youngest has Down syndrome. The younger five children are still at home and the eldest, a homeschool graduate, earned a college degree in Computer Engineering Technology Kelly has a special interest in using technology to help meet the educational needs of children with developmental delays. A self-proclaimed "grey-haired geek", Kelly started using Time4Learning in 2005 as part of their homeschool program.
Kerry Jones
Kerry Jones is a homeschooling mom of two special needs children. She is also a freelance writer, who has written extensively about assistive and educational technology, and homeschooling with technology. Kerry has a B.A.in Creative Writing and is a frequent speaker at homeschooling conferences on the subject of integrating assistive technology into homeschool education. She is the administrator of the web's largest community for secular homeschoolers, SecularHomeschool.com.
The Time4Learning Program Structure
Time4Learning has been refined through years of feedback from educators, parents, and students. Subjects are organized into chapters composed of interactive lessons, printable worksheets, quizzes and tests. Students are guided through the activities at their own pace by an automated system.
When students log in, they choose a subject, select a chapter, pick a lesson and complete the activities. A bright green arrow tells them where they left off, and completed work is clearly labeled with a check-mark or a gold star. Visual and auditory prompts guide students through the lessons, making it easy for even young learners to follow, and an online playground (controlled by parents) rewards and motivates them to finish their lessons.
Parents get access to printable lesson plans, teaching tools, detailed reporting and parental support through our online Parent Forum.
Does your child have different achievement levels for math and language arts? No problem! Time4Learning lets you set each individual subject at the appropriate graded level, making this program great for special needs and gifted students.