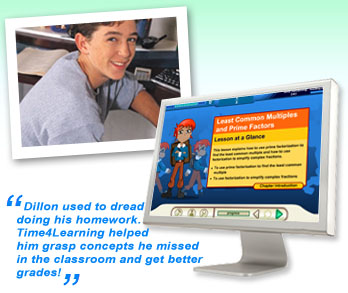 TRY OUR LESSON DEMOS
Time4Learning is an online, student-paced learning system covering preschool through high school. It is popular as a eighth grade homeschool curriculum, as an afterschool tutorial and as a summer study or enrichment program.
For eighth graders, Time4Learning provides language arts, math, science and social studies. Students also get access to an online playground.
This page provides:
Overview of Eighth Grade Learning Objectives
This section provides a summary of the key eighth grade learning objectives for reading, language arts, and math. A more detailed description of each subject is provided below, including links with more information on the hundreds of learning activities. The eighth grade language arts and math curriculum correlate to state standards.
Eighth grade is a year of highly visible progress in reading, writing and language arts. By the end of eighth grade language arts, students should:
Develop age appropriate writing skills
Accurately apply punctuation, grammar, and syntax skills
Develop complex grade appropriate vocabulary
Read with fluency while applying comprehension strategies
Eighth grade is also a year of visible math skill development. By the end of eighth grade math, students should:
Accurately apply ratio, proportion, and percent
Have a solid understanding of algebraic principles
Understand beginning concepts of geometry
Be able to apply data and statistics to everyday situations
Below, there is a more in-depth description of the eighth grade curriculum for language arts, math, science and social studies as well as information about the online playground.
Do you have homeschool portfolio questions? Get tips and advice about different organization methods, what to include and how Time4Learning can be used as part of your eighth grade homeschool portfolio.
Eighth Grade Language Arts – Lesson Overview
Eighth grade language arts is organized into two large sections: Language Arts and Language Arts Extensions.
The language arts section contains 64 learning activities that are primarily based on reading comprehension, writing skills and vocabulary. Independent learning activities (ILA) think alouds, interactive guided instruction and read & respond lessons will build and develop working knowledge of language arts skills and give them plenty of practice. This series constitutes a solid eighth grade language arts program, correlated to state standards.
Sixty-four lessons are organized into nine chapters that introduce and cover:
Vocabulary Skills – Introduces new vocabulary in reading activities that teach synonyms, antonyms, homonyms, and idioms. Lessons build a working understanding of suffixes, prefixes, and reading skills. Students are asked to identify, interpret and analyze passages. Vocabulary skills are expanded and knowledge of grade level appropriate vocabulary is applied.
Process Skills: Think Alouds – Think aloud prompts encourage student's use of comprehension skills such as summarizing, predicting, visualizing, questioning, and clarifying. Students are encouraged to independently read and critically analyze texts with minimal support.
Comprehension – Teaches students how to apply comprehension skills to literary and expository texts by using summary, paraphrase, and synthesis. Other concepts such as main idea, supporting details, using charts and graphs, cause and effect, author's purpose, and making inferences help the students to gain maximum comprehension for literary texts.
State Simulation Assessments – A mock assessment that uses simulated questions to teach students how to apply reading comprehension skills to high stakes tests. Tests are used to give students practice before taking standardized tests.
The Surviving the Apple Whites (ILA) – Independent Learning Activity (ILA) that builds vocabulary, fluency, comprehension, prewriting, literary response, analysis, and writing skills. Students focus on characterization, mood, and writing lessons which focus on persuasive composition. Students are required to write a college application essay as a culminating writing assignment.
Ruthie's Journal (ILA) – A series of activities that develop reading, writing, and thinking skills. Uses an integrated thematic chapter to build comprehension by reading literature with an emphasis on vocabulary. Students are asked to respond to a prewriting prompt within each lesson. A writing application assignment asks the student to write an informational report and a travel article.
Shipwreck (ILA) – Pre reading, during reading, and post reading activities engage the student in vocabulary building, use of comprehension skills, and evaluation of literature. An integrated thematic chapter teaches writing and comprehension skills. Writing application is made through an end of chapter writing assignment on developing cover letters.
19 Varieties of Gazelle (ILA) – Uses the story of the 19 Varieties of Gazelle to teach vocabulary, comprehension, and writing skills. Activities combine direct instruction with read and responds to develop writing, and thinking skills. Eighth graders are asked to identify cause & effect, write a newspaper entry, and practice language arts skills. Complex writing skills are applied through an assignment on writing free verse poetry.
True North (ILA) – Uses the story True North to teach vocabulary, fluency, reading comprehension, and writing skills. Students are assessed on their comprehension of the literature. Activities combine direct instruction with read and responds to develop writing and thinking skills. Students are encouraged to write a biography or autobiography as an end of chapter writing application.
Click for lesson by lesson details on the Time4learning 8th grade language arts lesson plans.
Eighth Grade Reading List
Many parents have expressed interest in purchasing the full versions of the authentic literature excerpted in the eighth grade language arts section. They can be purchased at the links below but they DO NOT need to be purchased in order to use Time4Learning.
Eighth Grade Language Extensions – Lesson Overview
Language arts extensions contain 12 chapters made up of 85 activities.
Language arts extensions is a complete alternative language arts curriculum. Many parents have their child complete both the language arts and language arts extensions. Others use language arts extensions for review, additional practice or reinforcement. Members have access to both, so they can use the exercises in the way that best fits their needs.
Eighty five lessons are organized into twelve chapters that introduce and cover:
How-to-Articles – Teaches students different strategies that build writing skills. Students will use prewriting strategies and using words in context to apply comprehension and practical activities to fun projects.
Informational Articles – Teaches students how to use informational articles. Activities enable students to see how word choice is connected to the outcome of the composition. Students will identify the main idea, supporting details, interpret graphs, and write a descriptive paragraph.
Events in the News –Students explore current events and complete writing assignments about these events. Encourages students to apply reading comprehension and writing skills to design a monument or write about the Lincoln Memorial.
Short Stories – Teaches students about the various elements of a story, and how to use literary devices to develop a quality short story. Students cover 3 pieces of literature with writing assignments that correspond to each.
Poetry – Students learn about the various types of poetry such as lyrical poetry and free verse poetry. Students will have writing assignments that enable them to practice what they have learned about poetry. Assignments include a poetry writing, and narrative writing.
Persuasive Readings – Students will study famous examples of persuasive speeches in order to develop a greater understanding of speech writing. Students will write their own persuasive speech.
The Accurate Use of Apostrophes – Teaches the students how to recognize possessive nouns, learn the rules for apostrophes, identify words that need apostrophes, and place the apostrophes correctly.
Apply Spelling Conventions – Teaches students about the various verb forms, adverbs, colons, and semicolons. Students are introduces to infinitives, confusing words, and modifiers and are asked to identify and correct misspelling and usage errors. Teaches the rules associated with comparative and superlative adjective usage, vowel and consonant rules, structural units within words, and exceptions to spelling rules.
Strategies to Edit Written Work – Students learn the use of common editing strategies such as subject verb agreement, parallel structure, capitalization, end punctuation, quotation marks, fragments, and run-ons. Students are given proofreading assignments throughout.
Use infinitives and participles – Teaches students the proper use of infinitives and participles through interactive exercises. Students will learn how to differentiate between infinitive phrases and prepositional phrases, and then be able to use infinitive phrases correctly.
Use parts of speech correctly – Students learn the rules for demonstrative adjectives, pronouns, and modifiers. Lessons teach the students how to identify the correct verb tense, progressive verbs, adverbs that are used as intensifiers, indefinite pronouns, and the perfect verb tense.
Variety of sentence types – Teaches students about complex sentences and the various punctuation, subject verb agreement, and parallel structure that is needed to form these sentences correctly.
For details about eighth grade writing standards, please visit Time4Writing.com.
Eighth Grade Vocabulary
In eighth grade, animated vocabulary lessons guide Time4Learning students to review and increase their understanding of root words, prefixes, and suffixes. Additional literature based units provide vocabulary building resources such as an interactive assessment activity that focuses on correctly identifying a vocabulary word with its definition.
Literature units include related vocabulary lists and printable vocabulary worksheets. Students are exposed to science vocabulary through reading chapters on the eye, hurricanes, and flavors. Additional vocabulary activities include the study of informational articles and how word choice affects the outcome of the article.
Eighth Grade Math
The eighth grade math curriculum contains 357 major lessons, 47 printable worksheets, and 47 quizzes. It constitutes a solid eighth grade math program correlated to state standards.
Eighth grade math lessons are presented by cool animation covering math standards at the student's pace. Each chapter builds on the last. Eighth graders are guided through number theory, basic algebra, systems of measurement, data interpretation, geometry, graphing, and probability using interactive prompts and storylines that bring the lessons to life.
Eighth grade lessons are organized into fourteen chapters that introduce and cover:
Number Systems – Teaches students number theory in relation to scientific notation of numbers between zero and one. Students learn to identify rational and irrational numbers. Absolute value is taught and students are asked to explain and solve problems that apply this concept.
Real Numbers – Teaches the order of operations applied to decimals, square roots, estimation, and simplification of expressions. Students examine the use of repeating decimals and that process that is used to convert these decimals to fractions. Lessons will present the concept of roots in which students will calculate and approximate principal square roots. Students are taught to order numbers in many forms such as fractions, decimals, scientific notation, absolute value, and radicals, and to simplify numerical expressions with real numbers.
Number Theory – Students learn the various divisibility rules and how they can be applied to problem solving, how to represent numbers in base ten in other types of bases, how to identify prime and composite numbers.
Ratio, Proportion, and Percent – Teaches the student how to use the rate of change, proportional relationships, and percents greater than 100 to solve real life situations.
Real World Computation – Students learn how to solve real life problems using operations with rational numbers, ratios, percents, proportions, and applying these techniques to one, two, and multi-step problems.
Expressions and Equations – Teaches the student about simplification of expressions, properties, and translations of algebraic expressions into word expressions. Lessons also include the concept of substitution and evaluating linear equations and inequalities.
Plane Geometry – Teaches properties of parallelism, perpendicularity, and symmetry and how they can be applied to solve real world problems. Polygons are introduced as well as the concept of concave and convex polygons. Lessons also teach the Pythagorean Theorem, congruent and similar shapes, transformations, reflections, proportional relationships, dilations, and rotations.
Three-Dimensional Geometry – Teaches students how to determine the volume and surface areas of three-dimensional shapes. Lessons include instruction on angle measurement, surface area, and proportional relationships.
Measurement – Students learn how to interpret and apply different scales of measurement, select the appropriate tools for measurement, and identify the number of significant digits in a measurement.
Graphing – Teaches students how to use tables and ordered pairs to graph a linear equation. Students learn how to convert an equation to standard form and slope-intercept form. Lessons cover linear inequalities and how to graph them on a number line and a coordinate plane. Students will also explore other aspects of inequalities and linear programming.
Linear Relationships – Teaches students how to use x and y intercepts to easily graph a linear equation. Students will also determine slope from a given line graph, write equations in slope-intercept form, determine if a function is linear, and explore these concepts using the Coordinate Graphing tool.
Probability – Students learn about conditional probability, sampling techniques, the various applications of sampling, sample bias, and probability and how these relate to the processing of chance in real situations.
Data and Statistics – Teaches the student about various data representations and how these graphs can lead to different interpretations. Students will use statistics, mean, median, mode, technology use, central tendency, statistical plots, and scatterplots to interpret various types of data.
Practice – A comprehensive cumulative review is presented to the student. Students have additional opportunities to apply skills and knowledge learned throughout the math section through various assignments, quizzes, and worksheets.
For a more detailed description of the eighth grade math lessons, please visit our eighth grade math scope and sequence page.
Eighth Grade Science
Middle school science is organized into three primary courses that correlate to state standards: Earth/Space Science, Life Science, and Physical Science. Middle school science covers materials typically offered at the sixth to eighth grade level, although parents have the option of choosing a middle school science course if they have students in fourth grade and above. In addition, Nature of Science is provided as an added supplement with each of the middle school courses.
See the middle school science curriculum overview for more information.
Eighth Grade Social Studies
Eighth graders are given access to seventh grade social studies lessons as part of their membership. Seventh grade social studies is the highest level offered with Time4Learning. The seventh grade social studies offers an in-depth look at the age of exploration, colonization, the American revolution, early government, immigration, World Wars 1 & 2, and more.
Although the materials are extensive, social studies is included as an added bonus. It does not correlate to all state standards and is not animated. For a more detailed description of the seventh grade social studies lessons, please visit our seventh grade curriculum overview page or the seventh grade social studies scope and sequence.
Eighth Grade Lessons – The Time4Learning Program Structure
Time4Learning has been refined through years of feedback from educators, parents, and students. Eighth grade subjects are organized into chapters composed of interactive lessons, printable worksheets, quizzes and tests. Eighth graders are guided through the activities at their own pace by an automated system.
When students log in, they choose a subject, select a chapter, pick a lesson and complete the activities. A bright green arrow tells them where they left off, and completed work is clearly labeled with a check-mark or a gold star. Visual and auditory prompts guide eighth graders through the lessons making them easy for young learners to follow, and an online playground (controlled by parents) rewards and motivates them to finish their lessons.
Parents get access to printable lesson plans, teaching tools, detailed reporting and parental support through our online Parent Forum.
Does your child have different achievement levels for math and language arts? No problem. Time4Learning lets you set each individual subject at the appropriate graded level, making this program great for special needs and gifted students.
Eighth Grade Curriculum for Homeschool, Afterschool and Summer Use
In order to be ready for high school, Time4Learning can be used for homeschool, afterschool or summer learning and is a great way to start eighth graders off on the right foot.
Time4Learning presents eighth grade curriculum in a style that is both engaging and effective. Kids love the funny sound effects and quirky cartoon characters delivering the material. Animated, interactive lessons feel more like video games than learning exercises. For homeschool and summer usage, the student-paced nature of the program teaches them how to work independently, giving them a sense of ownership over their progress, which is a great motivator.
Time4Learning is entirely web based, so there is no software to download, no CDs and nothing additional to purchase. Your kids will be able to access the program 24/7 from any computer with an internet connection. It has a low monthly price, offers a 14-day money-back guarantee and you can stop, start, or pause anytime.
Time4Learning has helped thousands of families. Why not yours? – Sign up now.