Ways to Celebrate Military Appreciation Month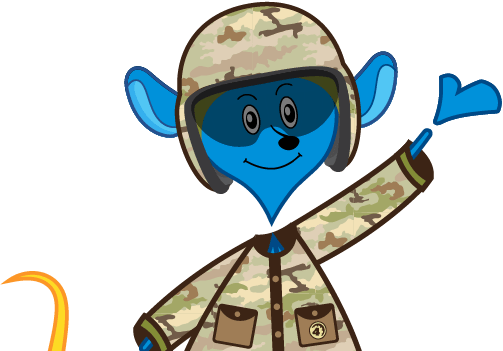 Celebrate National Military Appreciation Month With These Ideas
As a military spouse and daughter of an Army Veteran, I look forward to any opportunity that I can show my support to service members. I know firsthand what it's like to go long periods of time without seeing those you love and also having to move from place to place. It all comes with the territory and I wouldn't change a thing.
In 1999, Congress designated May as National Military Appreciation Month. In addition to Memorial Day, Armed Forces Day and Military Spouse Appreciation Day, all of which take place in May, this month-long celebration gives us the opportunity to show our support and gratitude to all the men and women that sacrifice so much for our freedom.
We all know the pivotal role those who serve, and have served, in the U.S. Armed Forces play in the history and development of our country. If it weren't for their commitment and sacrifices, we definitely wouldn't be where we are today.
These brave men and women spend extended periods of time away from their families, miss out on their children's milestones, and sometimes lack access to things that we tend to take for granted like a warm shower, a comfortable bed to sleep in, and personal hygiene products. They deserve all the gratitude and respect in the world, which is why it's so important to show our appreciation every chance we get.
There Are So Many Ways to Show Your Support
As a military homeschooler, I spend a few hours at our local co-op every May speaking with the families about the importance of showing their support to those in the military. As a bonus, many of these activities are a perfect way to kick off your summer learning.
Here's how I usually do it:
I'll check out a few children's books from the library to read to them about the history of the Armed Forces.
We'll also watch a good documentary that expands on or summarizes what we just read.
Then, I give the kiddos the opportunity to ask questions or share any of their personal stories. My husband has even come out a few times to talk about his experiences. I can't tell you how rewarding it is to see the children's faces light up when they see him in his uniform and hear his stories.
Once we're done with our presentation, I ask the students to write thank you notes or drawings to give to service members.
Since National Military Appreciation Month falls around summertime, I try to plan a picnic every year and invite local service members and their families. This is where I have the kids give out the thank you notes and drawings they previously worked on.
We have such a great time and they are always so grateful for the time and effort we put in. When it's all said and done, someone always ends up in tears…myself included.
Below are some additional things that your family can do to show your appreciation to our brave members of the military.
Send letters of encouragement to veterans in hospitals and nursing homes.
Donate food, gently-used clothing, and even furniture to needy veterans in your community.
If you're part of a homeschool group or co-op, organize a breakfast or lunch and invite local service members. You can also ask them to speak about their experience in the military.
Take field trips to local military museums, memorials, forts and other similar points of interest.
Attend a military event in your community such as a memorial, parade, remembrance run, airshow, etc.
Inquire with your local Veterans Affair (VA) hospital about volunteering your time or visiting veterans to provide companionship.
Know a military spouse of a deployed soldier? Offer to help with things like babysitting, cooking, groceries or any other chores he or she may need assistance with.
Whenever you see a veteran or an active service member say 'thank you for your service'.
Send care packages to military personnel abroad. A few ideas on what to include: toiletries, nonperishables, reading materials, playing cards, and stationery.
Wear patriotic colors (red, white and blue) and/or display your American flag at your home or business.
A random act of kindness for a military family can go a long way: you can pick up the tab for their meal at a restaurant, chip in for their groceries, or pay for their cup of joe at the coffee shop.
Offer words of encouragement to parents whose son or daughter just enlisted. The transition can be difficult for everyone, and knowing they have your friendship and support can help them get through those first few months.
Showing our gratitude to military personnel isn't something that should be reserved for this special month. Everyday is an opportunity to do a good deed for those who deserve it. And with summer around the corner, why not use the free time to continue to celebrate our men and women in uniform?
Have more ideas to make our military feel appreciated? I would love to hear them! Share them in the comments below.