Flag Day Activities for Homeschoolers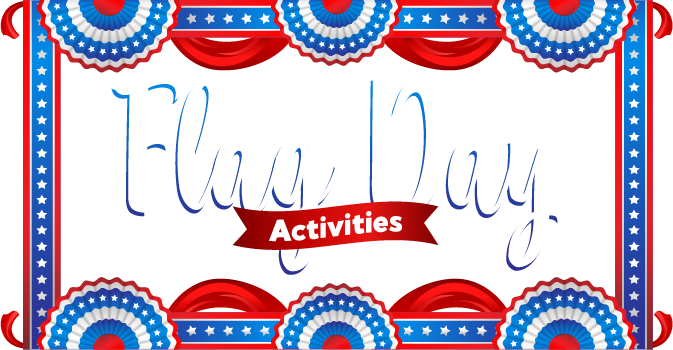 June 14 is Flag Day in the United States. It is a day set aside to celebrate the adoption of our country's most recognizable symbol. Many nations have a dedicated day to honor their flag, and in the U.S. we chose this date because our flag was first adopted on June 14, 1777.
Students are usually enthusiastic about learning about flags, so you'll probably find that they are ready and eager to incorporate Flag Day lesson plans into their homeschool studies. Keep reading to discover some of the history behind the adoption of Flag Day as a holiday. The timeline below will give your student(s) a little background information about this important American commemoration.
Flag Day History Timeline
June 14, 1777
The "Stars and Stripes", the official National symbol of the United States of America, was authorized by the Second Continental Congress.
1855
School teacher B.J. Cigrand is thought to have held the first ever Flag Day observation in a school in Fredonia, Wisconsin. Over the next several years, Cigrand believed so passionately about the observation, that he gave addresses and wrote newspaper articles championing the observance.
1889
Another educator, kindergarten teacher George Balch, planned a Flag Day celebration for his school in New York City, as well.
1891
The Betsy Ross House in Philadelphia held a Flag Day celebration.
1916 and 1927
Both President Woodrow Wilson and President Calvin Coolidge issued proclamations asking for June 14 to be observed as Flag Day each year.
1937
Pennsylvania became the first state to make Flag Day a legal holiday.
1949
National Flag Day was established by an act of congress and signed into law by President Harry Truman (although it is not an official federal holiday).
Why Have a Flag Day Celebration in Your Homeschool?
There is much a student can learn from a symbol such as the flag. The stripes, stars, and even the colors of it represent pieces of our country's history. The flag inspired our national anthem, has been flown throughout each of the wars fought by U.S. servicemen and women, and was even placed on the moon by astronaut Neil Armstrong. There is specific etiquette relating to the flag that students need to know as well, such as that it should never touch anything beneath it.
Incorporating Flag Day into your homeschool studies gives your students the opportunity to fully explore the history and significance of the flag. The commemoration of patriotic holidays such as Flag Day allows homeschoolers to take an active role in their own citizenship and better understand their own contribution to their country and their community.
Patriotic Learning Resource
Time4Learning members, make your holiday celebrations even more educational and meaningful with this free download of patriotic lesson plans for all grade levels.
Flag Day Activities: Ideas by Grade Level
To aid you in your studies, Time4Learning has pulled together some Flag Day learning activities by grade level. Browse the lists below for inspiration on ways to bring your homeschooler's attention to this important holiday and thereby grow their civic knowledge as an American.
Flag Day Activities for Preschoolers and Kindergarteners
Because Flag Day takes place in warmer weather, you might want to plant a "patriotic garden" with help from your young learners. As you plant red, white, and blue flowers, discuss what those colors represent and don't forget to place at least one flag in your garden as it blooms.
Does your preschooler or kindergartener know the Pledge of Allegiance yet? Flag Day is the ideal opportunity to help your student begin to memorize this important oath.
Flag Day makes for a fun road trip game. Take a drive around town and have your homeschooler count each of the flags they spot in yards, on poles, and displayed on buildings.
Flag Day Activities for Elementary Students
There are many emerging readers and short chapter books with the flag as the central theme. Head to the library or bookstore and look for titles like O, Say Can You See,  F is for Flag, and Red, White, and Blue: The Story of the American Flag to incorporate into your reading list.
Print out the pictures of the American flag, as well as ones of at least five more nations. Have your student guess which of the nations each of the other flags belong to, and then point out the actual locations of each of the flags on a map or globe.
How many interesting facts can your elementary learner research and discover about the American Flag? Have them turn their findings into a slideshow or poster.
Flag Day Activities for Middle School Students
Your middle schooler might be surprised to discover that the U.S. flag has been redesigned at least 27 times. Have them browse through the different versions of the flag, and then have them consider what adding another state to the union would mean. Could they create their own redesign with 51 stars?
Do you have a friend or family member who is a current service member or a veteran? Have your middle schooler interview that person and specifically ask them what the flag means to them.
Flag Day Activities for High School Students
Your high schooler will enjoy getting the full story of the Stars and Stripes by watching The History of Flag Day, a video from the National Constitution Center.
Francis Scott Key, author of The Star Spangled Banner, is the perfect subject for a high school research paper.
Did you know that the proper way to dispose of a flag is through an official retirement ceremony where the flag is usually incinerated. How does this differ from flag burning as a protest? Discuss this with your high schooler to get their thoughts and opinions.