Beat Burnout Blues with Gameschooling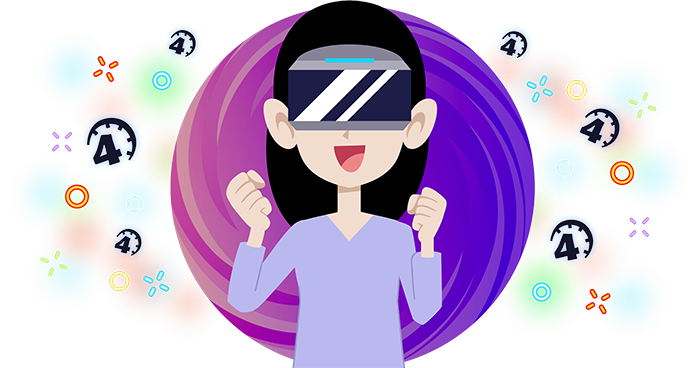 I've read about homeschool burnout. Most families describe a sort of smoldering unrest and dissatisfaction with the homeschool status quo. Our homeschool burnout, unfortunately, doesn't resemble that at all. In the past few months we've experienced more of a full-on combustible inferno!
Once I felt the temptation to throw my children into the nearest yellow school bus in the morning, I knew it was time to recalibrate. If the kids are resistant to homeschooling right now, I know that it's not because they've stopped enjoying learning. I watch them soak up endless knowledge in the games they play online, in the videos they watch, and even in their interactions between themselves.
No, it's not the lack of interest that's at the root of this burnout we're experiencing; it's the rut we've gotten into. In addition to other homeschool burnout remedies, I've decided that gameschooling might be just the game-changer we need.
What is Gameschooling?
Along with roadschooling and worldschooling, gameschooling is an intentional approach to learning by doing. It uses educational games to teach and/or reinforce skills, concepts, and academic subjects. Games may be chosen organically or with a specific learning objective in mind.  The overall goal of gameschooling is to enrich your child or teen's education with play.
Why Gameschooling?
Although the term "gameschooling" has become popularized within the homeschool community, the idea of learning through play has been around forever. As Mr. Rogers once said, "Play gives children a chance to practice what they are learning."
The benefits of gameschooling are innumerable, but I'm going to share some of the ones that have recently convinced me to integrate it into our homeschool routine:
Family game time builds relationships and connection between parents and children.
Children are more receptive to learning that they enjoy.
Research shows that learning developed through play is often retained longer than passive knowledge.
Gameschooling builds "soft skills" such as hand/eye coordination, spatial reasoning, visual discrimination, and executive functions.
Gameschooling appeals to different learning styles. Visual learners may appreciate homeschool games online, while kinesthetic learners might gravitate to homeschool board games.
Play-based learning develops long-term life skills such as cooperation, resilience, communication, and creativity.
Games are a judgement-free way to build skills. Without having one's efforts evaluated or "graded," a child can focus on enjoying learning.
Types of Homeschool Games
What will amaze you (if this is your first time to research gameschooling) is the sheer number of games for every possible learning topic! I've found that it is actually more difficult to narrow down our gaming choices than it is to locate games that fit our learning needs. But here are some of the main categories to explore:
Homeschool Board Games
Board games, or table top games, are one of the most popular gameschooling options for homeschoolers. After all, it's an activity that both parents and children of multiple ages can participate in together. Certainly there are plenty of competitive games, but I've found that cooperative games, where my kids have to work together for a common goal, are better for family bonding. Examples of homeschool board games are Oregon Trail (yes, our old childhood computer game is now available in board game format!) and Rory's Story Cubes, a portable dice game great for cooperative storytelling on the go.
Homeschool Games Online
The number of online educational games is overwhelming, to say the least. It's important to play any game yourself before using it in your homeschool, so that you can evaluate its age appropriateness and educational value. I prefer ad-free options for obvious reasons, although if you can only afford free games that are ad-supported, you can certainly teach your children strategies for safely navigating those sites. One of the homeschool math games we are currently enjoying is Time4MathFacts, which helps early elementary students to learn and retain addition, subtraction, multiplication and division facts with fun, game-based play.
Time4MathFacts helps my kid enjoy math
By Julie
"… I have fought tooth and nail for 3 years to get my DS to do anything remotely associated with math, and now I can't get him off Time4MathFacts."
Video Games for Homeschool
Sure, video games get a bad rap, but if you already have a video game platform sitting in your living room, you might be surprised how many educational games are available for it. National Geographic Challenge, for example, is an Xbox 360™ offering focused on history and geography. Bookworm for Nintendo DS™ is another video game that builds word skills and has a multiplayer mode for parent/child play. Even Playstation's™ popular Little Big Planet has the potential to build everything from math skills to coding skills.
Homeschool Apps
Naturally, you can't talk about educational games without including the category of mobile apps. The wonderful thing about apps is that they are always a palm's length away. Gameschooling can happen while you are waiting for a sibling at dance class or even while driving to Grandma's. My 7 year old is currently gaga over Princess Fairy Tale Maker, which calls on her creativity to write, draw, and even record voice overs for her own stories.
Using Homeschool Games to Revive a Stale Routine
Knowing that you want to incorporate gameschooling into your homeschooling is one thing; making it happen is quite another. Because the approach is new to us, I'll need to experiment to see how it best fits into our homeschool day. But I've been considering a few different scenarios.
Gameschooling by Topic
One idea is to find games that reinforce whatever subject we are studying in our regular curriculum. While this is the method I most gravitate toward, I also realize that it would be the most expensive, because it would mean continually looking for and potentially buying new board games, video games, and apps that correspond to our current topics.
Subject-Specific Gameschooling
This is probably the way we will kick off our gameschooling experiment. My whole family has been bored with our social studies curriculum of late, so I'm considering taking a break from it altogether and learning geography, history, and world culture through play. I've been spellbound by how many cool games are available for these areas!
Gameschooling Days
Another plan would be to set aside one homeschool day per week primarily for gameschooling. We would have a steady collection of tabletop and online games that we would choose from that offered general educational value without worrying about supporting specific concepts.
Gameschooling as a Reward
We already integrate this method somewhat in our homeschool. The Time4Learning playground motivates my younger daughter to complete her lesson time so that she can head into the land of educational fun.
No matter what method of gameschooling we end up going with, I feel confident that it's going to be the bucket of cool water to our current burnout bonfire. There is no doubt that my kids–and even myself–need more play in our day. I'm ready for all of us to fall in love with learning all over again this year.
– Melany, homeschool mom of 3