Try using technology as an afterschool enrichment tool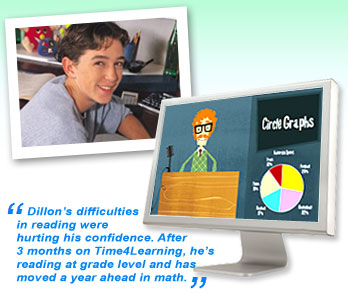 View Our Lesson Demos
Today's kids love computers, technology, and the internet. So it makes sense to use it as an educational tool, especially if your kids are having difficulty with a subject. Technology can help students find their comfort zone, creating more engaged learners. And by engaging them, you've already won half the battle!
It is common for some students to need extra practice before fully understanding a lesson, especially with math, language arts and reading. Lessons generally follow a progression, so if your kids don't have a solid understanding of the basics, they may have difficulty later.
Time4Learning is a new approach to afterschool learning. Our web-based learning materials takes advantage of today's technology, presenting standards-based exercises in a non-threatening way. Computers can open doors in a way that textbooks can't by creating an interactive learning experience that brings the material to life. And since computers have endless patience, they promote a can-do state of mind.
Time4Learning is proven effective for learning at home and improving grades, has a low monthly price, and provides a money-back guarantee so you can make sure that it works for your children, satisfaction guaranteed! Sign up now.
Afterschool Remediation and Enrichment – Many children need both
Parents can either follow the Time4Learning automated curriculum or they can choose lessons that support the school program and which target their children's strengths or needs. Parents can select the grade level for each subject. Many children are performing in different subjects at different grade levels.
For instance, one parent had a student who found her 2nd grade math program too easy but was still struggling to learn to read and effectively at a first grade level. Her mom put her on the first grade Time4Learning program which built her phonics foundation and developed her vocabulary and listening comprehension. After a few months, Jordan's reading skills were visibly improved. On the math side her mom gave her some advanced math materials which revealed that while she was strong in math, she had actually missed some concepts but had been too proud to ask for help. Working privately on her own, she developed a more rounded math foundation and became more confident and active in school.
Why Use Time4Learning for Afterschool Enrichment?
Time4Learning offers standards-based math and language arts lessons from preschool to high school which correlate to state standards. The flexible, student-paced approach combines animated lessons, interactive exercises and printable worksheets, making it a great tool for afterschool remediation. The program has been refined through years of feedback from educators, parents, and students and is used in public schools nationwide as a classroom teaching tool.
Enriching Educational Games – Fun that Teaches
Educational teaching games from Time4Learning give kids the opportunity to learn to read and to practice their math skills, teaching and reinforcing their lessons in a fun environment. Getting children to do their enrichment after school is often very difficult. With Time4Learning, the fun use of the computer works for you!
Math and reading should be a fun part of a child's daily routine. Reading and math, concepts and skills are introduced, practiced, reinforced, and assessed. The Time4Learning education enrichment provides teaching and games for either homeschool or supplementary use.
I LOVE Time4Learning! It holds the attention of my kids, plus I can keep track of their learning without hovering over their shoulders.
I am really pleased with Time4Learning. It has made a world of difference in my son's academic performance in school!
Supplementary Enrichment to Help to Learn to Read
The Time4Learning Reading Enrichment teaches and improves phonemic awareness (reading readiness), phonics, reading fluency, vocabulary and comprehension. From preschool to eighth grade, our Learn to Read Programs introduce your children to age-appropriate reading skills through lessons and educational teaching games.
Math Enrichment Programs
The Time4Learning Math Programs start preschoolers on features, sets and following directions. Once kids master those concepts, they move on to understanding numbers and quantity. In elementary math, kids will learn math operations, math facts, word problems, measurement, geometry and probability. We also offer Time4MathFacts which utilizes fun games to engage your younger child in learning math fundamentals.
Interactive Curriculum that is Proven Effective Enrichment for Thousands
Time4Learning provides interactive curriculum with printable worksheets for reinforcement, has a low monthly price, does not require a contract, and even provides a money-back guarantee so you can make sure that it works for your kids, satisfaction guaranteed! Time4Learning has helped thousands of children. Start Helping My Children Now.
Enrichment Online
Most children find school either boring or too difficult at times. Of the many solutions, one of the most effective is to get the children to engage more fully with their studies. Time4Learning, as an online enrichment program, allows parents to have children follow a full self-running curriculum at home which provides reinforcement and added depth to their school studies. Alternatively, using the Time4Learning online lesson plans, the parents can select online lessons that reinforce the unit that is behind done simultaneously at school. Either way, Time4Learning has provided wonderful enrichment to thousands of children, why not yours?
Make Time4Learning your children's enrichment resource. Signup for Time4Learning and gain access to a variety of educational materials, which will engage and challenge your child to succeed. Registration takes minutes and there is a two week money-back guarantee.