Homeschool Statistics

View Our Lesson Demos
Homeschooling's Meteoric Rise in the U.S. Continues
While homeschooling has steadily grown in popularity in the United States over the past several decades, its growth since COVID-19 has been historic.
According to the U.S. Census, among all K-12 students in the United States, 11.1%, or at least 5 million, are being homeschooled. According to the National Education Research Institute (NHERI), the homeschool population had been growing steadily at an estimated 2% to 8% per year, but grew exponentially from 2019-2020 to 2020-2021. The percentage of children being homeschooled has nearly tripled since mid-2019. By May of 2021, the U.S. Census Bureau found more than 1 out of every 12 students were being homeschooled. Refer to Figure A.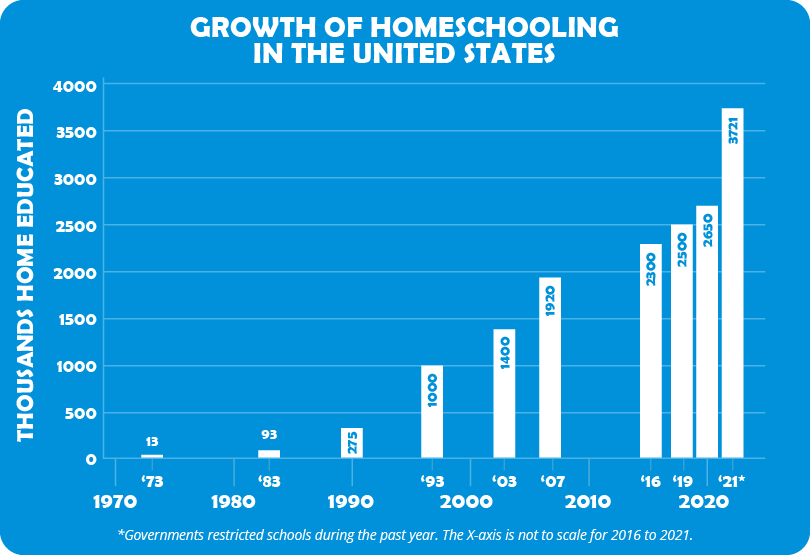 Homeschooling is booming among diverse communities
As the U.S. becomes increasingly diverse, so is the makeup of the homeschool population as a whole. Homeschooling is increasing at much higher rates among minority communities.
The following excerpt from a Washington Post article highlights this growth: "Between 2019 and May 2021, homeschooling rates jumped from about 1 percent to 8 percent for Black students — a more than sixfold increase. Among Hispanic students, rates jumped from 2 percent to 9 percent. The increase was less dramatic for White families, where homeschooling doubled from 4 percent to 8 percent over the same time period. Between 2016, the year of the most recently available data for Asian American families, and May, homeschooling rates went from 1 percent to 5 percent."
Diversity of U.S. Homeschoolers
Hispanic: 12.1% of households are homeschooling
White: 9.7% of households are homeschooling
Black: 16.1% of households are homeschooling
Asian: 8.8% of households are homeschooling
Differences by U.S. State
Homeschooling is legal in all 50 states. Some U.S. states had much larger increases in homeschooling rates for the 2020-2021 school year than others. Alaska, Florida, Massachusetts, Mississippi, Montana, Nevada, Oklahoma, Vermont, and West Virginia were among the states with the largest increases in homeschooling from spring to fall 2020. Massachusetts, for example, jumped from 1.5% to 12.1% while many other states did not show a significant change.
A higher percentage of students who lived in rural areas (4.4 percent) than of those who lived in cities (3.0 percent) and suburban areas (2.9 percent) were homeschooled.
Sources: National Center for Education Statistics, Homeschool Legal Defense Association, National Home Education Research Institute