Fall Learning Activities for Kids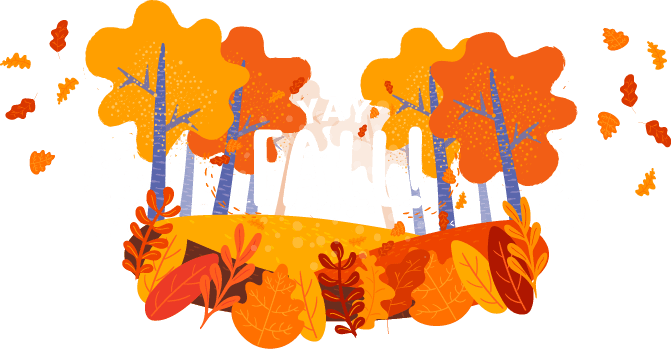 Fall is here! The leaves are falling, the weather is cooler, and pumpkins are everywhere. From arts and crafts to sensory play, Autumn is the best time to engage children in fun learning activities. Our list of fall activities for kids will encourage students to brainstorm, play, improve their critical thinking skills, and more!
Fall Activities for Preschool and Kindergarten Students
Leaf Matching Game – Matching games will help preschoolers develop focus and thinking skills. For this fall activity you will create a fun matching game with leaves. Download our fall printable sheet featuring different leaf types. Then, have your child outside and see if they can the matching leaf. This activity nurtures curiosity in little ones, and helps them understand that leaves can look completely different from one another.
Dyed Pumpkin Seed Tree Art – A colorful art project is the perfect way to teach preschoolers to explore creativity while building their hand-eye coordination and motor skills. For this project you'll need dry pumpkin seeds. Begin by dying the pumpkin seeds with all your child's favorite colors using food coloring. To do this grab a Ziploc bag, place the seeds in the bag with several drops of food coloring, and shake the bag to properly coat all the seeds. Once coated, place them on a paper towel to let them dry up. Now with a piece of white stock paper or any colored paper, you can encourage your preschooler to draw a large leafless tree. Your preschooler can then begin to glue the seeds on to their tree to create a beautiful fall masterpiece.
Thanksgiving spelling activity – To develop the early alphabetic stage, kindergarten spelling words and vocabulary activities are important. For this activity spell out "thanksgiving", placing each individual letter on separate pieces of paper. Give your kindergartener a paper and tell them to rearrange the letters in "thanksgiving" to spell another word and write each word down.
Sink or Float – Preschoolers and kindergarteners can learn science with this fun activity. Grab pinecones, apples, leaves, walnuts, stones, and mini pumpkins, then fill a large plastic bin or your bathtub with water. Allow your child to explore the possibilities and see if each object sinks or floats.
Fall Activities for Elementary Students
Fall Slime – There is so much science behind slime and no better way to engage your child in science than by creating slime. This learning activity will enhance sensory play in young children and will help them understand how different ingredients and activations can produce slime. For older children, this activity is great for building problem-solving skills when trying to figure out the right slime consistency.
Fall Scavenger Hunt – Create a list of items you find outdoors during the fall. Then encourage your kid to walk around in a safe environment and explore a variety of fall objects like pinecones, pumpkins, jack-o-lanterns, and different color leaves. Once they find each item, they can cross it off their list. This scavenger hunt is a great way to explore curiosity and open their eyes to the world around them.
Leaf Rubbing Art – This activity is a great way to grow an appreciation for nature and its beauty. Grab a white piece of paper (for more detailed leaf rubbing, use tracing or wax paper) and have your child explore a variety of mediums such as crayons or pencils to create a leaf print. Before they begin make sure they place the leaf underneath the paper and trace away!
Pumpkin Patch  – Older elementary school kids can learn by visiting a pumpkin patch. Many local pumpkin patches offer educational presentations and guides packed with exciting lessons. This is a great way to promote independent learning.
Fall Activities for Middle School Students
Straw Skeleton – Teaching your students about life sciences and the skeletal system will be very easy with this fall learning activity for middle schoolers. Grab a piece of paper, scissors, and straws to have them recreate the skeletal system. You can ask them to label major bones to distinguish the body system.
Fall Writing Prompt – Create a fall-themed writing prompt by telling your child to write about what "fall" means to them. Help them further explore their imagination and creative writing skills by having them write about 'a day in the life of a jack-o-lantern'.
The Cost of Candy – Middle school math encourages the learning of percentages, geometry, and more. With this easy fall learning activity you'll be able to strengthen your child's math skills with weekly circulars and grocery store flyers. Ask them to pretend shop for all the candy and fall related items they want, and to calculate the total cost, including percentages if they are involved.
Fall Activities for High School Students
Carving Pumpkins – Carving pumpkins is a great way to engage your child during the fall festivities while exploring their imagination. Once you have a pumpkin, your child can sketch a face to create a fun jack-o-lantern. High school students can hone in on their engineering skills by creating intricate designs.
Fall Budgeting – Get your teen to budget the cost of their ideal fall themed party. Give them a limit to the amount they can spend and remind them to consider all the guests who will be attending. You can give them a prize for meeting the budget limit. This activity reinforces high school math concepts with real-life examples.
Selfie Scavenger Hunt – This fun fall learning activity for families will help create exciting family memories that will last a lifetime, while also expanding their imagination. Make a list of fall-themed selfies you want your child to collect like "Selfie with a pinecone", "Selfie with a scarecrow" or "Selfie with a pumpkin" and have them cross it out once the selfie is taken.