Time4Learning's 2017 Homeschool Convention Itinerary
CONTESTS, CONVENTIONS & EVENTS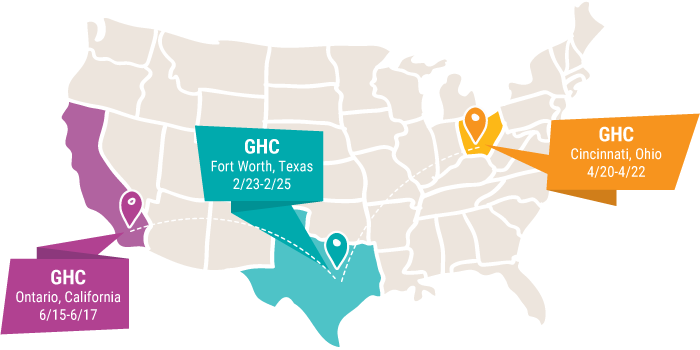 This itinerary is out-of-date. Check out Time4Learning's 2022 Homeschool Convention Itinerary.
Flights are booked and hotel reservations are made. Time4Learning is making its way to several homeschool conventions in the next few months and we can't wait to see familiar faces and get to know new ones.
Homeschool Convention season is a time of year we always look forward too as it gives us an opportunity to meet face-to-face with so many different families from different parts of the country.
U.S. Homeschool Conventions
This year, our itinerary takes us to the east coast, the west coast and a few spots in between. Our first stop was the Lone Star State where we attended the Texas Homeschool Convention from February 23-25. Held in the Fort Worth Convention Center, this was the first of several Great Homeschool Conventions taking place this year. One of our employees spoke not once, but twice during the convention.
Next up in April is the Midwest Homeschool Convention in Cincinnati, Ohio. We'll be setting up in the vendor hall at the Duke Energy Convention Center from April 20-22. Here, another one of our employees will be featured as a speaker as well.
Lastly, we make our way to the west coast to Ontario, California for the California Homeschool Convention. Look for the Time4Learning booth in the Ontario Convention Center from June 15-17.
Homeschool Workshops, Exhibit Halls and More
All of these conventions feature keynote speakers, informative workshops, and of course a vendor hall filled with tons of exhibitors who provide homeschool curriculum products and services, and who are ready to answer your questions.
So whether you're a new homeschooler just learning the ropes and getting started, or an experienced homeschooler looking for additional options to add to your existing curricula, be sure to stop by the Time4Learning booth to chat with us and take home a few gifts.
If you can't wait until your local convention to learn more about Time4Learning or you can't make it to the conventions this year, contact us and we'll be happy to answer any questions you have.