What is available from Time4Learning?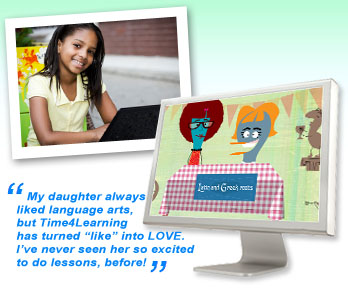 View Our Lesson Demos
Time4Learning provides to individual homeschool users a PreK to High School interactive online curriculum including language arts, math, science, and social studies. For each unit, there are animated lessons, interactive exercises, printable worksheets, and online assessments. The progress reports and results of the assessments are available to parents. Time4Learning can be used as a primary curriculum with support from other programs or as a supplementary curriculum. Specific areas covered by Time4Learning include:
Language Arts: Phonemic Awareness, Phonics, Reading Comprehension, Vocabulary, Grammar, Word Roots, Composition, Literary Analysis, Punctuation, and Critical Thinking.
Math: Numbers, Operations, Algebraic Thinking starting from pattern analysis continuing to Algebra, Geometry, Probability, Measurement, Word Problems, Data Presentation, Spatial Reasoning, and Analytical Thinking.
Science & Social Studies: are provided as bonus programs for the grades available (there is no kindergarten or preschool science or social studies program).
Who is Eagles Peak?
Eagles Peak / River Springs is a California Public Charter School that operates within Imperial, Orange, Riverside and San Diego County. They currently enroll 3,500 students. Time4Learning is Eagles Peak/River Springs Vendor #6297. Time4Learning was added as an official vendor on March 24, 2006. Eagles Peak / River Springs was the first California Charter School to start working with Time4Learning.
How do I sign up for Time4Learning?
If you are enrolled at Eagles Peak / River Springs, you can get Eagles Peak / River Springs to pay Time4Learning directly. Here is what you should do:
Register for Time4Learning using the normal registration system.
Do not put in your credit card. Instead, enter "eagles07" in the tracking code spot.
At registration, you will also help us place your child in the appropriate level of the curriculum.
At that time, you will need to tell your Eagles Peak / River Springs teacher that you are using Time4Learning and get them to process an invoice so that Eagles Peak / River Springs will pay Time4Learning at the end of each month. Alternatively, parents are free to sign up and use Time4Learning on their own using the online registration system.
What is Time4Learning?
Time4Learning is a new approach to education that takes advantage of today's technology. It's a convenient, online home school curriculum that combines education with interactive fun for children, preschool to eighth grade. Time4Learning can be used for one or many subjects, as supplementary or core curriculum.
Kids like using the computer to learn. Time4Learning's educational homeschooling curriculum gives students independence as they progress at their own pace.
Parents like that it tracks progress through the curriculum and helps kids advance by teaching through individualized curriculum that assures mastery of the skills and concepts that makes kids succeed.
The program, known to some as Edgenuity® Odyssey or ChildU, was previously provided directly to homeschoolers directly or through Homeschool.com.
Can I see some samples of the lessons? Can I see what materials will be covered?
Sample the interactive demos. For information on the scope and sequence with the math, language arts, science, and social studies lesson plans.
How much does Time4Learning cost?
The cost for billing through a PO (purchase order) system with payment by check in arrears (at the end, not the start of the month is) is $25 per month for a student from PreK-8th grade, and $35 per month for a High School student. With Time4Learning you may stop, start, or pause anytime. Signup now. When registering, Charter School parents should remember that they should not put in their credit card. Instead, enter your charter schools tracking code. If you are unsure what your tracking code is please contact us at [email protected]
Why is this price for charter school students higher than the price on the credit card payment page?
The cost of $19.95 per month on the credit card payment page is for payment by credit card online at the start of the month. For Time4Learning, there is no handling or manual processing so the cost is very low. Parents who wish to pay themselves by check must pay for three months in advance at a time. With Charter Schools, Time4Learning must handle a monthly check, a monthly purchase order, and Time4Learning gets paid around 35 days later than under our individual homeschool program. The price for payment through a purchase order system with payment "in arrears" is $25 / month for a student from PreK-8th grade, and $35 per month for a High School student.
I have used Edgenuity for years. Will I lose my records or can you bring them over?
Unfortunately, for those of you who used Edgenuity through Homeschool.com or directly with ChildU, Time4Learning cannot bring over your records. We have investigated this possibility and cannot find a way. We are sorry for the inconvenience. TheTime4Learning parents forum would be a good place for parents to discuss how best to manage the transition in records. When you sign up for Time4Learning, you get to place your child. If you would like to have a special configuration for your child which is not provided for in the registration process such as the fifth grade math program but the fourth grade language arts and social studies but no science, please follow up your registration with an email. We will be more than happy to oblige. We try to answer all emails within half a business day (or 24 hours on the weekends).
Who is Time4Learning?
John Edelson created Time4Learning in 2003 to provide online learning to families who wanted education and safe internet in one integrated package. He grew frustrated with "educational sites" that were "advertising-supported" and were using "educational games" to sell to his children and to fill our computers full of spyware and worse. Time4Learning's focus is on providing quality online learning systems for home use.
John Edelson is the father of two. He has written extensively on how technology has changed education (the type of education needed, the type of children that we are educating, and the methods for educating them) and is outspoken both about the risks and benefits of technology for educating our children. His primary theme is appropriate use of technology for education. Time4Learning is looking to broaden its product offering with some advanced math, art education, music education, and increased choices in the writing areas. Time4Learning does like to hear your ideas. We can be emailed as support @ time4learning.com.
Signup for Time4Learning and gain access to an educational system which will engage and challenge your child to succeed. Make Time4Learning a part of your children's education.
I LOVE Time4Learning! It holds the attention of my kids, plus I can keep track of their learning without hovering over their shoulders.
I am really pleased with Time4Learning. It has made a world of difference in my son's academic performance in school!