Tips for a Healthy Holiday Season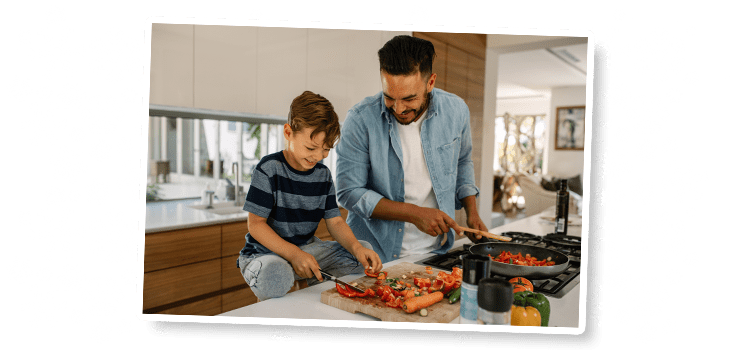 Over the past year, the pandemic has interrupted our children's lifestyles. Parents have also been left scrambling — fulfilling their kids' shifting educational and personal needs at a moment's notice. With the pandemic subsiding a bit, homeschoolers are presented with a wonderful opportunity: a time to refocus during this festive season, not only on their children's holiday cheer, but also on their mental, physical, and nutritional health.
Challenges Children Face
Information on the impact the pandemic has had on children is slowly being revealed. A recent study by the International Journal for Equity in Health stated: "Children, although less directly affected by the virus, are paying a heavy price through the indirect effects of the crisis, including poor diet, mental health impact, social isolation, addiction to screens, and lack of schooling and health care…"
The Robert Wood Johnson Foundation also reported that the pandemic has put millions of children and young people at greater risk for hunger, poor nutrition, and limited access to enough healthy food, increasing a child's risk for obesity and type 2 diabetes, among other things.
You can help avoid these issues by easily swapping out your usual holiday activities, foods, and routines with alternatives that will provide healthier outcomes. Practicing moderation during a season that has been affected by a pandemic is essential. But don't worry, you won't be the Grinch by cutting down on the calories. Instead, you'll be a homeschool parent who cares, adapts, improvises — and has fun!
Physical Activities for All-Around Wellness
By adding just a few healthy activities into your homeschool experience, you will boost your child's physical, emotional, and mental well-being. In fact, according to these two studies, "Physical activity strengthens a child's muscles and bones, prevents excessive weight gain, and reduces the risk of diabetes, cancer, and other conditions."
"Many health experts believe that adults who take part in a healthy lifestyle with their children are often viewed as role models. Parents play a crucial part in their children's development into physically and mentally fit adults."
That's not all. Experts in these studies revealed that "physical activity allows children to have a better outlook on life by building confidence, managing anxiety and depression, and increasing self-esteem and cognitive skills." That's a win/win, and incorporating physical activities into your holiday schedule is easy. Check out these ideas:
Look up a few exercise videos on Youtube. There are even family workout videos. This will not only help keep your child moving, it will also be a fun way for some family bonding!
Include walking and jogging sessions in your homeschool experience. You could also incorporate math by using mobile apps or personal trackers to monitor your progress.
Create a quick holiday homeschooling schedule that includes daily physical activities and let the children come up with ideas.
Gather socially with other homeschoolers and plan out activities that include teamwork, cooperation, and physical activities.
Take family bike rides around the neighborhood and keep track of your mileage.
Enjoy games and sports outdoors!
Many health experts believe that adults who take part in a healthy lifestyle with their children are often viewed as role models. Parents play a crucial part in their children's development into physically and mentally fit adults.
Healthy Holiday Eating and Nutrition
Staying healthy during the holidays doesn't have to be difficult or stressful. There are tons of nutritious and tasty recipes available just about anywhere you look. Plus cooking together is fun and allows your child to learn a life skill too. It also helps your children follow specific directions that require math skills (measuring, adding, etc.). A few great resources are the books Eat This Not That! and Cook This Not That! They even have a book specifically for kids, which provides a healthier option for mac and cheese and chocolate chip cookies!
Here are some other ideas for you and your family:
Include fiber in your daily diet (the USDA reports that only 3 percent of children eat enough fiber). Fiber-rich foods include whole fruit, grains, beans, berries, carrots, even oatmeal cookies.
Incorporate healthy eating into your schedule. Make it a routine to eat your fruits and veggies with every meal.
Investigate different recipe ideas or resources online. Healthy eating and nutrition are a hot topic, so you are sure to find many sources.
Teach your children to read nutrition labels. You'll find that many of the foods that market themselves as "healthy" are full of sodium or sugar.
Meal plan with your kids. Let them choose different items.
If your children are picky eaters, the Mayo Clinic says to be patient: "Serve new foods along with your child's favorite foods. Keep serving your child healthy choices until they become familiar and preferred."
Seasonal Mental Health Check-In
The National Association of School Psychologists provided a list of tips for supporting children's mental health. Among those tips: ensuring a positive, safe school environment. As homeschoolers, you can meet this goal by choosing a safe and entertaining online curriculum product, such as Time4Learning, which also protects your children from online harassment. Some other ideas for keeping your children's mental health in order include:
Communication: Talk with your kids about their day or any concerns or worries they may have. Reassure them and find solutions to whatever is bothering them.
Encourage playtime: Children of all ages enjoy their fun time with friends. It teaches them to be creative, learn problem-solving skills and self-control.
Monitor TV and other tech use: The TV should not turn into the "babysitter." Also, minimize their phone and computer use for non-educational purposes.
Provide guidance: As children start developing their independence, they'll need you to show them social skills, rights and wrongs, and consequences for their actions.
For additional tips and professional advice, check out what Dr. Jessica Ruiz, a Chief Psychologist and Director of Behavioral Health at Behavioral Health Associates of Broward County in Florida, has to say during her mental health check-up interview.
Now that you have some specific healthy holiday tips on keeping your children's mental, physical and nutritional well-being in tip-top shape, remember one other thing: enjoy this festive time! It goes by too fast.