The Growth of Pandemic Learning Pods to Help With Distance Learning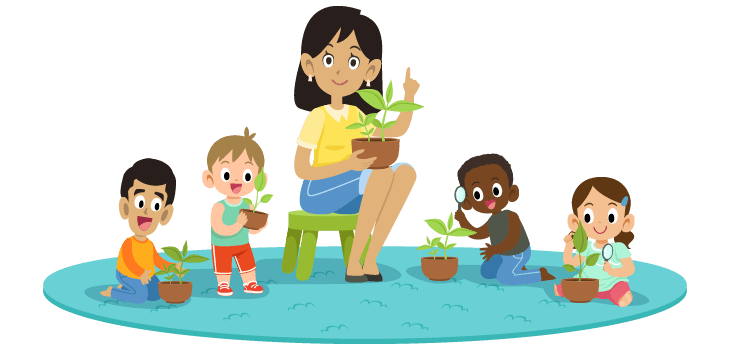 This school year, many school districts in the United States have opted to start the 2020-2021 academic year with some form of distance learning. Although many families remain divided on whether children should be back in the classroom, one thing is certain: they all want their students to be safe and healthy.
But not all school districts are alike, and for some families, distance learning isn't making the grade and they are left wanting more. They want more learning options and resources for their students; more opportunities to learn; and more peace of mind during these trying times. This has led to what some see as a novel approach to education that more and more families are curious about: learning pods.
But what exactly is a learning pod? How do you create one? And how can you incorporate Time4Learning into a learning pod? This post seeks to answer those questions and more.
What is a Learning Pod?
Sometimes called a microschool, learning pods are small, local groups made up of similarly-aged students who come together at an agreed location to learn, receive assistance with their school work, and socialize. The students are supervised and led by an adult who may be a teacher, tutor, parent, or a combination of these. How often learning pods meet is up to the individual group. It can be on a daily basis or several times a week.
Each learning pod is set up the way its organizers choose. Children can either remain registered students of their respective schools or they can be a group of homeschoolers. Another option is for students to be taught by a hired teacher or tutor, or even a parent, using a curriculum that is agreed upon by all the families.
Why Learning Pods?
There are a number of reasons why families are choosing to go the route of a learning pod. With some schools around the country opening for in-class instruction, many families aren't quite comfortable with the idea of sending their students back to the classroom just yet. These families are opting to make the switch to homeschooling and being a part of a homeschool learning pod seems to be the best option. And while other schools are opting to start the year with distance learning, some families feel that this option isn't as robust as in-person learning. Some of these families have also chosen to homeschool, while others believe that learning pods, and the support of a teacher or tutor, can help enhance distance learning and provide a more effective and thorough education.
Learning pods are also providing a much-needed sense of community and socialization, something many families are seeking after so many months of isolation and social distancing. With many states shutting down for extended periods of time, children were unable to take part in the type of fun, day-to-day activities such as play dates and extracurricular activities. Being away from family and friends can be difficult for students of all ages and can adversely affect their mental health. Learning pods are now giving them the opportunity to socialize on a smaller scale, that can still potentially have a huge effect on their wellbeing.
Learning pods are also opening the door to a more personalized learning experience for students. Whether you are choosing to homeschool or continue with distance learning, the small-scale approach of a microschool can be a huge benefit to students who are struggling and in need of more direct, one-on-one instruction.
How do You Start a Learning Pod?
If you're thinking of starting a learning pod, it helps to begin with a goal in mind. What is the purpose of your learning pod? Is it to provide support and assistance to students who are distance learning through their public or private school? To help working parents by providing a safe location for children to stay during the day? Or do you plan on creating a homeschool learning pod where students can come together to learn collectively?
From there, you'll want to get the word out to family, friends, and neighbors. Not only will this help grow your group, but by sharing your ideas and thoughts with others, you'll be able to consider their feedback and suggestions as you get started. Depending on what the goal of your group is, you'll also need to decide if your group is going to hire a tutor or teacher to lead and support the students, or if parents will volunteer their time and take turns.
Below are a few other things to consider and decide on.
Number of families
Ages of students
Location and schedule
Fees charged
State homeschooling laws or necessary permits
Curriculum
Budget
Rules and guidelines
Time4Learning and Learning Pods
Learning pods don't require a specific curriculum. The choice is up to the parents. Whether your microschool chooses to use books or an online program, the purpose of a learning pod is to provide a safe learning environment where children can learn effectively and receive any needed support.
Time4Learning offers an award-winning, online curriculum for PreK-12th grade that allows students to work independently and at their own pace. Each student receives his or her own individual log in, and an automated system grades and keeps track of their records. Time4Learning can be accessed 24/7 from any location with an internet connection, making it a convenient, flexible choice for learning pods.
Families can register up to 10 students in one account (up to 5 in PreK-8 and up to 5 in high school), and each family account includes one parent login. A designated parent or pod-instructor can easily manage the student accounts with a pre-determined password. That person will have access to each child's records in order to keep track of work completed, time on task, grades, and more. Alternatively, each parent in a learning pod can sign up for Time4Learning with their own individual account and either provide access to the learning pod leader, or easily share their child's records by exporting as a PDF or an Excel spreadsheet.
When it comes to learning pods, there is no right and wrong. Each one is as unique as its families. Whether you want to start your own or join a local microschool, it's important to do what is best for your family's unique needs and goals. Every child has the right to a good education, and a fun, safe place to learn where they feel welcomed and nurtured.