Survey Says: It's Back to Homeschool with Time4Learning
STORIES, NEWS & INFORMATION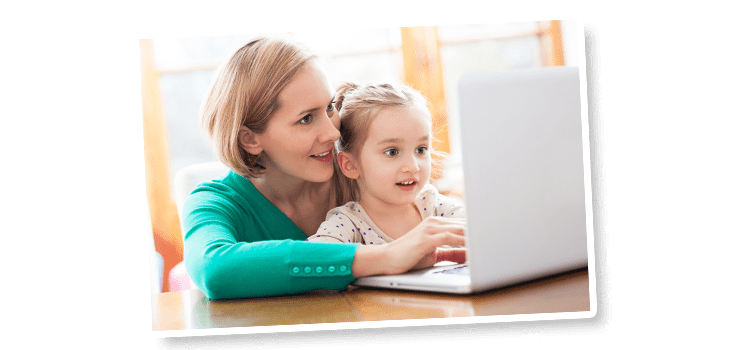 It's no secret that 2020/2021 was homeschooling's banner year.  Google searches for "how to homeschool" skyrocketed and the number of families who homeschooled more than doubled. According to the Washington Post, the percentage of children in homeschooling has nearly tripled since mid-2019, and by May of this year, more than 1 out of every 12 students were being homeschooled. Between 2019 and May 2021, homeschooling rates jumped from about 1 percent to 8 percent for black students — a more than sixfold increase. Among hispanic students, rates jumped from 2 percent to 9 percent.
But as the school year came to a close, we were curious. Would that trend continue into the next school year? Or were families ready to return to brick-and-mortar schools as the pandemic eased.
Back-to-School Survey Results
In May of this year, Time4Learning surveyed over 2,000 families currently using our program to discover how many of them were considering homeschooling again for the 2021/2022 school year.  The results were quite clear. Over 70% of respondents replied that they would continue homeschooling for the upcoming school year. According to the survey, 19% said they would not continue to homeschool and almost 9% were undecided.
Of the families who stated that they would continue homeschooling for another year, 93% said they would continue using Time4Learning as part of their curriculum plan! While we are exceptionally pleased to hear this, it also motivates us to make sure that families have the most successful upcoming homeschool year possible.
A Checklist for Your Back-to-Homeschool Planning
With the return to homeschool in full swing, preparation can be key to starting off on the right foot.  Use the following checklist for making this the best homeschool year ever!
Making the Most of Your Time4Learning Membership
Were you one of the 93% of survey respondents who said they would be using Time4Learning again this homeschool year? Let's take a look at some of the wonderful (but not always obvious) perks that members might not be aware of.
Reading lists, spelling lists, and science supply lists –  In the Lesson Planning and Reports section of the dashboard, click on "Lesson Plans." Then, choose the subject area of interest and grade level. Once there, you can view grade-specific spelling lists, reading lists, and science supply lists that you can also print.
Customized progress reports – Also located in the Lesson Planning and Reports section of your parent dashboard is a tremendous tool for record keeping. Get a detailed account of all activities, quizzes, and chapter tests your student has completed based on the parameters you establish. Once generated, custom reports are available for print, PDF download or as an Excel file where you can enter in your own offline activities.
Time4Learning-Families group on Facebook — If you use social media frequently, another great networking option is our dedicated parent group on Facebook. Asking questions and getting answers is the name of the game in this supportive community.
Six-week learning guides — When you need time for review or preparation for the year ahead, our six-week plans for kindergarten through 8th grade language arts and math will give your student that step up that he or she needs.
Discounts on Extra Education options — We've teamed up with some of the best names in educational technology to bring you discounts on supplemental homeschool resources. View these opportunities in the Premium Electives section of your parent dashboard.
Referral program — Earn $25 or a free month's subscription for every friend or family member who becomes a Time4Learning user and gives your name and email as a referral. We even have a customized invitation page you can use. This option is available through your parent dashboard.
Master math facts the fun way – Included in your membership is access to Time4MathFacts – fun, engaging games and skill-focused activities to help your child master those crucial math facts in addition, subtraction, multiplication and division.
Even those who responded to the survey and stated that they had decided to return to a brick-and-mortar school this fall have a neat Time4Learning perk as well. Did you know that Time4Learning works as an afterschool enrichment and  supplemental learning tool? Just head into the Lesson Planning area of the parent dashboard to choose the grade level and subject, and do a search to see if there is a lesson that aligns with the topic your student could use help with!
Whether you will continue homeschooling or head back to the classroom, Time4Learning looks forward to partnering with you this school year to maximize your child's educational potential and bring enjoyment to the learning process.