How to Boost Your Homeschool Enthusiasm
STORIES, NEWS & INFORMATION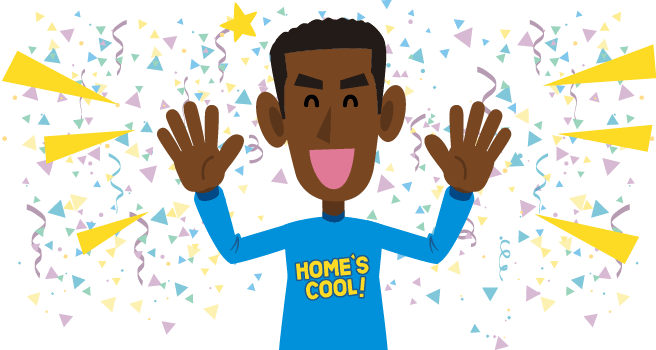 Many children become bored very easily. Even adults can get bored if they're doing the same old routine every day. When this happens, it's important to harness the power of enthusiasm. Afterall, enthusiasm is contagious.
In an article on enthusiasm in the Washington Post, career coach Joyce E. A. Russell states, "Have passion and find inspiration for what you are doing. What's the purpose for it? How does it help you or anyone else? Passion is critical to keep you excited about your work and to keep your enthusiasm high, even during stressful times. If you're not passionate for your work, why would anyone around you (e.g., customers, direct reports, etc.) be interested in it?"
You have the passion and you know your purpose for homeschooling your children. Your purpose may differ from other homeschoolers, but that doesn't matter. Once you convey your passion and show your children how enthusiastic you are about teaching them, they will also become enthusiastic.
Go Ahead, Mix Things Up!
As the adage states, nothing worthwhile comes easy. Your homeschool enthusiasm will wane at times. As you become more experienced at homeschooling, you'll discover that you don't have to follow the same routine. There are no strict rules or schedules you must follow.
Long time homeschooler Kelly Anne, who homeschools her two children ages 8 and 13, says, "I start out the school year enthusiastic and it rubs off on my children. But at times I get tired and a bit stressed. They feel that and almost mimic my moods. So, I try to mix things up to inspire them and get my motivation back."
Try these tips to boost everyone's homeschool enthusiasm:
Hands-On Activities – Children of all ages enjoy hands-on activities and the ideas are nearly endless. Just find out what interests your children, use your imagination and begin. Emily homeschools her eight-year-old daughter and recently discovered that she loves the piano. "I bought a cheap used electric piano. I sit with my daughter and learn easy notes and songs, such as "Mary Had a Little Lamb". This not only teachers her a skill she can use for the rest of her life, but it also teaches her about timing and rhythm, and keeps her brain active. We love it."


Other exciting hands-on activities include building model cars, building diagrams, learning to use a camera, crafting, etc.
Day/Field Trips – Who doesn't like a field trip? Many parents remember them fondly, not to mention that field trips offer a great opportunity to teach your children about many things. For example, you can take a trip to the beach or local lake and collect rocks, plants, soil/sand, etc. You can bring the samples home and look them up to learn more.


You can also visit museums, join homeschool groups on day trips, or ask a local business if you can visit their establishment and learn about what they do and how they serve the community. Once you walk out of the house, the world is one big learning opportunity.
Switching Up the Schedule – Remember when we said homeschooling is flexible? It's true. You don't have to follow one strict schedule. Although some children (and parents) thrive on a set schedule, but if you find that your daily routine has lost its luster and your enthusiasm is suffering from it, try mixing things up. Melanie, a homeschooler of two children, found that they were losing concentration after lunch. "After my children ate their meals, they become tired and lackadaisical. And that's when I had the math courses set up on my schedule. So, I moved math to the morning after they finished their chores and rescheduled art and science lab for the afternoon. I found that these active courses kept them more alert."


You can be as subtle or drastic as you want. Some parents find that their children learn better after dinner or in the evening. There is no perfect schedule that's set in stone. The schedule that works for you and your family is the right schedule.
Make Your Curriculum More Eclectic – The goal of eclectic homeschooling is to create a specialized educational experience for each child based on their strengths, learning styles, and interests. For example, some children enjoy learning with books while others prefer online activities. By creating a mix of activities, you find balance.


An eclectic approach may include a combination of online learning courses, workbooks and textbooks, courses at local schools, mentors and tutors, and various other curricula. It's a winning medley or recipe that matches your child's needs.
Project-based Learning – Project-based learning (PBL) joins real-life experiences with school work. PBL encourages children to take the initiative, respond to a situation, investigate pertinent information, communicate with their team, and solve any conflicts that pop up as they advance the project to its conclusion. You could build a family budget, which teaches your children about math and personal finances, or have them arrange a large party that consists of planning the meal, buying the groceries, cooking the meal and creating invitations for the guests. This teaches them about finances, organization, and much more.


Remember, think about your child's interests and keep their learning styles in mind when choosing a project. This will keep them more enthusiastic as the project progresses.
Utilize Your Child's Input – Meeting with your child to see if they are enjoying and engaged in their education is important. You should at least have monthly sit-downs to discuss the curriculum, courses, and schedule. Each child is different, but many parents find that including their children in the educational process lets them feel empowered and more confident.


As your children grow older, start brainstorming with them about their schooling. Don't try to do this on your own. Remember, your children are a part of the process, too. They want to be heard and be a part of the decision making.That doesn't mean that they must make all the decisions, but including their ideas certainly will make your job easier.
Use Your Imagination – What's really cool about homeschooling is that you can pick out creative electives. Meet with your children and find out what they'd like to study and learn. You might be amazed. Sheila homeschools her 12-year-old and she couldn't believe her son's response when she asked him about electives. "My son said he wanted to build his own fishing poles. I knew he liked to fish but I never knew he was interested in building his own custom pole. Heck, I didn't even know that it was possible. I thought is was done on an assembly line or something. But he told me about fishing pole building kits you could buy. He recently caught a fish for the first time with a pole that he constructed. I was so happy for him and he was so proud!"


Other creative electives include cooking, sewing, animal care, web design, and theater.
Don't Forget to Have Fun
Your passion for your children's educational experience will create an enthusiastic atmosphere as you progress through your homeschool journey. There will be tough days, but you can most certainly keep your enthusiasm levels high by using these tips. Recharge your batteries when you sense that it's time, and remember your purpose. Give it your all and always enjoy the wonderful times with your children.
If despite all your best efforts, nothing is working, consider Time4Learning. Our online, award-winning curriculum can be the solution that brings life back to your homeschool. We offer a fun and interactive approach to learning that allows students to work at their own pace, on their own time. Check out our demos to see our lessons in action.