Time4Learning Empowers Grad to Pursue Her Musical Dreams
MEMBER INTERVIEWS & STORIES
At age 3, Laura was nonverbal. Fifteen years later, this Time4Learning graduate is headed to the Detroit Institute of Music Education (DIME) to pursue a college degree. This educational journey has involved therapy, and the determination of her parents to encourage Laura's talents. Above all else, it underscores the power of Laura's own strength, determination, and dogged work ethic.
Traditional School Challenges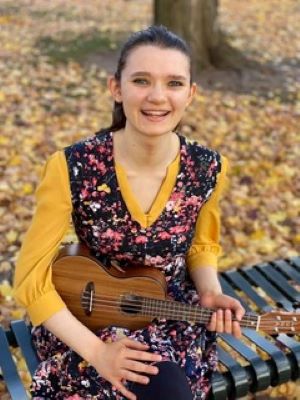 Laura received a diagnosis of autism early in life. As with many children on the autism spectrum, school was a challenging setting for her. Even with interventions, she would spend long hours after school on homework. Her peers often rejected her and left her feeling isolated.
Thankfully, Laura found solace in music. She took piano and voice lessons, competed in vocal contests, and even participated in musical theatre. She became so passionate in this area that she eventually decided to study music in college. As high school approached, Laura recognized that the traditional classroom model would never allow her to dedicate as much time as she wished to singing, playing piano, songwriting, and producing music.
How Homeschool Changed the Tune
That is when Laura's educational path shifted. She convinced her family to pull her from school to begin homeschooling. The pressures of traditional learning lifted almost immediately, and Laura was able to learn at her own pace, and unleash her creativity. Her mom was able to tutor her in subjects that were difficult for her. Laura's parents were grateful for the thoroughness of the Time4Learning high school curriculum and the reporting tools that helped them easily track Laura's progress.
Homeschooling also allowed Laura to fervently pursue her musical ambitions. Being able to customize her homeschool experience and schedule meant time for lessons, playing in bands, writing her own compositions, and performing gigs in restaurants. Through these experiences, she has connected with peers who share her musical interests and accept her exactly for who she is.
"The pressures of traditional learning lifted almost immediately, and Laura was able to learn at her own pace, and unleash her creativity."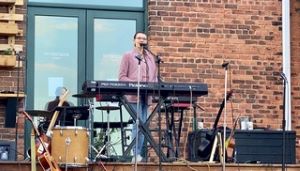 To help her prepare for college, Laura enrolled in the esteemed Berklee College of Music's Online Program and took several of their classes for college credit. In 2020, Laura won the Ted Lindsay Courage Award, an annual honor bestowed to someone living in Southeast Michigan who has demonstrated great character and perseverance in living with the challenges of autism. She received a cash award and a commemorative plaque.
A Future that Strikes all the Right Chords
Following a home graduation ceremony with family and friends, Laura will be receiving a very special graduation gift: a trip to Nashville, TN–Music City–to see where some of her musical inspirations got their own start. Then, it's on to college! Her acceptance to DIME, part of Michigan's Oakland University, means that she will continue to write original songs, play piano, produce her music and perform at open mics and restaurants.
Time4Learning is delighted to have aided this remarkable young person in her educational goals. We know she will continue to use the same strength and perseverance she's shown in her academic career to make her musical dreams come true.