Time4Learning 2021 Back-to-School Art Contest
CONTESTS, CONVENTIONS & EVENTS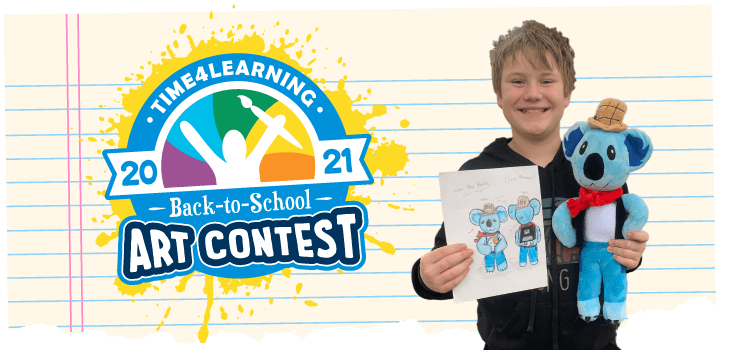 Updated 2/17/22
Congratulations to all the winners of our 2021 Back-to-School Art Contest! The contest attracted over 4,000 impressive entries! We had a very difficult time choosing the winners with so much talented artwork. Check out the video of the 12 stuffed creations below alongside the original drawing.
Subscribe to our blog to stay tuned for our next art competition. We can't wait to see what you come up with next!
Updated 11/4/21
Thanks so much to everyone who participated in the Time4Learning 2021 Back-to-School Art Contest. We received almost 4,000 drawings, and were so inspired by the creativity – it was very difficult to choose 12 winners!
Each drawing is already being brought to life as a stuffed plushie and we can't wait to see the outcome and share it with you. In the meantime, here are the 12 winning drawings.
---
Are you ready to kick off the new school year with a fun art contest? With back-to-school season in full swing, our national drawing contest for kids is a great way to get students excited about art and learning! The winners will receive a stuffed creation of their drawing!
Here are all the details:
The Time4Learning 2021 Back-to-School Art Contest will run from September 20 – October 18. Students can draw and color anything — themselves, a pet, someone important to them, a unique character they made up — the sky's the limit. They can even give their artwork a name or title.
Just like our last student art contest, we'll be selecting four winners (12 total) from each of the following age categories.
View the rules and enter your kids' artwork in the Time4Learning 2021 Back-to-School Art Contest!*
*Entries are limited to one per email address. If you have more than one child to enter, please use an alternate email address. Entry approvals can take up to 24 business hours. Contest open to U.S. residents only.