Kindergarten Reading Strategy and Curriculum Standards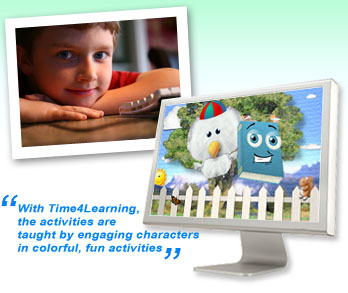 View Our Lesson Demos
A kindergarten reading strategy includes writing of words and brief sentences using language arts lessons and language arts worksheets. Kindergarten students are expected to write legibly using both uppercase and lowercase letters of the alphabet independently, attending to the form and proper spacing of the letters.
The kindergarten reading strategy encourages children to use letters and phonetically spelled words to write about experiences, stories, people, objects, or events. They are taught to write consonant-vowel-consonant word and the reading teacher guides them to write by moving from left to right and from top to bottom. Children at the kindergarten level are also taught to spell independently by using pre-phonetic knowledge, sounds of the alphabet, and a knowledge of letter names.
Interested in kindergarten reading? Parents might also find the kindergarten curriculum overview and kindergarten language arts lesson plans helpful.
Kindergarten Reading Strategy and Curriculum Standards
Speaking is another important language arts activity and the kindergarten reading strategy includes the delivery of brief recitations and oral presentations about familiar experiences or interests demonstrating command of simple organization and delivery strategies. The reading teacher expects the students to describe people, places, things, locations, and actions. Kindergarten children are also taught short poems, rhymes, and songs. Language arts lessons require kindergarten students to relate an experience or creative story in a logical sequence.
Language arts worksheets may be used for the children to follow one and two step oral directions. The kindergarten reading strategy students are expected to share information and ideas, speaking audibly in complete, coherent sentences.
More on Kindergarten Spelling Words.
Is your child being homeschooled?
*Reading Standards are defined by each state. Time4Learning bases its use of kindergarten reading standards on the national bodies that recommend curriculum and standards and the interpretations of it by a sampling of states notably Florida, Texas, and California.
Key Features of Time4Learning's Home Education Program
Time4Learning.com combines 1500+ multimedia lessons, printable worksheets and graded activities in a student-paced environment that brings concepts to life. Math and language arts lessons are correlated to state standards. Science, social studies and art are also provided to most grades.
Parents get access to lesson plans, printable worksheets, teaching tools (located in the Parent Dashboard), detailed reporting and parental support through our online Parent Forum.
Other key features of the program:
Students get individual logins and work on their own schedule and pace
Parents can set the grade level independently for each subject
The grade above and below are available in most grades for review and additional study
Detailed lesson plans available for parents who wish to review lesson contents
Access to an online playground that rewards and motivates
An automated system grades lessons and keeps reports for homeschool portfolio usage (shown below)
Sign up and get started on the same day!
Time4Learning is entirely web based, so there is no software to download, no CDs and nothing additional to purchase. Students will be able to access the program 24/7 from any computer with an internet connection.
Time4Learning offers a 14-day money-back guarantee and the ability to stop, start, or pause anytime. Browse lesson plans, try the interactive lesson demos, read curriculum reviews, or view the curriculum overview to see what's available.