Kindergarten Reading Strategy and Curriculum Standards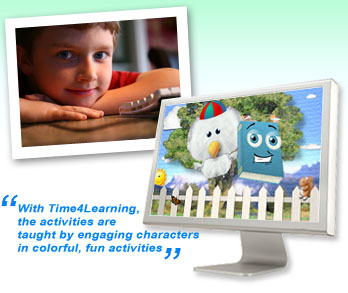 View Our Lesson Demos
A kindergarten reading strategy includes writing of words and brief sentences using language arts lessons and language arts worksheets. Kindergarten students are expected to write legibly using both uppercase and lowercase letters of the alphabet independently, attending to the form and proper spacing of the letters.
The kindergarten reading strategy encourages children to use letters and phonetically spelled words to write about experiences, stories, people, objects, or events. They are taught to write consonant-vowel-consonant word and the reading teacher guides them to write by moving from left to right and from top to bottom. Children at the kindergarten level are also taught to spell independently by using pre-phonetic knowledge, sounds of the alphabet, and a knowledge of letter names.
Interested in kindergarten reading? Parents might also find the kindergarten curriculum overview and kindergarten language arts lesson plans helpful.
Kindergarten Reading Strategy and Curriculum Standards
Speaking is another important language arts activity and the kindergarten reading strategy includes the delivery of brief recitations and oral presentations about familiar experiences or interests demonstrating command of simple organization and delivery strategies. The reading teacher expects the students to describe people, places, things, locations, and actions. Kindergarten children are also taught short poems, rhymes, and songs. Language arts lessons require kindergarten students to relate an experience or creative story in a logical sequence.
Language arts worksheets may be used for the children to follow one and two step oral directions. The kindergarten reading strategy students are expected to share information and ideas, speaking audibly in complete, coherent sentences.
*Reading Standards are defined by each state. Time4Learning bases its use of kindergarten reading standards on the national bodies that recommend curriculum and standards and the interpretations of it by a sampling of states notably Florida, Texas, and California.
The Time4Learning Program Structure
Time4Learning has been refined through years of feedback from educators, parents, and students. Parents have access to printable lesson plans, teaching tools, and detailed reporting through our online parent tools. Subjects are organized into chapters composed of interactive lessons, printable worksheets, quizzes and tests. Students are guided through the activities at their own pace by an automated system.
When students log in, they choose a subject, select a chapter, pick a lesson and complete the activities. A bright green arrow tells them where they left off, and completed work is clearly labeled with a check-mark or a gold star. Visual and auditory prompts guide students through the lessons, making it easy for even young learners to follow, and an online playground (controlled by parents) rewards and motivates them to finish their lessons.
Does your child have different achievement levels for math and language arts? No problem!Time4Learning lets you set each individual subject at the appropriate graded level, making this program great for special needs and gifted students.