Kindergarten Reading Activities & Curriculum Standards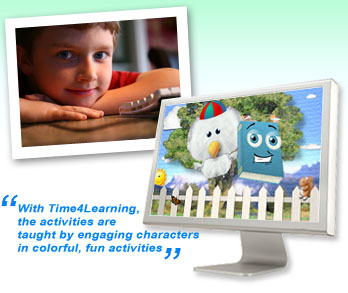 View Our Lesson Demos
Kindergarten is such an exciting time for your child. As your child embarks on their academic journey, learning to read will be at the center of the skills he or she will seek to acquire. Helping a child discover how to decipher letter sounds and decode words will unlock the treasures found within books and the world around them. Use this time to build a solid foundation of literacy skills.
Kindergarten reading lessons will incorporate all strands of English language arts. These include vocabulary development, reading comprehension, literature, writing strategies, writing applications, English language conventions, listening, and speaking. While it may seem too soon to introduce these concepts, each will play an important role in the development of your child's reading skills.
Kindergarten Reading Standards and Curriculum
Within the stages of pre-reading and early reading skills, children are primed to discover and learn. Like miniature word detectives, they set out to search for clues – combining each sound into new words. This is often referred to as a building block phase for reading. Children learn well with a systematic approach moving letter recognition to letter sounds. These sounds then are joined together into words. Words come together to form simple sentences and your child is suddenly a reader.
Time4Learning's award winning program brings education to life. Our kindergarten reading curriculum includes a combination of engaging, interactive lessons, language arts worksheets, hands-on activities, guided reading, solid assessment methods, and positive reinforcement.
Time4Learning moves at your child's pace, with the ability to review and repeat concepts as needed. Through our comprehensive reading program, Time4Learning creates a strong base in the following language arts strands.
4 Steps to Teach Kindergarten Reading
Vocabulary Development
Vocabulary development is central to all reading levels. For the kindergarten student, expect basic features of vocabulary and reading skills to be covered within this reading program. Kindergarten children will learn to:
Reinforce alphabetic names and letter sounds for phonological awareness (b as in ball; z as in zebra)
Focus on phonemic awareness
Track letter sounds; moving sequentially from sound to sound within words
Match simple oral words to printed words and images
Listen carefully during guided reading and answer related questions
Classify reading level appropriate categories of words (colors, foods, animals)
Phonics is extremely important for building up your child's reading skills. Within the kindergarten reading program, children first decode words by breaking them down into individual letter sounds. Then, the rebuilding process begins as these sounds combine. With phonics, the kindergarten language arts lessons will:
Introduce initial, medial, and final sounds in single-syllable words
Work with rhyming words, including consonant blends
Relate prior knowledge to new information
Decipher clues found within story pictures and text to predict what happens next
Be taught to locate the title, table of contents, the name of a book's author, and the name of the illustrator
Language Arts & Reading Comprehension
Time4Learning approaches language arts for kindergarten students with a number of engaging methods. Creative animated characters introduce and reinforce concepts of reading in a manner that connects well with young children. These lessons are further strengthened through a variety of language arts worksheets and activities. Guided reading caps off the program to help fortify reading skills. Kindergarteners will:
Match consonants and short vowel sounds to correct letters
Use tracking skills of reading to be able to identify the number and order of two – three isolated phonemes (/f, s, th or /j, d, j/)
Learn to blend short vowels and consonant sounds orally to make words or syllables
Recognize that as letters in a word change, sounds vary
Identify and produce rhyming words in response to an oral prompt
Identify beginning and ending sounds of orally stated words
Distinguish and count syllables in words
Read simple one-syllable words through sounding out
Develop word recognition for high frequency sight words
Sounding Out and Word Recognition
Children in kindergarten are still drawn to stories with bright pictures and easy to understand concepts. Time4Learning's kindergarten reading program includes literature on non-fiction topics such as the weather, oceans, and farm animals. Familiar themes and characters are also included. Your child will:
Listen and respond to stories based on well-known characters, themes, plots, and settings
Be able to retell familiar stories
Learn to identify the 'who', 'what', 'when', 'where', and 'why' of stories
Learn thematic content through discovery and achieve comprehension by reading literature with emphasis on vocabulary
Find stories use controlled vocabulary to enhance phonemic awareness
Be able to distinguish fantasy from realistic text
Identify various types of everyday print materials (storybooks, poems, newspapers, signs, and labels)
Begin to relate the context of stories with real life experiences
You will find your kindergartener will still choose their own 'fan-favorites', as stories are 'read' again and again. Fortunately, Time4Learning members can repeat lessons as often as they wish.
*Reading Standards are defined by each state. Time4Learning bases its use of reading standards on the national bodies that recommend curriculum and standards and the interpretations of it by a sampling of states notably Florida, Texas, and California.
Writing Applications & Reading Strategy
Young children need opportunities to work on their fine motor skills (and are often proud to show off their accomplishments). Time4Learning's kindergarten language arts worksheets will allow your child to implement the reading strategy for their grade level. Kindergarten students will:
Follow one-step and two-step auditory instructions
Practice writing both uppercase and lowercase letters legibly, paying attention to form and spacing
Be guided to write left to right and top to bottom
Learn to spell independently by using pre-phonetic knowledge, sounds of the alphabet, and a knowledge of letter names
Speaking is another key ingredient of language arts. Time4Learning incorporates this strand within the kindergarten reading strategy by:
Training children to organize thoughts in a logical sequence for storytelling
Encouraging children to describe people, places, things, locations and actions
Teaching short poems, rhymes, and songs
Supporting children to speak audibly in complete, coherent sentences
With Time4Learning's kindergarten reading program witness your child move from "ABCs"' to gaining the confidence needed to take their reading to the next level!