Fifth Grade Homeschool Social Studies Curriculum
A well-designed Grade 5 Social Studies curriculum not only imparts factual knowledge but also cultivates your student's
critical thinking skills. In Grade 5, students take an in-depth look at American History to better understand the
motivations, challenges, and successes of America's past.
The Time4Learning Grade 5 Social Studies course covers:
Pre-Colonial America
13 Colonies
Revolutionary War
The US Constitution
Westward Expansion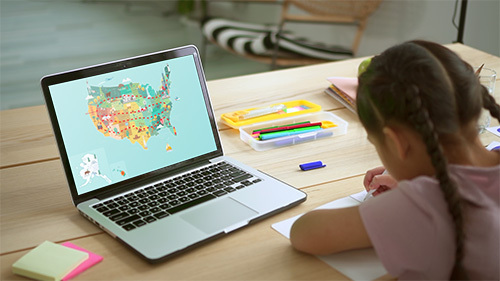 What Makes the T4L Social Studies Curriculum Unique?
Time4Learning offers a dynamic learning experience designed to transform traditional Social Studies education. Students
engage with each topic through the lens of a compelling question. This compelling question challenges students to
analyze the people, events, and outcomes of American History as they form their own opinions.
The course offers a variety of content features to create an engaging learning experience from start to finish.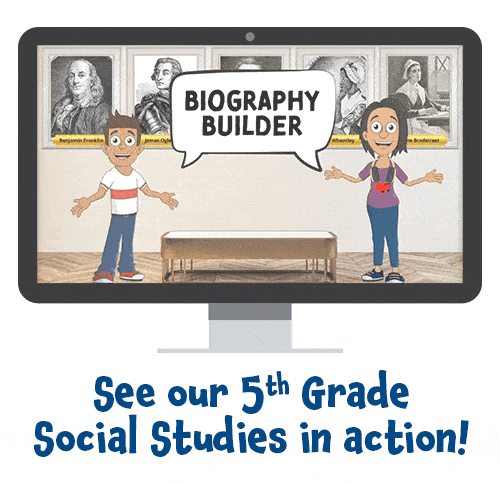 Grade 5 Social Studies content features our T4L families love:
roadschooling family traveling across the US to important historical locations
interactive timelines
lessons include videos, literature, and primary and secondary source documents
biography study and capstone project
offline extension activities
Time4Learning's Social Studies Lessons
Scope & Sequence Copyright © 2023 Edgenuity, Inc. All rights reserved.
Additional Chapters Coming Soon
Our roadschooling family is busy making their way across the country, learning about the world around them, and they can't wait to share their adventures!
More chapters are coming soon.