Odyssey Writer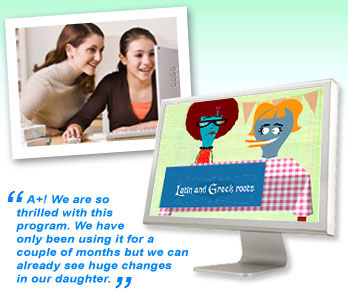 Try Our Lesson Demos
Odyssey Writer helps teach writing starting with carefully constructed assignments to stimulate students' desire to communicate, to integrated prereading graphic organizers, easy-to-use word processor with simple revising tools to the grading guides (writing rubrics) provided to parents and teachers in the teaching guides and answer keys.
Below you will find below answers to the following questions:
What is Odyssey Writer?
Time4Learning's built-in online customizable writing program for elementary, middle, and high school students is called Odyssey Writer. Odyssey Writer can guide students through the entire writing process and make writing more focused, more effective, and even more enjoyable. While some users think of Odyssey Writer as a word processor, this is only a portion of its use. Odyssey Writer, like the bulk of Time4Learning's curriculum, is developed, maintained and owned by Edgenuity.
Time4Learning is vibrant, engaging, educational, and funny. It sure beats our previous homeschool curriculum which was textbook/workbook based.
Time4Learning is so effective that very little intervention is required. This works great if you're homeschooling multiple children.
How Odyssey Writer Helps Teach the Writing Process?
The four steps of the writing process are: prewriting, writing, revising, and proofreading. Stream of consciousness writing, graphic organizers, outlines, or note cards are popular techniques. Many of these tools are already accommodated through Time4Learning's Odyssey Writer program. When students learn the rules of mechanics during the writing process they are much more likely to remember to use them in the future. Odyssey Writer's built in spelling checker and self-assessment rubric are wonderful tools to aid in strengthening a student's revision and proof-reading skills.
How To Use Odyssey Writer For Prewriting?
Odyssey Writer includes many tools for helping any student with the prewriting process. The Note Card tool allows students to type in (or copy and paste) information about their chosen topic on separate "note cards" for future retrieval. This information can then be organized using a traditional outline form, or for more visual writers, can be arranged into a graphic organizer to assist in creating connections between ideas before transferring them to outline form.
How To Use Odyssey Writer For Drafting?
Once a student has completed the prewriting process, he or she is ready to move on to creating a first draft of their work. The default page when Odyssey Writer is opened is the drafting template, and text can be entered into this page by simply typing as you would in any word processor. Other page types, however, are available by clicking on the "Insert Page" option in the Insert Menu. These pages are useful for creating more specific forms of writing such as Venn Diagrams, comparison/contrasts, friendly and business letters, and newsletters.
If a student wishes to transfer his pre-writing work into the drafting template, he must click on the outline tab on the left side of the screen and click on the transfer button in the upper right of the outline window. From here, the student can add, subtract, and edit their outline into the style of writing they are trying to create. Other tools that a student may wish to use in drafting mode include:
Using the format menu to format text (including font, spacing, and alignment)
Using the edit menu to cut, copy, and paste text
Using the insert menu to insert images, equations, or hyperlinks into project
Using the file menu to open, save, or print projects(Hint: When opening Odyssey Writer from within a Time4Learning lesson, an instruction window will usually appear over the drafting page. Once the student has read the instructions, he or she must minimize or close the instruction box before beginning to type.)
How To Use Odyssey Writer For Revising and Proof-Reading?
Once students have composed a rough draft, they enter the revision stage. Odyssey Writer has helpful tools built in to aid in the revision process. The first of these is the rubric, or self-assessment tool. Before handing in a project, students can check their work against the rubric to ensure that the project meets all criteria. To access the Self- Assessment mode, students click the Self-Assessment button located on the toolbar. Students can use this scoring tool to help them improve their writing and check for common writing errors.
Another tool that is useful in the revision process is the spell checker. By opening this option from the Tool menu, students can have their entire document searched for misspellings. The program prompts the student to either change the item, or allows them to "ignore" it, or leave it as is.
When all writing has been evaluated and corrected, a student is ready to publish his or her work, or hand it in. If the project is from within a Time4Learning lesson, the student will click on the "Hand It In" button on the toolbar when they are finished. They will click "Yes" to confirm that they wish to hand in the project. However, if Odyssey Writer is being used for free-form writing, the student may simply wish to print or save their work, which they can accomplish from the file menu.
Sign up for Time4Learning and gain access to an educational system which will engage and challenge your child to succeed. Make Time4Learning a part of your children's middle school education.
How Do I Use Odyssey Writer?
Use the improved images from hints!
Hint: OW can be accessed from within an assignment, or from the student launch pad by clicking here.
Hint: If opened within an assignment, the instructions will come up here.

Hints for the Tool Menus (see top of picture below) and main writing area
Hints for The Tools Area of the OW main screen (see below)
The Time4Learning Program Structure
Time4Learning has been refined through years of feedback from educators, parents, and students. Subjects are organized into chapters composed of interactive lessons, printable worksheets, quizzes and tests. Students are guided through the activities at their own pace by an automated system.
When students log in, they choose a subject, select a chapter, pick a lesson and complete the activities. A bright green arrow tells them where they left off, and completed work is clearly labeled with a check-mark or a gold star. Visual and auditory prompts guide Students through the lessons making them easy for young learners to follow, and an online playground (controlled by parents) rewards and motivates them to finish their lessons.
Parents get access to printable lesson plans, teaching tools, detailed reporting and parental support through our online Parent Forum.
Does your child have different achievement levels for math and language arts? No problem. Time4Learning lets you set each individual subject at the appropriate graded level, making this program great for special needs and gifted students.