Third Grade Learning Software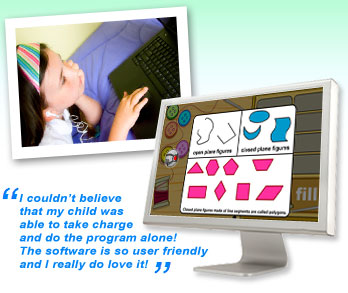 View Our Lesson Demos
Time4Learning is a web-based educational software covering preschool through middle school. It is popular as an online third grade homeschool curriculum, for afterschool enrichment, remediation or summer study. Time4Learning's online third grade software program includes language arts, math, science and social studies as part of the membership.
Time4Learning's software program is entirely web-based so there is nothing to download, no CDs, and no hard drive space consumed. Members can access our third grade software program from any location with a computer and Internet connection.
This page provides:
Third Grade Language Arts Software
Time4Learning's online third grade language arts software curriculum contains 130 language arts lessons and 106 language arts extensions lessons. Language Arts Extensions can be used to supplement the Language Arts curriculum for extra help with reading comprehension skills and strategies. Students will complete writing exercises, vocabulary activities and reading comprehension checks. Parents can take advantage of language arts teaching guides found in the Parent Dashboard of the website. Other distance learning resources such as progress reports and printable worksheets are also located in the Parent Dashboard.
Third grade students have access to writing prompts that are included within the lessons. These writing prompts allows students to practice different styles of writing they learn about within their language arts lessons.
If you're interested in the third grade language arts software, you might also be interested in:
Third Grade Reading List
The third grade language arts software includes excerpts of authentic literature. Some parents have expressed interest in purchasing the full versions since some children might prefer to read from a book or simply to have permanent copies for their home library. These can be purchased at the links below, but they are not necessary in order to use the Time4Learning software.
Third Grade Vocabulary Software
Students will also expand their vocabulary while making their way through the language arts software program. Vocabulary exercises address synonyms, antonyms, homonyms, word structure, prefixes and suffixes. Students will find the animated characters within the lessons fascinating and parents will enjoy the additional theme-based vocabulary lists that can be printed and studied offline. Quizzes and tests are provided at the end of the lessons to determine if the third graders have mastered the vocabulary words.
Third Grade Math Software
Time4Learning's online third grade math software curriculum provides 217 lessons for e-learning. These math lessons are broken down into the following categories: number theory, problem solving, algebra, measurement, data interpretation, geometry, graphing and probability. The online software program also contains activities, practice problems, quizzes and tests. Students can also take assessments in addition to the basic lessons. Parents can then log into the Parent Dashboard to check on their third grader's progress.
Whether your third grader is using the Time4Learning software as their core curriculum or as a supplement, the math lessons are designed to build upon concepts taught in the second grade.
Students begin the third grade math lessons working with number lines and rounding. Addition, subtraction, multiplication and division come next. Time4MathFacts, included in the curriculum, provides practice in these skill areas that is necessary for success. The online third grade math software then moves on to fractions, decimals, money and applying patterns to complete a table. Once those third grade math lessons are completed, students can move on to algebraic symbols, line segments, parts of angles and navigational directions. Lessons on elapsed time, customary and metric measurements, perimeter, area, graphing and problem solving round out the third grade e-learning math curriculum.
If you're interested in the third grade math software, you might also be interested in:
Third Grade Science Software
Time4Learning's online third grade science software curriculum contains 134 lessons that are divided up into units. These units include: science investigation, nature of matter, energy, force and motion, shape of the Earth, ecology, life/environment, light and sound, astronomy and eras on Earth.
Students will enjoy e-learning their third grade science lessons with Time4Learning's animated cartoon characters. Students will collect and analyze data, discover the physical properties of matter, examine renewable and nonrenewable resources, review the food chain and explore space. Parents will enjoy the incorporation of relevant vocabulary words throughout the science lessons. Suggested experiments, investigations, worksheets, quizzes and tests are also included in the membership.
If you're interested in the third grade science software, you might also be interested in:
Third Grade Social Studies Software
Time4Learning's third grade social studies software curriculum consists of 107 lessons. The distance learning begins with the Vikings and moves on to the Alaskan Inuits. Once students master that, they move on to the world in spatial terms, followed by exploration of the Americas. North American colonization, and rural, urban and suburban life come next. Students finish third grade social studies with several lessons on economics and government.
Parents can expect their children to learn how to read maps as well. Students will learn about Christopher Columbus, Ponce de Leon and Amerigo Vespucci. Examining the production of goods and the purpose of the government are also part of the third grader's e-learning experience.
Printable social studies worksheets are included in Time4Learning's third grade social studies software. Parents can access these extra resources in the Parent Dashboard.
If you're interested in the third grade social studies software, you might also be interested in:
Structure of the Third Grade Software Program – The Time4Learning Structure
Time4Learning has been refined through years of feedback from educators, parents and students. Third grade subjects are presented with web-based software organized into multimedia chapters composed of interactive lessons, printable worksheets and graded activities. Third graders are guided through the online activities at their own pace by an automated software system.
When students log into the software program, they choose a subject, select a chapter, pick a lesson and complete the activities. A bright green arrow tells them where they left off and completed work is clearly labeled with a checkmark or a gold star. Visual and auditory prompts guide third graders through the lessons making them easy for young learners to follow and an online playground (controlled by parents) rewards and motivates them to finish their lessons.
Parents get access to printable lesson plans, teaching tools, detailed reporting and parental support through our online Parent Forum.
Does your child have different achievement levels for math and language arts? No problem. Time4Learning lets you set each individual subject at the appropriate grade level, making this program ideal for special needs and gifted students.
Third Grade Educational Software for Homeschool, Afterschool and Summer Use
Time4Learning is a web-based educational software that can be used for homeschool, afterschool or summer learning. It is a great way to start third graders off on the right foot. Time4Learning presents third grade curriculum using Internet software that is both engaging and effective. Kids love the funny sound effects and quirky cartoon characters the software presents lessons with. Animated, interactive lessons feel more like video games than learning exercises. Plus, the student-paced nature of the program teaches them how to work independently, giving them a sense of ownership over their progress, which is a great motivator.
Time4Learning is entirely web-based, so there is nothing to download, no CDs and nothing additional to purchase. Your kids will be able to access the program 24/7 from any computer with an Internet connection. It has a low monthly price, offers a 14-day money-back guarantee and you stop, start, or pause anytime.
Time4Learning has helped thousands of families. Why not yours? – Sign up now.