Third Grade Software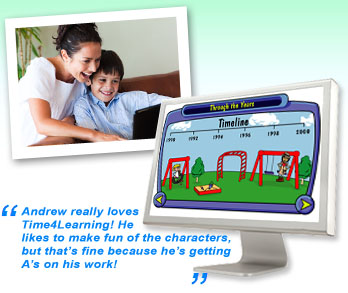 View Our Lesson Demos
Third grade offers students its own challenges, asking third graders to expand the reading and math lessons they learned in preschool, kindergarten, first grade and second grade. Third grade reading expands their reading choices to include different literary genres. Third grade math asks students to participate in active problem solving. While standard school and homeschool programs are designed to meet third grade standards, many students need more than just the basics and benefit from using third grade software.
Parents have a variety of third grade software to choose from. By third grade, software should start shifting from childish cartoons to more text-based, substantive materials. Online, third grade interactive activities, like the ones at Time4Learning, often yield a higher degree of success because children are an active part of the learning process. Learn more about Time4Learning's third grade software.
Third Grade Reading
In the third grade, students combine reading fluency and vocabulary skills to understanding meaning and purpose behind the text. Reading comprehension and vocabulary strategies allow third graders to approach a wider variety of literary genres and informational text. Third grade reading activities can include participating in group discussions and writing responses to content-related questions. Third graders should be sophisticated enough to use evidence from the text to support their thinking.
Time4Learning has third grade software that helps children improve their reading through third grade interactive activities and games. Children will gain a greater appreciation of reading and improve their reading fluency in a fun, supportive environment.
Third Grade Math
Third grade math builds on the addition and subtraction principles learned in earlier grades and challenges the student to use addition and subtraction in multi-step situations, recording their efforts on third grade math worksheets. Children should understand standard units of measure and how they apply to their daily life. Third graders should be able to give directions for movement on a positive number line, identifying the point of final destination. Third grade math expects children to be able to pose questions, gather data and actively use problem solving strategies to come to a final solution.
Time4Learning has third grade software that helps students develop their problem solving skills, using addition and subtraction to refine their answers to apply to real world situations. Our third grade math worksheets support the interactive activities and games available through our website.Take a demo of our third grade software to find out how Time4Learning can help your third grader.
Third Grade Interactive Activities
Time4Learning has third grade interactive activities and games to engage and challenge students to succeed at school. Unlike a classroom setting, where students are lectured to, the Internet provides third graders a unique, effective way to exchange information and knowledge. Here are just some examples of third grade software modules available at Time4Learning:
Tossed Up Talents – Third graders use word analysis to identify homophones that sound the same, but are spelled differently.
Comma Confusion – Third graders can improve their grammar by learning the correct usage of commas. .
Package Company – Third graders use this interactive activity to identify the attributes of polygons. .
Probably a Favorite – Third graders interpret line plots, compare data and draw conclusions using their math skills.
Key Features of Time4Learning's Home Education Program
Time4Learning.com combines 1500+ multimedia lessons, printable worksheets and graded activities in a student-paced environment that brings concepts to life. Math and language arts lessons are correlated to state standards. Science, social studies and art are also provided to most grades.
Parents get access to lesson plans, printable worksheets, teaching tools (located in the Parent Dashboard), detailed reporting and parental support through our online Parent Forum.
Other key features of the program:
Students get individual logins and work on their own schedule and pace
Parents can set the grade level independently for each subject
The grade above and below are available in most grades for review and additional study
Detailed lesson plans available for parents who wish to review lesson contents
Access to an online playground that rewards and motivates
An automated system grades lessons and keeps reports for homeschool portfolio usage (shown below)
Sign up and get started on the same day!
Time4Learning is entirely web based, so there is no software to download, no CDs and nothing additional to purchase. Students will be able to access the program 24/7 from any computer with an internet connection.
Time4Learning offers a 14-day money-back guarantee and the ability to stop, start, or pause anytime. Browse lesson plans, try the interactive lesson demos, read curriculum reviews, or view the curriculum overview to see what's available.