Summer Program FAQs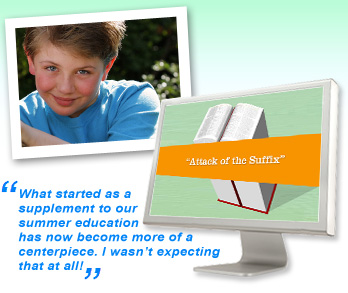 View Our Lesson Demos
Parents have many questions about using Time4Learning in the summer. This page answers those most frequently asked, including membership costs, what's included, grade level placement, available support & more.
Jump To Any Question:
How is the summer program different than the year-round curriculum?
It isn't. Rather than offering an abbreviated version of Time4Learning that might skip over materials your child needs, we provide an entire year's worth of curriculum to use as you see fit. That way, you can use the summer to catch up, brush up, and fill in the gaps without missing out on anything.
Can I homeschool with Time4Learning in the summer? And if so, how?
Yes! Time4Learning gives members access to an entire years worth of materials, so families can begin at any point in the year and use the program however they see fit. Some choose to use Time4Learning as their core curriculum, while others use it as a supplement or part of an eclectic approach. If you are new to homeschooling, we recommend reading our free "Welcome to Homeschooling Guide".
There are plenty of other ways Time4Learning can be used in the summer, as well:
To try a new curriculum for next year – Many families purchase an entire years worth of curriculum ahead of time, making it difficult to try new approaches or switch during the academic year. Summer is the perfect time to try our program, browse our tools, and see if Time4Learning can satisfy the unique needs of your family.
For review and skill sharpening – Time4Learning's suite of tools allow parents to find lessons covering areas students might have had difficulty with, and to create a schedule focused on revisiting or finding extra practice in those areas.
To get a head start on next year – Time4Learning allows parents to set each subject at any grade level, making it easy to move ahead at a pace that's comfortable for the students.
As a fun summer learning tool – Time4Learning can be accessed from anywhere on any internet-connected computer or laptop device, helping to turn everyday summer activities into a fun, interactive learning experience and opportunity to connect education with real-life concepts.
Can I get summer school credit using Time4Learning?
With pre-authorization, it is possible that Time4Learning – with proper supervision – could be approved by school authorities as a viable substitute for summer school. Please note: Time4Learning is not a school and therefore cannot award credit for completed work. It is the complete responsibility of the parents and school to access the student's Time4Learning records and award credit.
Time4Learning is used in public schools nationwide as an in-school teaching tool, under the name Edgenuity. Over the last few years, there has been an increase in members using the program for summer school, due to budget cuts and other associated reasons. If your student needs summer school or credit recovery, show your local administrator the Time4Learning lesson plans and reports format to see if parent-supervised use of of the program is acceptable.
Once your school has approved Time4Learning for your student's summer school alternative, you can begin using the program according to the education plan discussed with the proper authorities. Parents can review the lesson plans in their Parent Dashboard and hone in on the particular subjects, concepts, or chapters that your student needs to complete. Parents can create a specific lesson plan with the activity scheduler, or have the student log in and find particular activities using the activity finder.
Does Time4Learning have other uses in the summer?
Yes! There are several ways Time4Learning can be used in the summer:
For academic skill maintenance – While students relax in the summer, hard earned academic skills can be lost. Time4Learning is a fun way to maintain skills, enabling a stronger start in the next school year.
To review the previous year's materials – With such a big emphasis on standardized testing and state requirements, it's no secret that students are often "taught to the test", rather than being provided with thorough instruction. And as a result, many students don't fully grasp the fundamental concepts needed for the following year. Time4Learning's curriculum focuses on teaching and reinforcing concepts in a way that's engaging and interactive, making it a perfect tool for filling in the gaps.
Preparation for the upcoming school year – Many students are anxious about the upcoming school year. Some of have learned that to keep up with the class for them is stressful and so they prefer to have a head start. With Time4Learning, students can get a first look and build familiarity with the next year's materials.
To maintain academic enthusiasm – After working on the same learning schedule all year, parents often switch curriculum in the summer months to help keep things fresh. Time4Learning gives parents the chance to try a tool that, to the kids, feels like a novelty. That helps to keep students engaged during the summer.
Would it be beneficial to start now while my child is still in school?
Yes! Many parents register before school has ended so that they can familiarize themselves with the features and functionalities of the program.
Time4Learning has also proven to be a great, cost effective substitute to after school tutoring. Students can use the system as much or as little as they want and can focus on one subject or work equally on all of them. All material is in a recommended order, which follows a sequence similar to that which is typically followed in public schools.
My children's favorite part of the day is their time on Time4Learning. This is the easiest and most consistently productive curriculum we've used!
My kids can work independently or with my involvement. Time4Learning has enriched their education and simplified my life!
Which grade level should I sign up for in the summer?
Does your child have different achievement levels in different subjects? No problem! With Time4Learning, you can set each subject at any grade level. Plus, members automatically receive access to each subject's curriculum in the grade above and below!
When determining subject grade levels, here are a few tips:
If the student is using Time4Learning as a review, we suggest placing them in the grade level they just completed.
If the student is using it to prepare for the upcoming school year, we suggest placing them in the grade level they will be entering.
If the student is using it to satisfy summer school requirements, we suggest showing our lesson plans to the local school authorities to determine an appropriate point and agenda for your child.
Don't worry. Time4Learning allows students to switch grades easily. Additionally, they are given access to the grade above and the grade below each subject, so they can advance or review if they need to.
Keep in mind that students can be in different grade levels for different subjects. So, try and sign up at a level the student is comfortable working at. You can always adjust it, later.
Can I hone in on specific subject areas or topics of study?
Yes! The lesson activity finder is one of the many helpful tools that Time4Learning offers its members. For summer learning, the activity finder makes it easy for parents to preview lessons, find extra practice for their child or hone in on a specific area of study.
Every lesson in the curriculum has a unique activity number, referred to in the lesson plans as an "LA Number." These numbers can be found on either the scope and sequence pages or the lesson plans in the Parent Dashboard.
The activity finder can be found in the lower left hand corner of the Student LaunchPad page. To use it, members simply log in to their child's account, type the Learning Activity (LA) number of a lesson into the Activity Finder and click "Go" to open it.
For additional information, please visit our hints and help section, which gives more details about the activity finder.
How much is a Time4Learning summer membership?
Pricing is the same as a regular membership and depends on the grade level of your students:
For PreK to 8th grade, the monthly membership cost is $19.95 for the first student and $14.95 for each additional.
For high school, the monthly membership cost is $30 per student, and includes 4 courses. Additional courses may be purchased for an extra $5 per month, per course. While having one student in the high school enables you to receive a discounted rate of $14.95 for a student in the lower grades, there is no discounted rate for a second student in the high school.
Your billing cycle begins on the day of registration and members are billed every 30 days. Members can start, pause, and cancel at any time. Time4Learning has no hidden fees, offers a 14-day money-back guarantee for brand new members, and allows members to start, stop, or pause at anytime.
Parents must cancel through their Parent Dashboard. Once an account is cancelled, members will have access to the program until the end of their billing cycle.
What subjects and courses are included?
The preschool to eighth grade curriculum consists of standards-based language arts and math:
The language arts curriculum is presented in a suggested sequence designed to create a strong literacy foundation. It includes phonics, grammar, reading comprehension, spelling, vocabulary, writing skills and more.

The language arts curriculum correlates to state standards

.
The math curriculum combines multimedia lessons, interactive activities and reinforcing worksheets to teach basic arithmetic, number sense & operations, measurement, geometry and more.

The math curriculum correlates to state standards

.
The preschool to eighth grade curriculum also offers social studies and science for most grade levels:
Social studies lessons are available to students at the 2nd through 7th grade level. Because state by state standards differ, social studies may need to be supplemented to satisfy your local requirements.
Science is available to students at the 1st through 8th grade level, and is organized as follows:

Elementary science is offered from kindergarten to 5th grade and is organized by grade level. Although the materials are extensive, science does not correlate to all state standards and is not animated.
Middle school science is offered at the sixth to eighth grade level. It is organized into three primary courses that correlate to state standards: Earth/Space Science, Life Science, and Physical Science. In addition, Nature of Science is provided as an added supplement with each of the middle school science courses.
The high school curriculum consists of the core subjects of math, language arts, science, and social studies. The elective courses of health and economics/finance are also available. Membership includes 4 courses, with the option to add additional courses for an extra $5 per course per month. For a closer look at the high school selections, visit the high school curriculum overview page.
Does your child have different achievement levels in different subjects? No problem! With Time4Learning, you can set each subject at any grade level.
Please note that it is possible to use Time4Learning for just one subject, however, pricing will not change.
Key Features of Time4Learning's Home Education Program
Time4Learning.com combines 1500+ multimedia lessons, printable worksheets and graded activities in a student-paced environment that brings concepts to life. Math and language arts lessons are correlated to state standards. Science, social studies and art are also provided to most grades.
Parents get access to lesson plans, printable worksheets, teaching tools (located in the Parent Dashboard), detailed reporting and parental support through our online Parent Forum.
Other key features of the program:
Students get individual logins and work on their own schedule and pace
Parents can set the grade level independently for each subject
The grade above and below are available in most grades for review and additional study
Detailed lesson plans available for parents who wish to review lesson contents
Access to an online playground that rewards and motivates
An automated system grades lessons and keeps reports for homeschool portfolio usage (shown below)
Sign up and get started on the same day!
Time4Learning is entirely web based, so there is no software to download, no CDs and nothing additional to purchase. Students will be able to access the program 24/7 from any computer with an internet connection.
Time4Learning offers a 14-day money-back guarantee and the ability to stop, start, or pause anytime. Browse lesson plans, try the interactive lesson demos, read curriculum reviews, or view the curriculum overview to see what's available.