Taking Summer School Lessons Online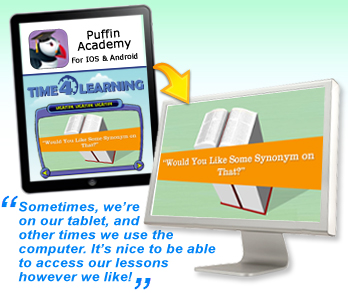 Try Our Lesson Demos
Are you stuck between wanting to travel this summer but also wanting your children to continue their education throughout the summer break? Well with Time4Learning you can do both!
Time4Learning, an award-winning online PreK-12th grade curriculum, can help your children avoid summer brain drain even as they relax and enjoy some additional free time. With Time4Learning, your children will retain what was already taught throughout the school year AND build additional skills in math, language arts, science and social studies — helping them get ahead in the upcoming year.
Click below for more details on the following:
*Please note: With pre-authorization, it is possible that Time4Learning – with proper supervision – could be approved by school authorities as a viable substitute for summer school.
Online Summer Curriculum
The Time4Learning program takes an entire year's worth of learning materials and continues it on throughout the summer so that your kids can retain what they've learned, catch up on what they haven't, and get ahead for next year.
Time4Learning can also be used during the summer as an interactive skill sharpening tool or to try out a new homeschool program for next year.
So no matter what your kids might need to brush up on this summer, you can find lessons, practice activities, and reinforcement materials in our flexible and affordable program!
What Is Included In Time4Learning's Summer Program?
Students get individual logins and work at their own pace which can lead to more effective learning
Parents can set the grade levels independently for each subject so student learn at their own speed
A grade above & below can be accessed for review and extra study (excludes high school courses)
Lessons are presented in a sequential order in small chunks
Students can repeat lessons if they don't understand a concept
An automated system grades lessons and tracks progress making record keeping simple.
Member-only access to detailed printable lesson plans and teaching tools to review lesson contents
Detailed reporting for portfolio usage and parental support through our online Parent Forum
Entirely web based, no software to download, no CDs and nothing additional to purchase
Affordable membership backed by a 14-day money-back guarantee. You can start, stop, or pause your membership at any time without penalty.
Language Arts Curriculum for Summer
Time4Learning's language arts curriculum offers a great selection of lessons for summer learning. With over 1700+ activities, animated lessons, instructional videos, worksheets, quizzes, and both online and offline projects, students have the resources to develop literacy skills from the basics through college and career readiness.
Language arts is offered in two ways:
The preschool to 8th grade language arts curriculum available by grade level and organized into two sections covering Language Arts & Language Arts Extensions.

Language Arts: 2600+ multimedia lessons that teach and reinforce lessons covering phonics, fluency, grammar, spelling, vocabulary, reading comprehension, writing processes and more. Here is a free language arts printable worksheet for your second grade student.
Language Arts Extensions 1600+ activities are designed to be used alongside the language arts curriculum: Lessons cover reading comprehension strategies, grammar, writing, literature, spelling rules & more.

The high school English curriculum is organized into four individual courses. The high school English curriculum is organized into four individual courses with over 1200+ activities. The courses have an emphasis on writing and higher order thinking skills. Courses are designed to help students achieve college and career readiness. Visit the High School English courses overview page for more information.
Math Curriculum for Summer Learning
Time4Learning's math curriculum is perfect for summer learning. It includes a combination of conceptual explanations, interactive activities and reinforcing worksheets that are presented by fun, animated characters at the student's pace. Our lessons are designed to reduce the math anxiety that often comes when students open their textbook, and help them adopt a "can-do" attitude, instead.
Math is offered in two ways:
The preschool to 8th grade math curriculum is offered by grade level:

In elementary summer math (700+ activities) kids will learn number theory, order of operations, value and meaning, math relationships, word problems, measurement (currency), geometry basics (shapes) and values.
The middle school summer math  (1600+ activities) are organized by skill level. After the animated intro, students are eased into activities teaching number sense, geometry, measurement, spatial reasoning and more. Here is a free math printable worksheet for your eighth grade student.

The high school math curriculum (900+ activities) is organized into five individual courses. Each course is designed to engage students in practical, real-life math problems and includes a combination of lessons, worksheets, tools, and assessments.
Science Summer Curriculum
The Time4Learning science curriculum is available for students in kindergarten through eighth grade. PreK-3rd grade science is enhanced with material from Science4Us, a comprehensive, digital science program. Throughout the curriculum, parents can expect to see subjects covered on the scientific method, physical science, earth science, energy and more with over 700+ activities. Here is a free science printable worksheet for your first grade student.
The high school science curriculum is organized into five individual courses that include over 1100+ activities designed to engage students in practical, real-life, engaging science experiments. Each course in Time4Learning high school math includes a combination of lessons, worksheets, tools, and assessments.
Social Studies for Summer Learning
Time4Learning offers social studies programs for second grade through high school. The social studies program comes as a bonus for grades 2nd through 7th that includes valuable information covered in 1200+ activities. Parents can take this bonus and use Time4Learning as a skill builder during the summer or as a supplemental program that can help their children excel in social studies. Here is a free social studies printable worksheet for your seventh grade student.
At the high school level, social studies is organized into five courses including 1400+ activities which correlate to state standards. Visit the social studies curriculum overview page for more information
Take Time4Learning On The Go With Puffin Mobile App
Taking a vacation? On the go this summer? Not to worry, your children don't have to take a break from learning with Time4Learning.
Time4Learning is available on mobile devices using Puffin Academy, allowing members to access and use Time4Learning at any time, from anywhere, using most internet-connected smart phones and tablets.
The Puffin Academy app brings increased mobility to Time4Learning by allowing users to enjoy our entire program in a fast and secure environment using any Apple or Android device— even iPads and iPhones, which are typically incompatible with flash.
So no matter where you are or what you're doing, you can include Time4Learning in your summertime adventures!
Additional Summer Resources
Online Curriculum for Homeschool, Afterschool and Summer Use
If you are just learning about Time4Learning, we'd suggest first checking out  our interactive lesson demos.
Ready to go? Sign up now for Time4Learning and gain access to a variety of educational materials, which will engage and challenge your child to succeed. You'll be glad you made Time4Learning a part of your summer study.