A Structured Learning System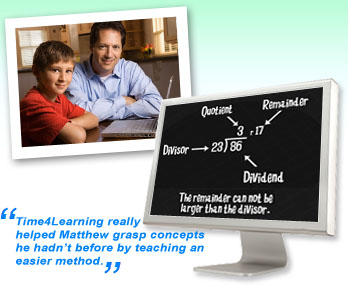 View Our Lesson Demos
Preschool Activity, Learning to Read, Phonics Worksheets, A Kid Safe Environment, and thousands of education online activities comprise the Time4Learning Structured Learning System.
Starting with preschool, children learn basic skills and behavior patterns that establish learning skills and patterns. Much preschool activity is designed to help children learn to focus, to follow directions, to move from one activity to another, and to develop cognitive, social, and physical skills. Time4Learning provides a preschool-like structure that helps children develop constructive patterns of behavior leading to strong study habits and skills. Mouse and computer skills now also form an important part of a preschool education.
You can jump to the following profiles/sections:
Time4Learning LessonTime System
Time4Learning's LessonTime is a system that you have perhaps dreamed about but not yet seen: it's a goal-oriented educational system proven* to succeed. The Time4Learning online education system will assess your child's strengths and weaknesses and provide him/her with a personalized learning pathway. Whether your child is ready for a simple preschool activity or is learning to read, there are interactive games, instructional activities, and printable worksheets geared to the child's level. It supports a variety of instructional strategies, learning styles, and integrates assessment with prescriptive learning pathways. This type of comprehensive online educational environment is usually available only through schools or on-site tutoring services.
Time4Learning's Unique Structure
The structure of Time4Learning is unique and valuable in several ways:
Structuring a work and reward format with parent management of time in each online activity. First study, then play.
The Time4Learning system structures a sequence of lessons that provide an educationally sound path of building basic skills starting with preschool activities and continuing through a systematic education online until they learn to read. Few parents are able to provide a similar experience by collecting web activities or store-bought software on their own.
Time4Learning is vibrant, engaging, educational, and funny. It sure beats our previous homeschool curriculum which was textbook/workbook based.
Time4Learning is so effective that very little intervention is required. This works great if you're homeschooling multiple children.
Time4Learning's Educational Program
Time4Learning's educational program – a structured online, interactive program with education online from preschool through high school – is developed by Edgenuity – a group that revolutionizes the integration of learning and technology.
To learn more about Edgenuity.
The Time4Learning Program Structure
Time4Learning has been refined through years of feedback from educators, parents, and students. Subjects are organized into chapters composed of interactive lessons, printable worksheets, quizzes and tests. Students are guided through the activities at their own pace by an automated system.
When students log in, they choose a subject, select a chapter, pick a lesson and complete the activities. A bright green arrow tells them where they left off, and completed work is clearly labeled with a check-mark or a gold star. Visual and auditory prompts guide students through the lessons, making it easy for even young learners to follow, and an online playground (controlled by parents) rewards and motivates them to finish their lessons.
Parents get access to printable lesson plans, teaching tools, detailed reporting and parental support through our online Parent Forum.
Does your child have different achievement levels for math and language arts? No problem! Time4Learning lets you set each individual subject at the appropriate graded level, making this program great for special needs and gifted students.