Special Needs Learner Online Curriculum Demos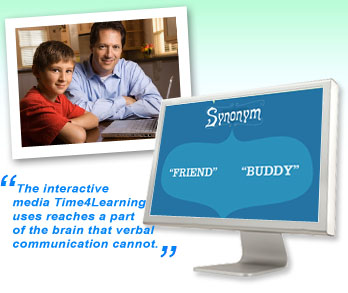 Try Our Lesson Demos
But, they worry that may mean expensive tutoring or specialized programs. If parents either can't afford, or don't have access to these types of remediation, does that mean they have to give up on having quality resources for their children's educational needs?
Parents also worry they aren't qualified to offer their children the help they need. Parents sometimes get the impression that if they don't have a degree in special education, that they aren't competent to help their children with their education. This can lead to frustration and helplessness.
Technology makes special education programs accessible from home. The good news for parents is that – – thanks to the Internet – – affordable, quality, targeted resources for special education are as close as their own computer! Today's technology gives parents choices they might not otherwise have. Whether your child has trouble reading, writing, doing math, or all the above, there are assistive technology solutions that are specifically designed to help.
Online Education is a Useful Special Education Resource
The Time4Learning online learning materials take advantage of today's technology. It's a convenient, interactive resource that helps children from preschool through high school. About a third of Time4Learning students are using our online resource as a part of their special education curriculum. Unlike many special education technology programs, Time4Learning is reasonably priced. Some of Time4Learning's effectiveness as a special education resource comes from a student-paced curriculum which stimulates a variety of learning styles – visual, kinesthetic, verbal – which is important for a special education lesson plan.
Children like using the computer to learn. Time4Learning's curriculum engages and challenges your children, letting them work at their own pace. Many children benefit from some interaction with technology and software; special education kids can benefit from some of this impersonal study.
Parents like that it tracks progress and helps children advance by teaching with individualized learning paths that assure coverage of the skills and concepts that make children succeed.
Time4Learning is a proven effective homeschool curriculum, has a low monthly price, and provides a 100% satisfaction guarantee so you can make sure that it works for your children, Satisfaction Guaranteed! Free Demo or Sign up for Time4Learning as part of your overall homeschool curricula.
Choosing the Right Special Education Resource
Parents with a special needs child, often ask if Time4Learning is appropriate as a special education technology? Such a question about recommendations for a specific child is impossibly broad since every child, whatever the situation, is special with her or her own combination of gifts, skills, needs, and difficulties for learning.
Time4Learning can say that many children with special education needs are blossoming with Time4Learning. Choosing the right special education software for your special needs child is a daunting task. Parents want learning software which the kids will like. However, while there are many entertaining "educational" web sites and software learning programs, few qualify as a real teaching system, much less as one robust enough to support the special education needs of the exceptional children. Unlike "educational games," a learning system provides lessons appropriately sequenced and reinforced learning in an educationally valid and engaging scope and sequence.
For families with more than one child, choosing a special education curriculum can even be more problematic. What works for one child, doesn't work for another. Material that works one year, may not work the next. Time4Learning tries to take the confusion out of choosing your special education resource. Our online, interactive educational materials offers each child his or her own learning path measured by the child's educational needs so that it can be used by a gifted, mainstream, or special needs child. Since the language arts and math programs can be set at different levels, Time4Learning can address some of the blend of skills and strengths that characterize many special needs education programs. Signup for Time4Learning, and have your own personalized special education resource.
Time4Learning – A Versatile Resource for Special Education
Time4Learning acknowledges how important choosing between a home or school-based program for your child is. We find many parents who try to blend the best of both for their children. Time4Learning is a versatile special education resource which can be used to enrich education or as core curriculum in one or more subjects. We know how maddening the resource research can be to the parents. To help parents, we have a low cost approach and a 100% Satisfaction Guarantee. Parents can cancel their subscription to Time4Learning at any time. Additionally, if Time4Learning does not work for your child, cancel within the first 14 days and get a full refund. See the free demo or Sign up now. Registration takes just minutes.
Special Education Areas
Time4Learning has special needs children using the system who have issues with attention, Asperger's/autism, dyslexia, sensory processing, reading, and many with blends of these issues. Our experience shows that there is no single, best material or special education curriculum. Rather than feeling torn between resources, parents should create diversity through activities being sure to listen and consult with professionals who have a deeper involvement with their children.
All children need a mix and match of activities to hold their attention. Each learning style and method should be applied to exercises, making sure that a child isn't forced to sit through a particular activity for more than an hour.
See the free demo or Signup for Time4Learning and gain access to a variety of educational materials, which will engage and challenge your child to succeed. Make Time4Learning a part of your child's education.
I want to Learn More about Time4Learning's Special Needs learning and how it works.
Click for more information and demos. Or to ask other parents, click through to the Time4Learning parent's forum.