Seventh Grade Learning Software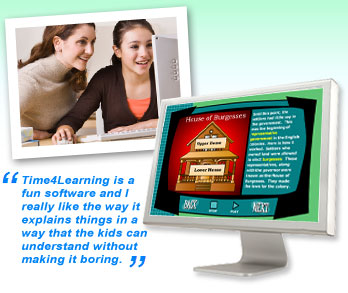 View Our Lesson Demos
Time4Learning utilizes web-based educational software for preschool through high school. It is popular as an online seventh grade homeschool curriculum, for afterschool enrichment, remediation or summer study. Time4Learning's online seventh grade software program includes language arts, math, science and social studies as part of the membership. Foreign language learning is also available as an optional add-on for an additional fee.
Time4Learning's software program is entirely web-based so there is nothing to download, no CDs, and no hard drive space consumed. Members can access our seventh grade software program from any location with a computer and Internet connection.
This page provides:
Seventh Grade Language Arts Software
Time4Learning's online seventh grade language arts software program contains 122 language arts lessons and 74 language arts extensions lessons. Language Arts Extensions can be used to supplement the Language Arts curriculum for extra help with reading comprehension skills and strategies. Student lessons will focus on vocabulary, writing and reading comprehension, although grammar and spelling are incorporated. Lessons also include processing skills and state simulation assessments. Parents can also log into the Parent Dashboard to access language arts distance learning resources such as teaching guides and progress reports.
Seventh grade students will have access to writing prompts throughout the lessons. Seventh graders can practice the different types of writing they learn about throughout the language arts lessons. These writing prompts allow students to draft fictional stories, poems and non-fictional articles. Students can revise their work to create a final paper. When seventh graders are ready to share their work, they can print them out.
If you're interested in the seventh grade language arts software, you might also be interested in:
Seventh Grade Reading List
Time4Learning software program provides literature activities for use at the seventh grade level. These lessons focus on author's purpose, distinguishing between fact and opinion, determining setting, summarizing text, point-of-view, and logical conclusions and inferences. Once children read and comprehend these types of works, they can continue their learning experience by working on the writing prompts given within the lessons.
The seventh grade language arts software reading materials are provided online and include excerpts of authentic literature.Some parents have expressed interest in purchasing the full versions, since some children might prefer to read from a book or simply to have permanent copies for their home library. These can be purchased at the links below, but they are not necessary in order to use the Time4Learning software.
Seventh Grade Vocabulary Software
Vocabulary skills are enhanced through exercises on Latin and Greek root words, synonyms, antonyms, homonyms, idioms, prefixes and suffixes. The vocabulary lessons are animated with amusing characters to make learning new words and definitions fun. At the end of each unit, students will find a test to make sure the words in the vocabulary list have been comprehended.
Seventh Grade Math Software
Time4Learning's online seventh grade math software curriculum provides 302 lessons for e-learning. The math lessons are broken down into the following categories: number theory, systems of measurement, data interpretation, basic algebra, geometry, graphing and probability. The math software program also contains 58 printable worksheets and 49 quizzes. Parents of the seventh graders can check on their student's grasp of each mathematical concept by accessing progress reports through the Parent Dashboard.
Whether your seventh grader is accessing Time4Learning's software as their core curriculum or as a supplemental tool, the math lessons are designed to build upon concepts mastered in the sixth grade.
Students begin the online seventh grade math lessons with exponents and scientific notation. Decimals, fractions, percents and ratios come next. The online math software program then moves on to algebraic expressions, Pythagorean Theorem, perimeter, area and volume. Lessons on graphing, linear relationships, probability and statistics round out the seventh grade e-learning math curriculum.
If you're interested in the seventh grade math software, you might also be interested in:
Seventh Grade Science Software
Time4Learning's online seventh grade science software curriculum is available up to sixth grade. However, seventh grade students will have access to the sixth grade science software. There are 73 total lessons divided up among seven chapters. These units include properties of matter, characteristics of plants and the human body.
Parents may access the printable worksheets through the Parent Dashboard. Reports showing the student's grades will also be available upon log in.
If you're interested in the sixth grade science software, you might also be interested in:
Seventh Grade Social Studies Software
Time4Learning's online seventh grade social studies software curriculum consists of 87 activities. The distance learning begins with the Age of Exploration and moves on to English Colonization. Once students master these topics, they move on to the American Revolution followed by the creation of the U.S. government. Jefferson, Jackson, the Civil War and immigration come next. Students finish seventh grade Social Studies with several lessons on World War I, World War II, the Great Depression and modern America.
Parents can expect their children to learn about the first Americans and the original 13 colonies. Students will develop an appreciation of the Constitution and the early years of the American government. Examining the changes in government over the years and comparing it to today's government are also part of the seventh grader's e-learning experience.
In addition to Time4Learning's seventh grade Social Studies software lessons, quizzes, tests and printable worksheets are provided. Parents will also find teaching guides and additional resource materials in their Parent Dashboard.
If you're interested in the seventh grade social studies software, you might also be interested in:
Structure of the Seventh Grade Software Program – The Time4Learning Structure
Time4Learning has been refined through years of feedback from educators, parents and students. Seventh grade subjects are presented with web-based software organized into multimedia chapters composed of interactive lessons, printable worksheets and graded activities. Seventh graders are guided through the online lessons at their own pace by an automated software system.
When students log into the software program, they choose a subject, select a chapter, pick a lesson and complete the activities. A bright green arrow tells them where they left off and completed work is clearly labeled with a checkmark or a gold star. Visual and auditory prompts guide seventh graders through the lessons, making them easy for young learners to follow. An online playground (controlled by parents) rewards and motivates them to finish their lessons.
Parents get access to printable lesson plans, teaching tools, detailed reporting and parental support through our online Parent Forum.
Reports/ Assessments/ Printable Worksheets – Time4Learning understands the importance of tracking student progress. Seventh grade assessments and quizzes are given throughout the chapters and are automatically graded upon completion. Parents are able to access the grades and assignments in the reports section by using their own logins and passwords. The reports section is printable, as are the lessons plans. In addition, Time4Learning provides seventh grade printable worksheets for many activities to help reinforce the material. Parental support is also given through our online parents forum, where discussions and questions may be posted.
Does your child have different achievement levels for math and language arts? No problem. Time4Learning lets you set each individual subject at the appropriate grade level, making this program ideal for special needs and gifted students.
Seventh Grade Educational Software for Homeschool, Afterschool and Summer Use
Time4Learning is a web-based educational software that can be used for homeschool, afterschool or summer learning. It is a great way to start seventh graders off on the right foot. Time4Learning presents seventh grade curriculum using Internet software that is both engaging and effective. Kids love the funny sound effects and quirky cartoon characters the software presents lessons with. Animated, interactive lessons feel more like video games than learning exercises. Plus, the student-paced nature of the program teaches them how to work independently, giving them a sense of ownership over their progress, which is a great motivator.
Time4Learning is entirely web based, so there is nothing to download, no CDs and nothing additional to purchase. Your kids will be able to access the program 24/7 from any computer with an Internet connection. It has a low monthly price, offers a 14-day money-back guarantee and you can stop, start, or pause anytime.
Time4Learning has helped thousands of families. Why not yours? – Sign up now.